The worst in the nation
Child poverty rates for blacks, among 100 largest U.S. metro areas, 2005
| | |
| --- | --- |
| 1. Omaha | 59.4% |
| 2. Knoxville, Tenn. | 58.7% |
| 3. Toledo, Ohio | 57.2% |
| 4. Syracuse, N.Y. | 55.4% |
| 5. Oklahoma City | 49.7% |
| Others | |
| 12. New Orleans | 44.7% |
| 25. Detroit | 40.7% |
| 39. Chicago | 37.6% |
| U.S. black average | 35% |
| 65. Los Angeles | 28.9% |
| 76. New York | 27% |
Omaha is known far and wide as the home of Warren Buffett, one of the wealthiest men on the planet.
It boasts the headquarters of five Fortune 500 companies, the most for any U.S. city its size.
But the Omaha metropolitan area also has another economic distinction: home to one of the poorest black communities you'll find anywhere in America.
Among America's 100 largest metro areas, Omaha has the third-highest black poverty rate.
Worse yet, its percentage of black children in poverty ranks No. 1 in the nation, with nearly six of 10 black kids living below the poverty line.
And this is in a metro area that is otherwise prospering, with a gleaming new convention center and arena, new high-rises filling out the skyline and national retail and restaurant chains by the dozens coming in to set up shop.
In fact, only one other U.S. metro area, Minneapolis, has a wider economic disparity between how black and white residents fare.
The endemic poverty in Omaha's black community is catching thousands of children in an all-too-familiar spiral: school failure, poor choices, kids having kids, violence, unemployment and hopelessness.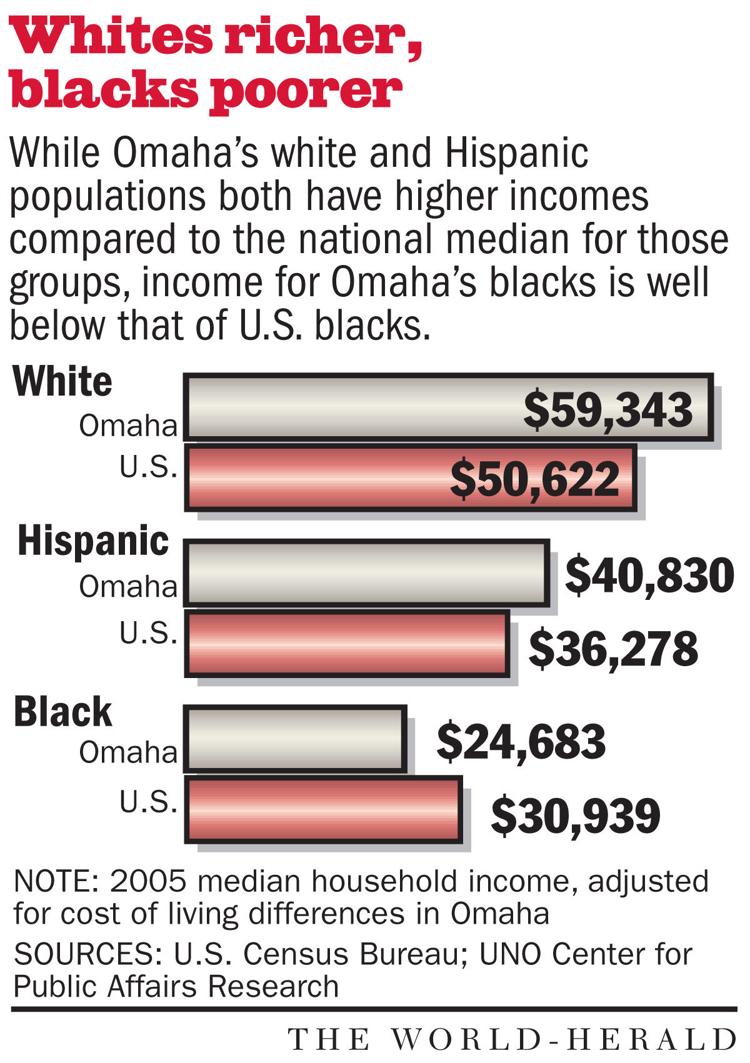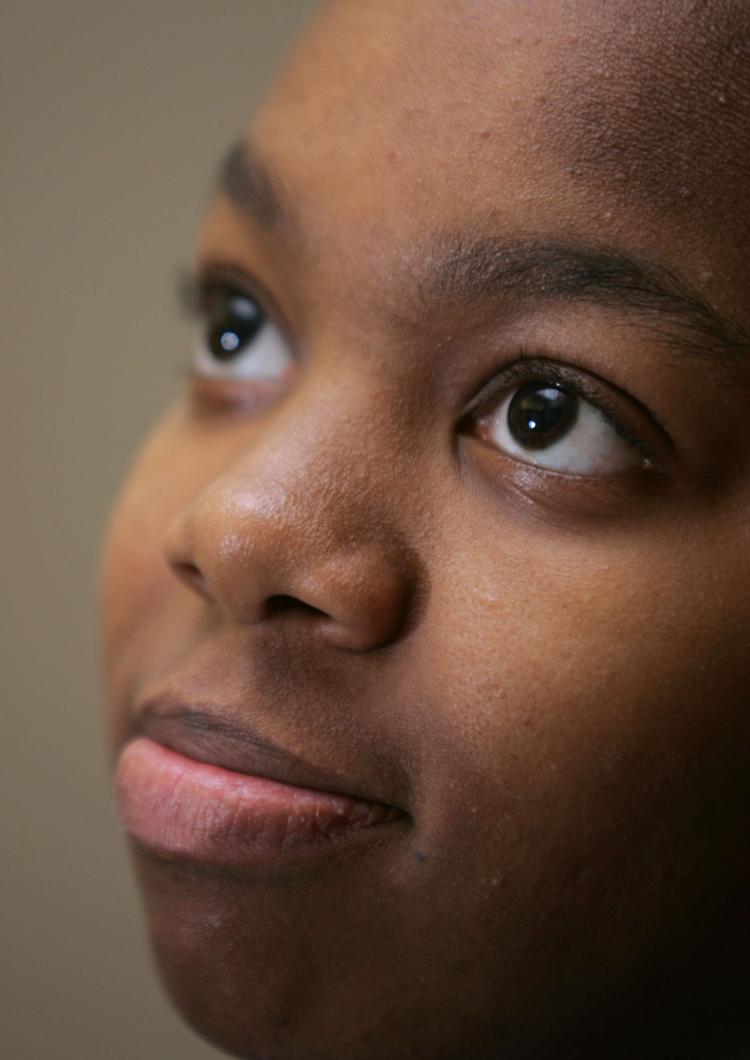 Amber Franklin is fighting those odds. The teen, who turned 16 on Thursday, hears it from her mom all the time: "Don't end up like me."
Her mom, Latressa Montgomery, got pregnant in high school with the first of seven children. She dropped out of Omaha North High School and later earned a high school equivalency diploma. But that was no ticket to a job that paid what she needed or offered a schedule allowing the single parent to be home nights.
Amber's family has bounced from home to home and relies on food stamps and other public assistance to bolster Latressa's earnings as a child care provider.
Amber sees how tired and stressed out her mother is. She dreams of another path: high school and college diplomas, then a career on stage and money for nice things.
"I just want to do it, " she said. "I can't be like my mom, my brothers and my dad, all of them. I want to be more of a model for the younger kids."
But hardship surrounds her.
Cousins her age are pregnant. Three older brothers dropped out of school, and one has a criminal record. None is working, though one is in a job training program.
Amber herself recently served a day of in-school suspension for getting to school late too many mornings. She relies on her mother to drive her to school.
While indeed some children do overcome the odds, studies have traced a link between the economic well-being of children and their outcomes in life. And poor children's struggles ultimately cost us all in the form of social welfare programs, crime, weakened civic institutions and lost economic growth.
"There are tremendous societal costs when kids grow up in poverty, " said Alan Berube, who has studied poverty for the nonprofit Brookings Institution. "It sets a lot of things in motion that are pretty hard to reverse later on."
Certainly dire stories and grim statistics about the economic struggles of blacks are not new in Omaha or elsewhere. But even demographers, city officials and some within the black community found the latest figures from the U.S. Census Bureau surprising – and alarming.
Omaha's black poverty figures are even more dismal than those in New Orleans, where the stark plight of poor blacks in the wake of Hurricane Katrina put a spotlight on troubling national issues of poverty and race.
Highest black poverty rates
(100 largest U.S. metro areas, 2005)
| | |
| --- | --- |
| 1. Syracuse, N.Y. | 42.50% |
| 2. Toledo, Ohio | 40.60% |
| 3. Omaha | 40.40% |
| 4. Knoxville, Tenn. | 40.20% |
| 5. Madison, Wis. | 36.90% |
| U.S. average | 25.60% |
| Others | |
| 7. Milwaukee | 34.40% |
| 9. Minneapolis-St. Paul | 33.80% |
| 10. Oklahoma City | 33.30% |
| 19. New Orleans | 30.30% |
| 32. Kansas City | 27.80% |
| 33. Detroit | 27.70% |
| 34. Chicago | 27.10% |
| 36. St. Louis | 26.20% |
| 70. Denver | 20.30% |
| 80. New York | 19.30% |
Source: U.S. Census Bureau, UNO Center for Public Affairs Research

And the percentage of Omaha's blacks below the poverty line – an income of $20,650 for a family of four – has been rising in recent years.
"This is jaw-dropping," said Chris Rodgers, a black banker who serves on the Douglas County Board.
The new signs of the depth of black Omaha's economic malaise also come at a critical time.
Lawmakers in Lincoln are debating the future of school organization in Omaha, a debate largely driven by lagging achievement of poor children.
And there are several new, unrelated efforts to bring new economic vitality to north Omaha neighborhoods that are home to the vast majority of the city's black residents.
Such efforts – some emanating from city and business leaders and others from the black community – will be trying to succeed where numerous others before have failed to keep kids like Amber from being trapped in poverty's cycle.
While it's sometimes difficult to separate cause from effect, it appears a number of factors are combining to give poverty a strong, multigenerational grip in Omaha's black community.
Small black middle class – While their fathers, grandfathers and great-grandfathers were first lured from the segregated South to Omaha during the last century by the promise of good-paying jobs, many educated blacks now are leaving Omaha for opportunity, often in Southern cities with bigger middle-class black populations.
Those migration losses, confirmed by census data, and the struggle of Omaha employers to lure and keep educated blacks have made it difficult for the city to develop the black middle-class neighborhoods, social institutions and cultural environments found in cities with more thriving black communities.
The loss of middle-class blacks leaves Omaha's black community proportionately poorer and deprives youths like Amber of much-needed role models.
Changing job market – The unemployment rate among Omaha's blacks has been on the rise and in the latest census data ranks eighth highest in the nation, at more than 17 percent.
Several in north Omaha attribute recent spikes in poverty and unemployment among blacks to the influx of Hispanic workers into the city. The issue has not been studied locally, but some U.S. studies have suggested immigration depresses incomes of native, unskilled workers.
Others point out that if economic conditions for blacks are to improve, blacks need to stop fighting for jobs at the bottom of the wage scale and get the education and skills needed for good-paying jobs.
Compared with other U.S. cities, Omaha proportionally has fewer blacks working in higher-paying professional and management occupations and more working in low-skill labor, service and sales jobs.
According to a World-Herald analysis of census data, if Omaha's black work force were more like the work force for blacks nationally, the city would have hundreds more black teachers, doctors and nurses, accountants, scientists, computer specialists and executives.
While Omaha has more than an average percentage of blacks working in factory jobs, such work is not as plentiful or as well-paying as three decades ago.
High school, college dropouts – Gaps in education and training appear to be major barriers to Omaha blacks getting better jobs.
While states and school districts measure dropouts by various methods, two studies that tried to make apples-toapples comparisons ranked Nebraska among states with the highest school dropout rates for blacks. Both calculated black graduation rates below 50 percent and placed Nebraska in the bottom handful of states nationally.
Omaha Public Schools officials use a measure they say is more accurate and puts their black graduation rate higher, at 65 percent. But they say there's no doubt poverty and school struggles go hand in hand. "Poverty is not an excuse for not learning, " said Superintendent John Mackiel, "but it is a factor in not learning."
Omaha also ranks in the bottom third among the U.S. cities in the percentage of its blacks who have four-year college degrees.
And contrary to the national trend, the gap in educational attainment between blacks and whites in Omaha is widening.
According to projections by the Federal Reserve, jobs requiring postsecondary education are expected to grow much faster than those requiring less education – a trend that threatens to leave Amber and her young peers in school today even further behind.
Single-parent homes – Among the nation's 100 largest cities, Omaha in 2000 had the 11th-highest percentage of black households headed by a single parent. A teen birthrate for blacks that also ranks among the highest contributes to that ranking.
According to a Harvard study, a household headed by a single parent is almost three times more likely to be below the poverty line than one headed by two parents.
Amber's mom gave up trying to improve her earning potential after juggling college classes, an overnight work shift and care for her kids became too much. "The hardest time of the month is at the end, when you run out of food, " she said.
Racial segregation – Using the two most common methods of measuring racial isolation, another Harvard study looking at the 100 largest U.S. cities ranked Omaha 40th and 45th in segregation of blacks.
Experts say residential segregation can significantly contribute to poverty. Adults in segregated communities can be cut off from employment centers and lack the social networks that can lead to better-paying jobs.
Black children growing up in poor, segregated neighborhoods are far more likely to attend schools with concentrations of low-achieving children who are at risk of dropping out. Such concentrations in Omaha increased in 1999 with the end of 23 years of mandatory integration busing.
In 2000, about half of poor black children in Omaha lived in a six-square-mile area bounded by 16th, 48th, Cuming and Fort Streets.
To be sure, Omaha's challenge is not unique. Black poverty plagues all major cities.
But although other cities more known for black poverty – New Orleans, St. Louis or Detroit – have many times more poor blacks than Omaha, they also have an even higher multiple of blacks with higher incomes.
The World-Herald's analysis of the latest census poverty data, done in conjunction with the University of Nebraska at Omaha's Center for Public Affairs Research, is believed to be the first comprehensive economic comparison between black Omahans and blacks in other U.S. cities.
That may be a reason the gravity of Omaha's black poverty hasn't been widely appreciated.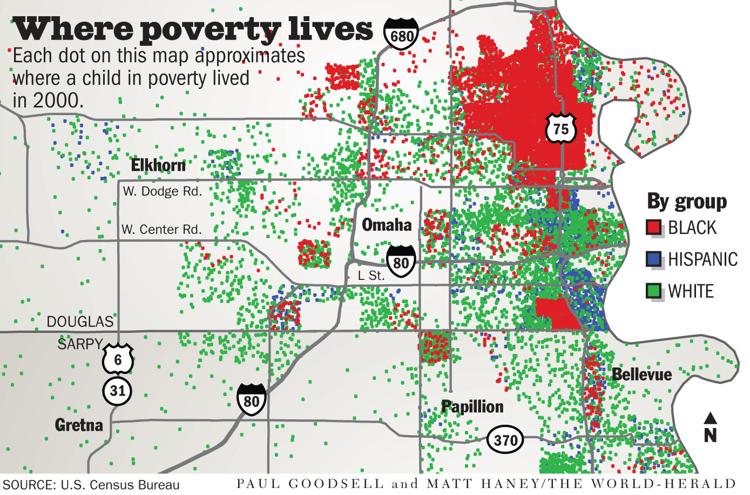 Others say the issue has simply been ignored by Omaha's white majority, a lack of concern that they say is rooted in racism.
"It has to do with a profound, profound indifference between the races, " said Walter Brooks, a north Omahan who recently retired as a public relations specialist. "Omaha is a rich city, and that's what makes this so much worse."
Some say that while existence of black poverty has obviously been known, its depth has been partially hidden.
Blacks here still make up a relatively small portion – about 8 percent – of the total metro population. Help from taxpayers, charities and families buoys many of the poorest families.
And Omaha's black poverty isn't as concentrated in slum neighborhoods as it is in many major U.S. cities. Some of the most powerful and visible symbols of Omaha's black poverty – north Omaha's public housing complexes – are now mostly gone, replaced by smaller units and single-family homes.
The economic conditions of Omaha blacks also may have been further obscured by the policy spotlight on the exploding numbers of Hispanics, who as early as 2010 are projected to supplant blacks as Omaha's largest minority group.
Though Hispanic immigration has strained some community services, the poverty rate for Hispanic Omahans is less than half that of blacks, and Hispanic household income is more than 50 percent higher.
Still unknown is the impact on the poverty rate from an entirely new black population – impoverished African refugees from war-torn Sudan and Somalia. The census data do not distinguish the new arrivals, and population estimates vary widely.
Regardless, the severity of Omaha's black poverty is now out of the shadows, and state and city policymakers have a chance to do something about it.
The poverty issue is front and center in the metro school boundary issues currently being debated in the Legislature. Some lawmakers say any solution needs to focus on breaking up the growing concentration of poor students within OPS and making sure all metro residents share financial responsibility for educating youth most at risk.
The latest Omaha rankings show that school discussion "should have happened sooner, " said Omaha Mayor Mike Fahey. "It's important we try to mobilize the entire community to address the achievement gap."
There is action on other fronts, including a local group of philanthropists working on a multimillion-dollar education initiative, a Greater Omaha Chamber of Commerce development plan for north Omaha and a coalition of black leaders working on homegrown solutions.
"These numbers certainly support the gut feeling we all had – that something needs to happen in north Omaha, " said David Brown, top executive of the Omaha chamber.
The good news, Brown said, is Omaha's black community has some strong assets on which to build. The infrastructure in north Omaha is sound, including recent heavy investment in school facilities, and housing stock is in better shape than in many large cities.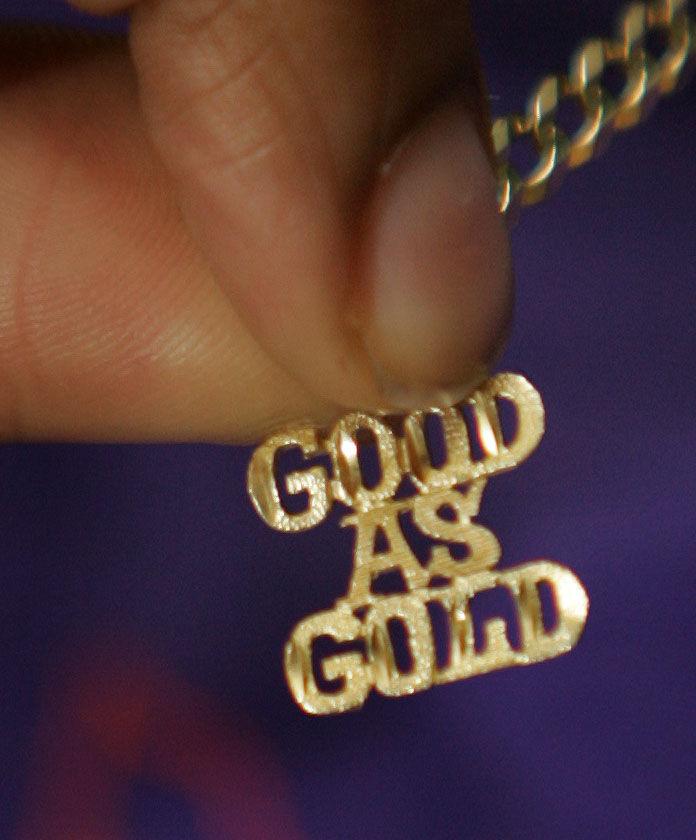 Community leaders say given the city's size and relative wealth, Omaha may be uniquely positioned to tackle poverty in ways never before seen in America.
"The problem is so multifaceted, " said Franklin Thompson, a college professor who serves on the Omaha City Council. "But you stay in the game, and you do it for the children."
Children like Amber Franklin.
Her open face, short stature and proclivity for bashful smiles make her seem younger than 16. But a turbulent childhood has forced her to grow up.
Still, her story also shows how public and private efforts to reach out can make a difference.
She found refuge at the North Omaha Boys and Girls Club, where she says a staff member turned her from a girl easily spurred to fight to one with dreams.
The Omaha Benson High School sophomore took small parts in a school musical, and she recently landed a bigger role in this spring's melodrama.
The title? "A Fate Worse Than Death; or Adrift on Life's Sea."
Amber sees no such fate for herself. She fingers her gold necklace, a gift from her mother. Its charm reads, GOOD AS GOLD.
"I feel I can get somewhere."
---
Poverty a day-to-day struggle for many black Omahans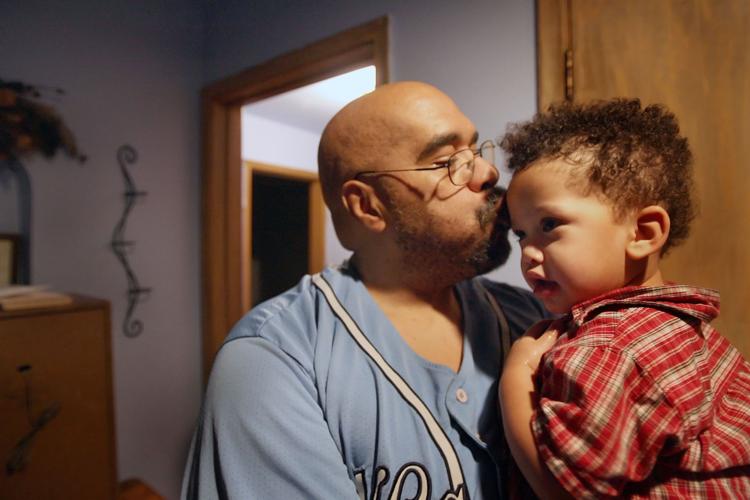 Brian Mills: No east exit from dependence despite new path
Brian Mills opened his door to a crack addict friend who asked to smoke in the bathroom. The visitor left $20.
The friend returned the next day and left another $20. Soon, he was paying Mills to run across the road and pick up drugs.
Within months, Mills said, his public housing apartment turned into a full-fledged crack house.
"I had employees: a doorman, a lookout man."
The dirty money came easy. Mills felt good. He had status, people looked up to him.
Mills had been angry and frustrated over a back injury that, he said, led to him losing his position as a correctional security sergeant in Oklahoma City.
"A $40,000-a-year job to poverty. They repossessed my car. I saw no way up."
Now 51, drug-free and an ordained minister in the Church of the Living God, Mills said his turning point came in 1988, when police busted him two years after his return to Omaha from Oklahoma.
He avoided prison with probation. He obtained a counseling degree, is close to a master's degree, and volunteers time with addicts trying to kick habits.
Poverty has been tougher to shake.
A single dad with three children still at home, Mills is slowed by arthritis as well as back problems. His right hand is partially paralyzed, the result of a stabbing years ago when he came to the defense of a drugaddicted girlfriend.
Household bills are covered mostly by $116 in food stamps and about $1,200 in Social Security disability funds.
Mills' deceased mom left him the north Omaha house he now lives in. He still has a mortgage payment. The house has electrical problems. Its toilet can't flush without a plunger. Bullet holes remain from a drive-by shooter mad at his daughter's boyfriend.
To make ends meet, Mills cooks and caters seasonal parties and in the summer sells "Our Heavenly Franks" from his hot dog cart.
He taps into social service programs that offer his kids Christmas presents.
He has applied for and received grants to take his and neighborhood children on field trips, including the black cowboy rodeo.
Exposure to other lifestyles and role models, Mills said, can help pave the youngsters' way out of poverty.
Public and private assistance, he said, has had mixed results in his community.
"People have been crippled by programs designed to help them get out of poverty. You learn to work the system."
Mills wants to shed his own dependence. "Pride is pushing me in that direction."
But he has yet to find the answer: a counseling or preaching job that pays enough to give up public benefits, especially health care coverage. – Cindy Gonzalez
---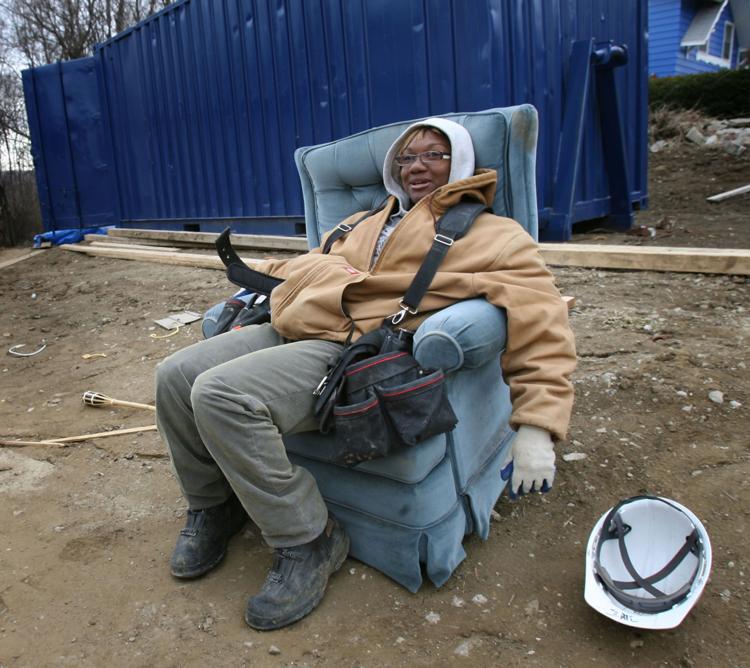 Dominique Hardy: Juggling act over bills creates hard choices
She hammers, drills and studies by day.
By night, Dominique Hardy is homemaker, mom and dad to 7-year-old TyRell.
Along the way, the 25-year-old has learned to be a darned good juggler of debt. This month's question: to pay for gas and water, or car insurance?
"Sometimes a bill doesn't get paid, " she said. "Sometimes I pay enough to where a utility is not shut off. But as soon as you pay that, you turn around and get another shut-off notice."
Hardy's bigger expenses, including rent, groceries and TyRell's medical care, are covered by public subsidies.
Her $500-a-month take-home pay and $70 in child support pare down other bills.
A cell phone that costs $100 a month provides the household's only phone for emergencies.
Fuel for the 1999 Cavalier won't wait either. Hardy needs to get herself and TyRell to school.
There's $20 each week that Hardy pays her mom to pick up TyRell after school. There are haircuts, clothes, toilet paper and other household items that food stamps can't buy. The car's plates are due.
In the end, Hardy chooses to avoid having her heat shut off.
In doing so, she risks a ticket and fine. Hardy's past failure to have vehicle insurance required her to buy special insurance that alerts the state of a lapse. When Hardy didn't make an $84 payment in February, her motorist privileges were yanked.
Hardy is trying to elude police until she can afford insurance again. Then she'll have to pay the fee to reinstitute the license.
Hoping to set aside her juggling act, Hardy is eyeing a course training her to draw blood. To enroll, she first needs a high school equivalency diploma, or GED.
A Chicago native who moved to Omaha at age 9, Hardy quit school in 11th grade. Her son was a few months old, a handful. But she said it was her mother's stroke that led her to drop out.
When mom recovered, Hardy hopped from telemarketing to retail to her highest-paying job: $8.97 an hour for delivering food trays to hospital patients.
She left the hospital after a disagreement with a boss.
She heard she could earn $12 an hour as a phlebotomist, maybe twice that in another city. The wage might not allow her to wean completely off government assistance, Hardy said, but might allow her to afford health insurance for herself.
She enrolled last summer in a government program that pays $3 an hour to prepare for GED exams and $7 an hour to work at a construction site.
Once phlebotomy school is behind her, Hardy expects to find a job outside Omaha.
She sees less opportunity here, feeling that too many employers stereotype black youths as lazy or troublesome.
"There's just not a lot of doors opening up for us, " she said. – Cindy Gonzalez
---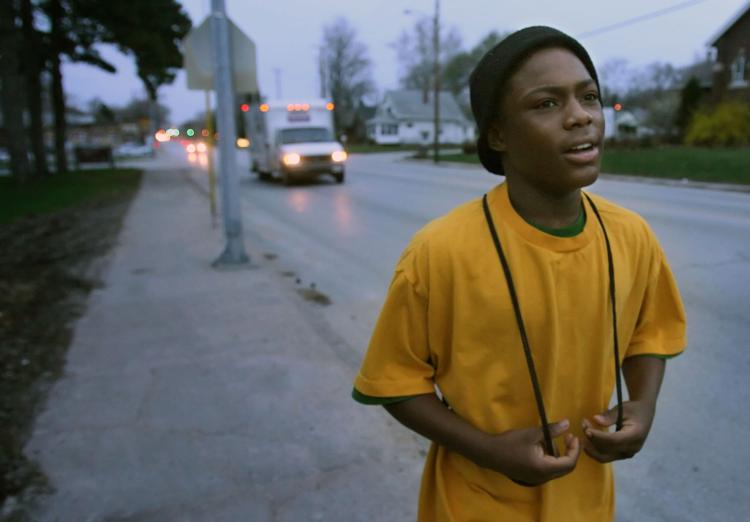 Kavon Jones: Middle schooler faces long walk to reach goals
If it's cold outside and he has a dollar, 13-year-old Kavon Jones likes to catch a city bus to school.
Today his pockets were empty, so he began the 32-minute trek on foot, arriving before the 7:45 a.m. bell.
That wasn't the case, however, on numerous other mornings. After his 12th tardy this semester, Kavon's mom was told she needed to report for a conference to get him back in school.
For the next three days, the 103-pound, eighth-grade wrestler sat at home, mostly watching television, with three younger siblings under age 4. He bugged his mom to take him back to school.
But the family has no car.
Aunt Vella was unavailable. Grandma was at a church retreat.
On his fourth consecutive day away from classes, a ride emerged. Kavon was elated.
His principal describes him as a pleasant, athletic kid who has had above-average grades and an occasional brush with trouble. "A classic middle school boy."
Kavon dreams of a wrestling scholarship and a career in law enforcement or mechanical engineering, a subject his dad dabbled in before he was sentenced to prison years ago.
Kavon sat quietly as his mom, Samona Jones, listened to the administrator.
Excessive tardiness. Not conducive to learning. Three more late starts this semester could trigger intervention by the county attorney.
Jones eventually spoke. Her son walks alone. She worries about violence in the area and prefers he not leave until the sky lightens. Does the district provide a bus or bus tickets?
The administrator checked her computer. The 1.2 hilly miles between Kavon's house and McMillan Magnet Center is not enough to warrant a school bus pickup.
Jones was offered a phone number. Free city bus tickets might be available for occasional use.
She didn't mention the eight younger siblings who eventually face the same predicament.
Jones isn't sure they'll stay at their current address anyway.
Three bedrooms aren't enough. Rent is higher than her state welfare assistance. She fears a misdemeanor criminal charge will keep her out of public housing.
Jones doesn't want her kids to fall behind and drop out like she did in middle school.
Even though Kavon wants to go to Omaha North High, she plans to send him farther west, to Omaha Burke. He'll be eligible for OPS transportation, and Jones believes he'll have better success at a school with more white kids.
Keith Bigsby, McMillan's principal and a former administrator at Central High, says freshman year poses even greater challenges for Kavon. For any kid.
"High schools are larger. They're more sophisticated because of academic requirements, more complicated because of social entanglements."
Kavon is a self-starter who gets himself up and out the door more than an hour before his siblings. But the household isn't getting any less complicated.
Jones, two months from having another baby, misplaced the phone number of the guy who could help with bus tickets.
She'll call, she said, when she finds it. – Cindy Gonzalez
---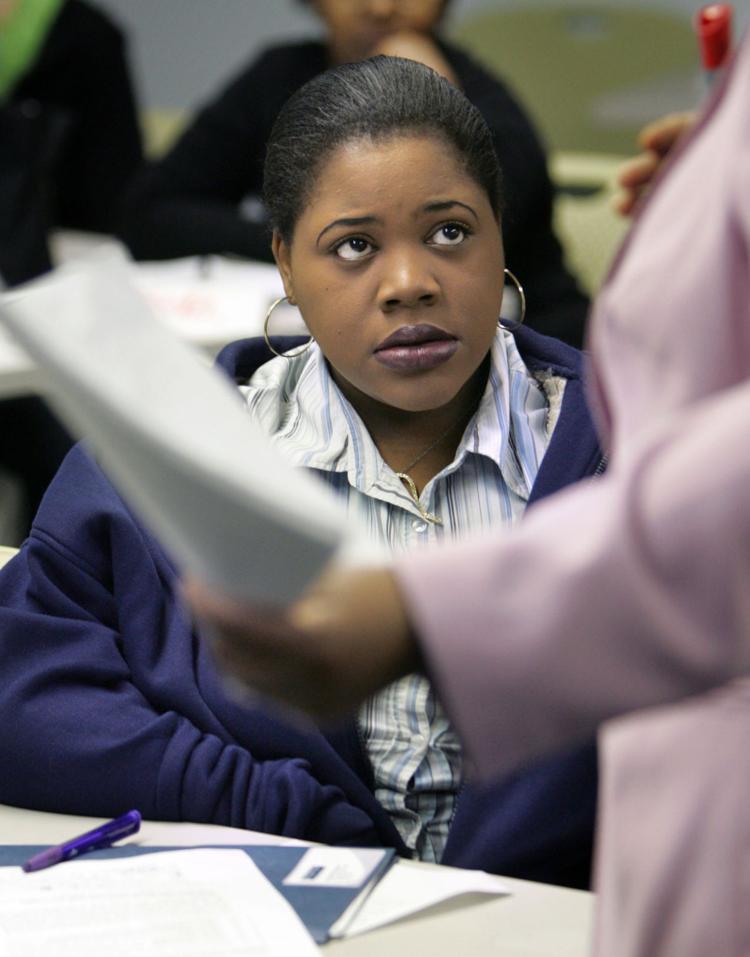 Jannise Johnson: Welfare role difficult after holding down job
Jannise Johnson sat in the front row of a classroom earning $1.83 an hour. In welfare.
She can't stop thinking about how she once was making $10.29 an hour authorizing credit cards. How she liked that job so much she left Omaha South High School without finishing. How she was able to build hours, earn money and move out.
Now out of that job since October, she gets a monthly benefit check of $293.
To get the check, Johnson – and anyone else who gets welfare and is able to work – has to log 30 hours a week in a job or state-sanctioned activity like this job-readiness class.
On a recent day, Johnson, 23, listened as classmates brainstormed reasons why welfare was good and bad as the teacher wrote their responses on a white board.
"Not enough money to live on, " shouted one classmate.
"Too many appointments and guidelines, " piped another.
"Feeling embarrassed and uninformed, " said a third.
Gone are the days when people could collect a welfare check and watch "The Young and the Restless, " said teacher Tonya Williams, a former welfare recipient who went on to gain an education and almost 20 years of work experience.
"Welfare – they don't have a retirement package, " Williams said. "Make the change now."
But Johnson didn't know if the message applied to her.
"I'm not a lazy person, " she said during a break. "I had a job. If (the state) would have helped me when I had a job, I wouldn't be in this predicament."
Even though she was pulling in nearly twice the minimum wage, it wasn't enough to pay the bills – not $400 in day care for her infant son and $400 rent on the cheapest one-bedroom apartment she could find. Not to mention paying for electricity, heat, food, gas for the car and car insurance. Not having that cost her a $100 fine and a misdemeanor.
Sorry, said the state, when she asked for help paying for child care. She earned too much to qualify.
When she tried calling the Omaha Housing Authority's Section 8 line on a day when the waiting list opened up to callers, Johnson couldn't get through. She called and called and finally gave up when her cell phone battery died.
Johnson fell behind on her bills, and dominoes started to fall.
Her child care provider dropped her.
Her landlord evicted her.
Her employer fired her for missing too much work.
Johnson moved back home and applied for welfare.
And here she sits in Job Club, a two-week course that teaches welfare recipients how to write resumes, interview for jobs and, once they get hired, keep them.
"All I needed was a little assistance with child care, " Johnson said. "I didn't think I would lose that job." – Erin Grace
---
Searching for answers
What's a first step the Omaha community needs to take to erase poverty?
Mike Fahey, mayor of Omaha:
A coordinated effort by government, schools and the business community, with education, long-term, the key. "We all in the city have a role to play in leveling the playing field."
John Mackiel, superintendent of the Omaha Public Schools:
Reduce the isolation of blacks and put more financial resources toward the unique needs of poor children. "Young people are getting left behind. We don't need any more information. What we need is a will to do something."
David Brown, chief executive of the Greater Omaha Chamber of Commerce:
Go "person by person" among those left behind to identify education and training gaps so they can be matched with good jobs that pay. "We don't have to throw up our arms in despair. We can make a difference."
Frank Brown, Omaha city councilman:
"Jobs, jobs, jobs, " combined with affordable, single-family homes that will give families incentives to improve their lives. "You can't just wake up one day and say, 'I'm going to get out of poverty.' If your car breaks down, how do you keep your job? If you're not learning in school, how do you ever get to college?"
Thomas Warren, Omaha police chief:
Reduce truancy. Add more vocational training. Improve the political will and leadership among north Omaha's elected officials. Promote economic development. "It's going to take a very comprehensive approach to a very complex problem."
John Cavanaugh, former congressman, part of a private effort in the city to address the achievement gap:
Education is key, with intervention needed at every level to help kids succeed. "There's a huge upside to changing this dynamic and a terrible downside in wasted lives if we don't."
Brian Owens, director of the South Omaha YMCA:
Strengthen young people and families by promoting an anti-teen-pregnancy attitude and abstinence. Omaha's segregated neighborhoods have led to social ills. "There seem to be these invisible lines you just don't cross."
Dana Jefferson, age 15, Omaha Central High School freshman:
Raise incomes, lower taxes and add food-type thrift stores, where families can get more than canned food – and "fresh vegetables, fresh fruits."
Brandy Huggins, a manager at Goodwill Industries:
Intervene with help for poor families before situations reach crisis stage. Mandate summer programs for poor youths who don't otherwise have a way to spend their time when school is out. "The street is watching the kids now."
Sandra Shepard, resident of the Pleasantview Homes public housing complex:
Raise wages. Keep children in school. Teach life skills to young parents. Improve public transportation. "Who can survive on $5.15 an hour?"
Judge Vernon Daniels, Douglas County Juvenile Court:
Parents can make the biggest difference by being engaged, inquisitive and committed to their children. "All that the court does, all that social workers, the mental health community can do, can be neutralized at the 5 o'clock hour if we don't have parental buy-in and support."
Dr. Rubens Pamies, vice chancellor for academic affairs, University of Nebraska Medical Center:
"We could fix this now. If we're going to implement plans to eradicate, let's set some goals: more green space, more jobs, more opportunities. I don't think it's gone to the point of no return." – Erin Grace, Cindy Gonzalez and Henry Cordes
---
Margin of error
The data in these stories come from an annual U.S. Census Bureau survey that provides more current information on economic and social trends between once-a-decade head counts.
The most recent American Community Survey covers 2005 and was released last fall.
The survey queries one of every 40 U.S. households. As a result, the black poverty rate for metropolitan Omaha has a margin of error of plus or minus 5 percent. That means the actual rate could be as high as 45 percent or as low as 35 percent.
But even at the low end of the range – assuming no change in other cities' figures – Omaha's black poverty rate would rank as the sixth highest nationally. And when results of several years of the survey are averaged, the city of Omaha still comes out near the top in black poverty: fourth in a three-year average, fifth in a five-year average.
Thirteen of the 100 cities in the comparison did not have large enough black populations for data to be released for 2005, though more comprehensive data from 2000 suggest few, if any, of those cities have higher black poverty rates than Omaha.
"All indicators show the same thing, " said Jerry Deichert, who tracks census data at the University of Nebraska at Omaha. "Omaha has one of the highest black poverty rates in the country." – Henry J. Cordes