Subby Anzaldo, a theatrical booking agent and homebuilder who represented downtown and part of South Omaha on the Omaha City Council for more than 11 years, died Wednesday at age 86.
Anzaldo represented District 3 on the council for three terms, starting in 1988. He served for several months as interim mayor of Omaha in 1994 after P.J. Morgan resigned. Anzaldo left the City Council in 2000 to work as an assistant to then-Mayor Hal Daub.
Daub recalled Anzaldo as a dedicated public servant who "always kept his eye on the ball for his district" and kept a civil tone even when debating difficult issues on the council. He said Anzaldo improved relations between the Mayor's Office and City Council during a time when they were often strained.
Anzaldo had "a big heart, he was a great musician and entertainer, a very good business person," Daub said Wednesday.
The Anzaldo family, in a statement, said Anzaldo above all was dedicated to his family. They said he loved helping people in his various roles, including as an elected official and as a builder of affordable housing in South Omaha.
"And, of course, he loved entertainment and as a theatrical agent was still active in booking talent for this year's Taste of Omaha and Fraternal Order of Police benefit concert."
In earlier years, Anzaldo brought to Omaha renowned acts such as drummer Buddy Rich, trumpeter Maynard Ferguson, jazz legend Dizzy Gillespie, Count Basie and his orchestra, the Duke Ellington orchestra and comedian Rodney Dangerfield.
His family said they were grateful for an "incredible outpouring of support."
Anzaldo was appointed to the City Council in 1988, elected in 1989, then reelected in 1993 and 1997, in an era of reawakening in downtown Omaha. During Anzaldo's time as interim mayor, the city opened a community center at Columbus Park in his district — a structure that was named in his honor a few months ago.
If there were any doubts in 1994 about his ambition to be mayor long-term, Anzaldo dispensed with them by having a sign erected near Eppley Airfield that said, "Omaha Welcomes You. Subby Anzaldo, Mayor."
Anzaldo ran for mayor in a special election but came in third behind Daub and then-City Council member Brenda Council. Daub, a former Republican U.S. congressman, narrowly defeated Council.
Current Omaha Mayor Jean Stothert called Anzaldo "a lifelong advocate for South Omaha."
"As a City Council member and interim mayor, he understood the responsibility and commitment of service to others," said Stothert, noting that he also served on the city's Zoning Board of Appeals. "I do believe his name on that community center will be a forever reminder of his life and service to South Omaha. He will be missed."
Anzaldo spoke at the naming event for the community center that's just blocks from the house where he and his wife, Jan, raised their five kids.
The grandfather of 20 and great-grandfather of 16 thanked longtime friends, entertained the crowd with jokes and talked about how proud his Sicilian immigrant parents would be to know that their name will live on in South Omaha.
During an interview at that time, a family member talked about Anzaldo's battle with glioblastoma, an aggressive brain cancer.
"It was a proud and satisfying moment for him, especially that he could actually be there," son Terry Anzaldo said of the naming ceremony.
He said his dad said after the dedication of the Gene Leahy Mall that those events would be even greater if the person being honored could be present for them.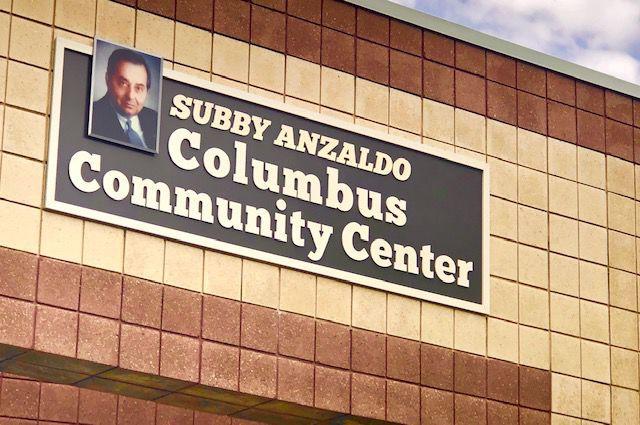 Anzaldo was remembered for going to bat for older neighborhoods, the length and diversity of his service and his big and close family.
In 1988, cries and chatter of small children helped herald him as the newest member of the City Council. Anzaldo's grandchildren were among the relatives filling three front rows for his installation ceremony after the City Council picked Anzaldo to complete the final year of Walt Calinger's term.
At the time, then-Mayor Calinger spoke of Anzaldo's time on the Planning Board, Zoning Board of Appeals and the Parks and Recreation Advisory Board, as well as his private promotion business. "And now he's going to be a promoter of Omaha," he said.
Anzaldo dedicated that day to his deceased father.
Daub said he became friends with Anzaldo when Daub was running for Congress. They ran into each other at county fairs for which Anzaldo had booked musical acts and where Daub was campaigning.
A memorable moment occurred when the two were running against each other for mayor.
"We had had a debate and were walking out of the South Omaha recreation center that was just named for him," Daub said. "He elbowed me gently in the side, smiled and said, 'You know, Hal, I built this recreation center.' "
Anzaldo said something in that debate that rang true and stuck with Daub through his time as mayor. The topic was road construction and repair.
"He said: 'Behind every orange barricade is progress,' " Daub said.
World-Herald staff writer Aaron Sanderford contributed to this report.
Notable Nebraska, Iowa deaths of 2019
To plant a tree in memory of South Omaha' as a living tribute, please visit Tribute Store.