It's impossible to put a price on life, but it is possible to attach a value to the tips that lead to a homicide arrest.
Last year, Crime Stoppers approved three payments of $25,000 apiece for tips in homicides. They were among the $125,750 in Crime Stoppers payouts approved in 2018, according to Omaha Police Officer Phil Anson.
The homicide rewards were for the arrests of:
Michael Benson, who is charged in the suspected road-rage killing of James Womack at 60th and L Streets.
LeAndre Jennings, who has been convicted of murdering Michael Brinkman in a botched robbery at Brinkman's home.
Richodd Mackins, who is charged in the 2008 slaying of Marcus Johnson near 60th Street and Hartman Avenue.
Benson and Jennings were arrested in 2017 and Mackins in 2018.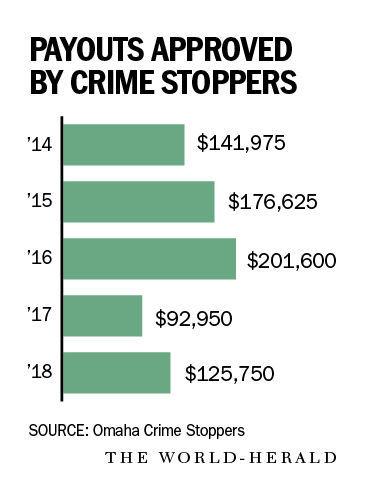 Anson said it takes a while for tips to be vetted and approved. In the Mackins case, the tip was made 10 years ago, but it took a decade for police to build it into a case, he said.
"The tip was accurate, but they needed more to make the case," he said.
Mackins' arrest underscores that even an old tip can lead to a payout, Anson said. The tipster simply has to have made the tip through Crime Stoppers and hung onto his or her password and the tip PIN number.
Crime Stoppers is anonymous, which is crucial, Anson said.
"It makes a big difference for people who are afraid to come forward," Anson said. "They're afraid to talk to police with the fear of somebody finding out and retaliating."
Police don't find out whether tipsters cashed in, he said.
A privately run program funded entirely through donations, Crime Stoppers averages about 3,000 tips a year, Anson said. Most Crime Stoppers payouts are for robbery, theft and assault and for locating wanted fugitives, he said.
The program has been aided by improved images from newer, higher-resolution security cameras, Anson said. Some videos prompt tips from multiple callers, but the reward goes solely to the first tipster providing the most complete information.
The reward amount varies. Shoplifting arrests typically net a $50 reward. Most other tips pay up to $1,000, with the Crime Stoppers board deciding the amount.
Some tips generate payouts at or above $1,000. They are:
$1,000, firearm recovered.
$2,500, prescription drug fraud arrest (targeted at opioid abuse).
$2,500, assault on a first responder arrest.
$5,000, homicide fugitive.
$10,000, shooting arrest.
$10,000, credit union robbery arrest.
$20,000, bank robbery arrest.
$25,000, homicide arrest.