You can walk, you can run, but you can't scoot to the gates of TD Ameritrade Park to take in a College World Series game.
Lime, one of two electric scooter companies partnered with the City of Omaha, is more than doubling the number of scooters in the downtown area to accommodate CWS crowds. Officials are reminding the influx of users they expect over the next two weeks to be mindful of pedestrian and vehicle traffic, as well as the rules of riding.
That's not to say fans can't use the electric scooters that line many downtown sidewalks as part of a six-month pilot program.
Nicholas Jones oversees the Omaha launch for Lime. He said the scooters can be driven up to a geofenced boundary surrounding the stadium. The boundary runs along Cuming Street, Riverfront Drive, Capitol Avenue and 14th Street.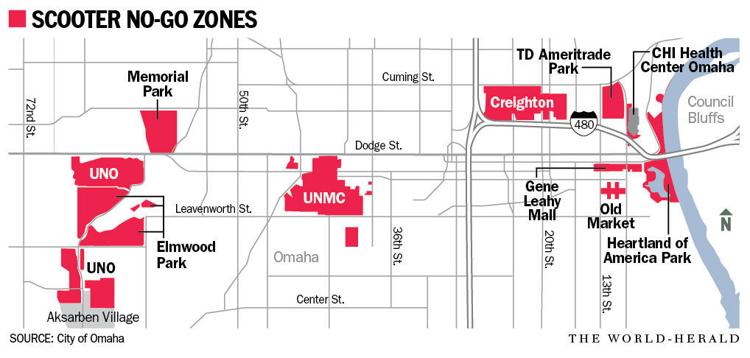 The "slowdown zones" within the boundary will gradually decrease the scooter's speed to 5 mph. Riders also won't be able to end their rides within the zones, meaning their credit cards will charged until they leave the zone and park the scooter.
"I would advise against going into the slowdown zone at all. There's going to be a lot of people, so it's not going to be a place where you'll want to have a scooter anyway," Jones said.
Jones also said that in preparation for the CWS, Lime plans to add about 400 scooters to the fleet of 200 already in the downtown area.
"Omaha has been an amazing market. People have really embraced the scooters," Jones said. "I think this will be a way for people using them to really enjoy their time at the College World Series."
He offered this advice for CWS fans who want to scoot:
Capitol Avenue and 16th Street are ideal thoroughfares.
Wear a helmet. Take your safety and other people's safety seriously.
Park in the preferred parking zones.
Follow traffic laws and city ordinances. Riding on sidewalks and on streets with speed limits over 35 mph is prohibited.
CWS Event Commander Jake Ritonya said the scooters are a security detail that public safety officials haven't encountered before.
"Those are really meant for on-road; they're not meant for the sidewalks," said Ritonya, with the Omaha police. "There's a learning curve here and we don't want to have to enforce anything, but if there's an issue we'll take a course of action."
Omaha police said in a statement that riders can be cited for riding the scooters in prohibited public areas, driving over a curb or sidewalk or driving on a sidewalk.
Sign up for The World-Herald's afternoon updates
Receive a summary of the day's popular and trending stories from Omaha.com.