Round two, and the hype surrounding Union Pacific's Big Boy No. 4014 hasn't lost steam.
The locomotive was back in Omaha Friday night on its return trip to Wyoming. A crowd gathered on the 10th Street Bridge near the Durham Museum Friday evening to watch No. 4014 pass by.
The train switched tracks before continuing on to the Union Pacific Home Plate at 12th and Cuming Streets where it will be on display today from 9 a.m. to 3 p.m.
Andy Houser was jogging past with his 3-year-old son Gabriel and decided to pause for a look.
Gabriel held his hands over his ears as the locomotive's whistle went off.
Sign up for The World-Herald's afternoon updates
Receive a summary of the day's popular and trending stories from Omaha.com.
"For a relic of the past, it looks bigger than the trains we have today," Houser said.
Pat Kidder watched the train go by with an appreciation garnered by 20 years as a conductor.
"If you're into trains, it's really something to see," Kidder said.
No. 4014, the only operational Big Boy left, rolled out of the shop in May, according to Union Pacific. The steam engine locomotive also made a stop in Omaha on July 14.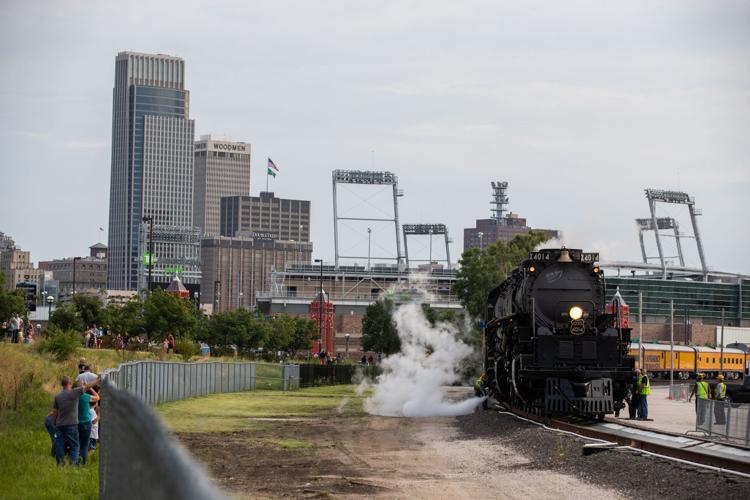 Twenty-five Big Boys were built exclusively for Union Pacific Railroad, the first of which was delivered in 1941. The locomotives were 132 feet long and weighed 1.2 million pounds.
Jim Wrinn, editor of Trains magazine, described running a Big Boy steam locomotive in 2019 "akin to bringing back a T. rex ."
In their operating history in the 1940s and 1950s, the massive engines were creatures of the Cheyenne to Ogden, Utah, area, Wrinn said, pulling heavy tonnage freight trains in the Wasatch Mountains initially, and later Sherman Hill near Cheyenne.
Big Boy No. 4014 will begin a multiday trek across Nebraska, with a stop Sunday in Fremont. Other stops next week include Columbus, Central City, Kearney, Cozad, North Platte, Ogallala, Chappell and Sidney, Nebraska. It is scheduled to arrive home in Cheyenne on Aug. 8.
The schedule is subject to change. For more information, visit upsteam.com.
World-Herald staff writer Kevin Cole contributed to this report.