Evie Earlywine of Randolph, Iowa, was in for a big surprise when she walked through the doors of the Mid-America Center in Council Bluffs on Saturday.
The 8-year-old's eyes lit up, and she giggled as she and her brother, 10-year-old Eion Earlywine, stepped into a world of trains, racetracks, skyscrapers and battleships — all built from Legos.
Evie and Eion's mother, Shantelle Earlywine, surprised her kids with a trip to Brick Days-Omaha, a two-day Lego expo for fans of all ages. The event continues Sunday from 10 a.m. to 5 p.m.
Professional and amateur Lego builders were capturing the minds of children and adults with their Lego creations.
"Me and my brother have a lot of Legos, and we want to make something like this," Evie said. "But now we have some more ideas on how to make them."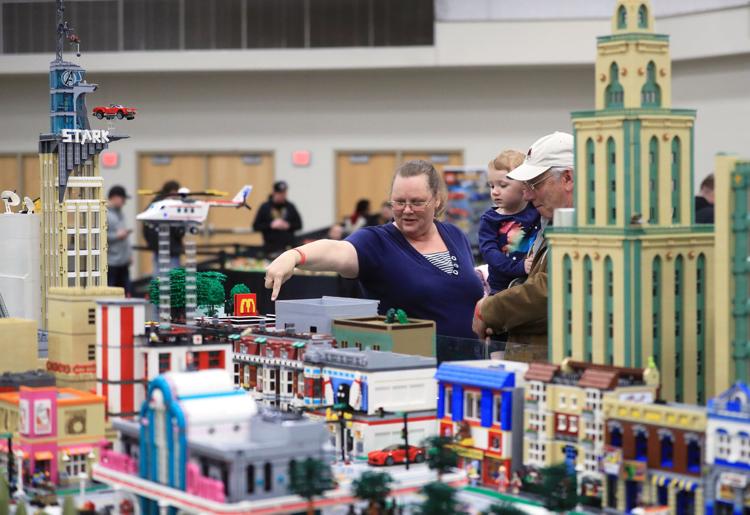 Dan Siskind of Minneapolis is displaying his 25-foot Lego model of the USS Missouri battleship. It took Siskind more than 2,000 hours over the course of one year to complete the Lego ship, which he built using only a blown-up blueprint of the actual USS Missouri, the site of Japan's surrender in World War II.
Siskind owns Brickmania, a Minneapolis company that builds and designs custom historically inspired Lego kits. The store set up a booth this weekend at Brick Days-Omaha, along with other Lego vendors and adult Lego user groups, called LUGs.
At least eight LUGs and Lego clubs are displaying their creations this weekend: Lincoln and Omaha LUG, Northern Illinois Lego Train Club, Pennsylvania LUG, Indiana LUG, Dallas-Fort Worth LUG, Kansas City Brick Lab, Colorado-Wyoming LUG and Iowa LUG.
LOLUG (Lincoln and Omaha) member Jeff Sichta wanted to build something kids could touch, so he displayed a 3-foot-long replica of Battlestar Galactica. He built the nearly 6-pound replica in about three days with about 2,500 bricks.
"I wanted to build something that kids could actually touch and to see the looks on their faces when they hang onto it," Sichta said.
Brick Days organizer and owner Daniel Schmidt started the event about five years ago, when he and his wife decided to bring together Lego enthusiasts at the Hobbytown store they own in Lincoln.
The event grew and moved to the Omaha area. Schmidt said he expects more than 5,000 people to attend this year's event.
"Our goal is to have more people active in this community and have fun building stuff," Schmidt said.
Of all the impressive displays, Evie's favorite was a display created by the Northern Illinois Train Club. She loved the mini houses, buildings and businesses surrounding the moving train — all the things a city could need.
"It's showing what you can see of the world, yet in smaller versions," Evie said. "But you get to build it yourself!"
General admission is $8 for ages 9 and above, $5 for ages 8 and under, and free for children under 2.
Sign up for The World-Herald's afternoon updates
Receive a summary of the day's popular and trending stories from Omaha.com.