Humor might not be what comes to mind during large religious gatherings, but Omaha Archbishop George Lucas said he wanted Saturday's ArchOmaha Unite event to be "reflective but also fun."
So the archdiocese invited comedian and actor Jim Gaffigan.
Considered a clean comic, Gaffigan often jokes about family, food and everyday observations. He is also Catholic, Lucas pointed out.
"He and his wife are parents of five children, and he's someone who's trying to live his faith," Lucas said.
During his stand-up act Saturday, Gaffigan also mentioned his faith: "I'm a Midwestern Catholic. Omaha, this is amazing. I had nothing like this growing up."
The crowd at the CHI Health Center cheered. Then cheered a little louder when he referenced Runzas.
"Omaha has everything, and the Runza," he said.
Gaffigan talked about his family.
"You know what's impressive? Juggling the schedule of five children," Gaffigan said. "I don't know how my wife does it."
And about growing up in the "Rust Belt."
"When I was 9 years old, I collected beer cans I found on the street, a garbage can, or along the highway, which I means I went to the highway to play," Gaffigan said. "And I had parents."
Booking Gaffigan was just one step in planning an event that Lucas said took years to come together and brought thousands of Catholics (15,000 registered) to downtown Omaha.
"We're calling it a 'once-in-a-generation event,' " Lucas said.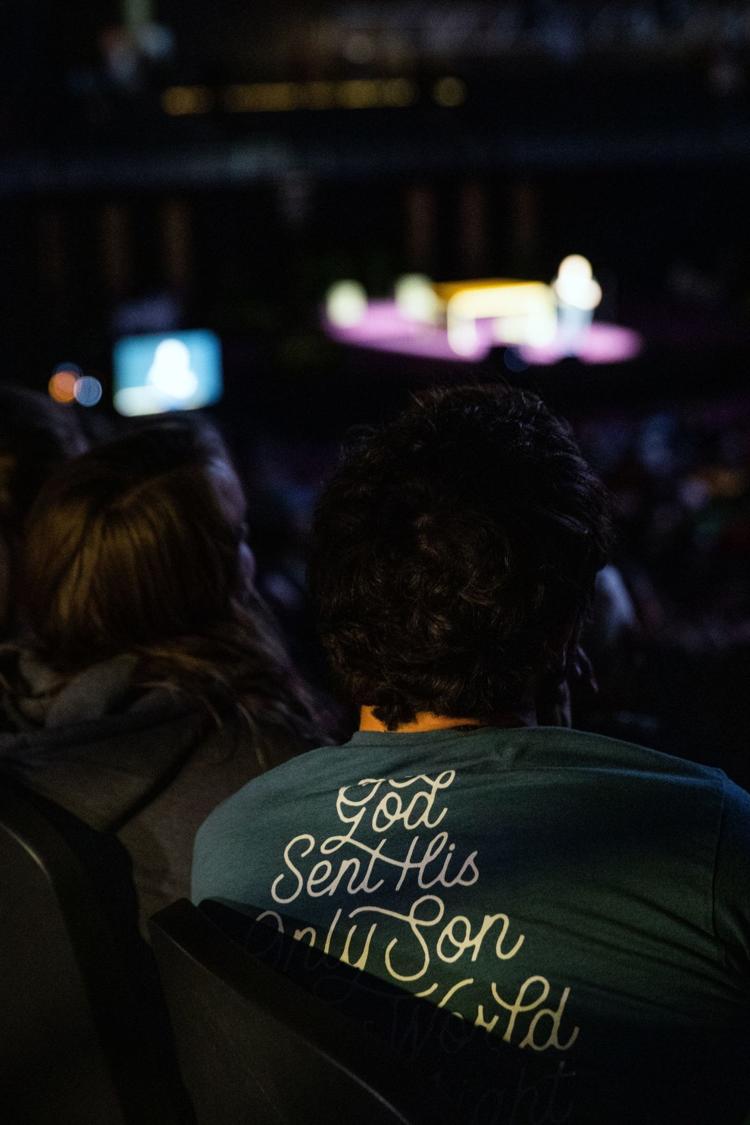 Volunteer Brett Jamrog is studying to be a Catholic priest. He said the day was "an important one for the church."
"There have been a lot of scandals in the past year, a lot of things that have happened. People sometimes look at the church with disgust," he said. "This is a good reminder that the church is still founded and based on the truth of Jesus Christ's life."
Andrea Zardetto-Smith sang in the choir with her daughter.
"For me to be able to sing with her today and pray for the Holy Spirit to revitalize the church and our world and an opportunity to be here with other Catholics ... it's a very important day," she said.
Besides the performance by Gaffigan, ArchOmaha Unite included Mass, confession, Latino Unite for Spanish speakers and interactive exhibits.
Lucas said there are about 235,000 Catholics in the Archdiocese of Omaha and that gathering so many together is rare.
"We cover 23 counties and have a variety of cultures and different types of communities," he said. "We rarely have a chance for many of us to be together.
"I'm grateful that many thousands of people responded to the invitation. The major experience of the day was so many of us being together."