At the climax of one of the more difficult courses at a new adventure park at Fontenelle Forest, climbers stand at the edge of a wooden platform high in the treetops as a staff member far below encourages them to jump into the open air.
For those brave enough to jump, the ensuing free fall is a thrilling drop to the ground, aided by a cable that slows momentum.
The $1.6 million aerial adventure park, which features zip lines, suspended bridges and other challenges, officially opened Wednesday. At a ribbon-cutting event Tuesday, several dozen people were among the first to get a bird's-eye view of the forest.
"With so many people living in urban centers — with social media and the Internet and screens taking up so much of our time — it's very, very important for Fontenelle Forest to create new opportunities to invite people to explore the wild," Merica Whitehall, the forest's executive director, said in an interview.
Sign up for The World-Herald's afternoon updates
Receive a summary of the day's popular and trending stories from Omaha.com.
When you look out at the park, spread over 5 to 6 acres near the forest's nature center, you see platforms installed at various heights, cables zigzagging from tree to tree and a number of challenges that require balance, patience and careful footing.
The park offers seven trails for people ages 7 and older that vary in degree of difficulty. Yellow courses are the easiest, followed by green, blue and black, which is the most difficult and takes guests 55 feet in the air. The black course is not yet open.
TreeRush also has two aerial trails for children ages 4 to 6 that let parents walk alongside their youngsters.
Each of the park's seven courses incorporates different challenges, including zip lines, a tube bridge and a faux rock wall suspended high in the air. Some of the bridge crossings are nothing more than a series of wooden circles, each no bigger than a sewer grate, suspended by ropes.
After strapping on a full-body harness and safety gloves, visitors to the park go through a 15-minute training session, learning how to attach carabiners to cables and how to use the device that attaches to zip lines.
Kelly Mann was exploring the kids' courses Tuesday with her children Tatum, 7, Hendrix, 3, and Merrick, 1. The kids were laughing as they checked out the park, and even though Hendrix came away with a scraped leg, the little adventurer was not deterred.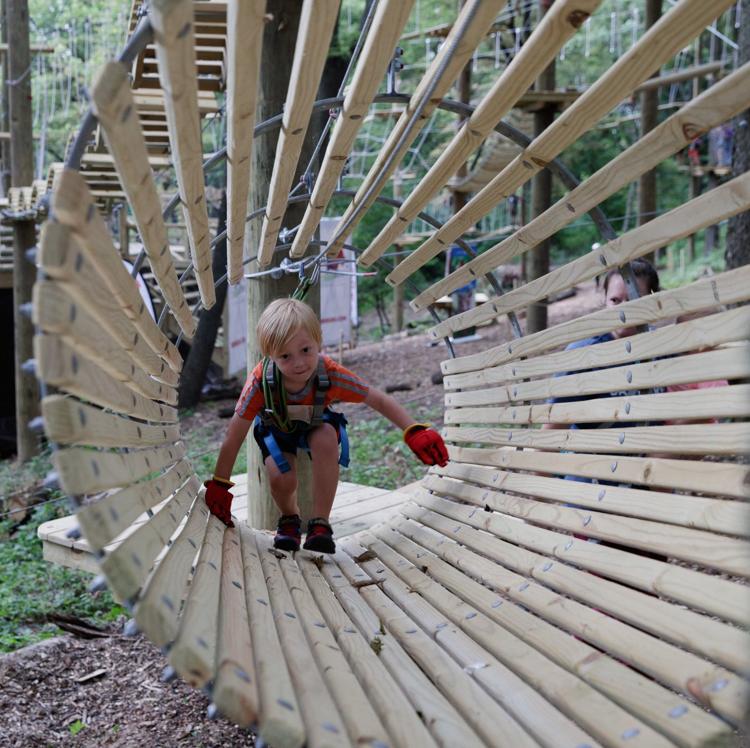 "I love how they made it kid-friendly so the little kids can be (included)," Mann, the treasurer of Fontenelle's board of directors, said. "It's a good workout for the adults, but it's not hard."
Leaders at Fontenelle Forest have been dreaming of an aerial adventure park at the forest since 2013. The idea was included in the forest's 2015 master plan, and four years later, the park is finally a reality.
Conservation is a key aspect of Fontenelle Forest's mission. Kema Geroux, a spokeswoman for TreeRush Adventures, said the two organizations share those ideals.
"We really care about the environment, and that's one of the things that drew us to Fontenelle Forest," Geroux said. "Both (organizations) have a love of trees, a love of nature."
Whitehall joked that she thinks of Fontenelle Forest and the natural world at large as a "gateway drug" to getting people interested in the outdoors "because once we get people into the forest, nature does its magic."
"I don't generally advocate for the use of drugs," Whitehall said, "but I totally, totally am a proponent of getting high on nature."
And at TreeRush Adventures, visitors can do just that.
Omaha's most popular parks
What better way to enjoy the outdoors than spending time at a park? Pack up your family or friends and head to one of these 20 local spots, among the most popular in the city, according to the Omaha Parks Department.