Somber voices cut through the joyful atmosphere at Saturday's Juneteenth Parade Celebration in north Omaha.
"We want justice, we want peace," shouted members of Families of the Stolen as they marched the parade route that ran along 30th Street from Lake to Sprague Streets.
Families of the Stolen is an organization founded by Buffy Bush to support and represent those who have lost loved ones to violence.
Bush rode the parade route in a white Jeep along with her nephews, whose mother, Jamelia Hesseltine, was murdered in her home eight years ago. Bush said she can't find peace until her sister's murderer is brought to justice.
She was joined by families experiencing their own loss, including the loved ones of Jasmine Harris, who was shot and killed in the Old Market about a year ago, and the families of Latecia Fox and Jakela Foster, who were killed in a gang-related shooting in 2015.
"It was an emotional day for the families because we've had a lot of first-time families here," Bush said.
"Without our community we won't receive justice. Somebody has to speak up."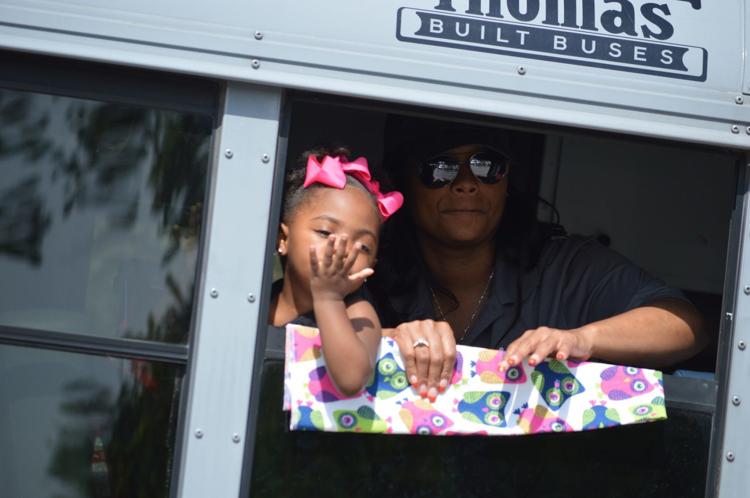 The group was well-received by the crowd lining the route — many paradegoers shouted words of encouragement and a few jogged into the street for a hug.
Juneteenth is a holiday on June 19 that marks the day when slaves in Texas learned of their freedom two years after the Emancipation Proclamation signed by Abraham Lincoln went into effect in 1863.
Dayneisha Jackson has been coming to the Juneteenth parade since she was 10 years old. Saturday, she brought her daughters, ages 8 and 11.
"It's something that we do as a black community; everyone should try to come down and enjoy themselves for the weekend," she said.
Eddie and Lynn Walker have also tried to make the parade a tradition.
Sign up for World-Herald news alerts
Be the first to know when news happens. Get the latest breaking headlines sent straight to your inbox.
"It's something that's been going on for generations and generations so we just try to come out and support it," said Eddie.
For Latoya Moses, the day is all about supporting local groups and businesses.
"I love all the drill teams and all the support out here," Moses said. "It's just about celebrating us as a community and getting together supporting all the businesses. I love my city."
Robin Robson said he and his wife came for the celebration and to reflect on the importance of Juneteenth.
"I think it's very important," Robson said. "We have to remember these things or we're destined to repeat them.
"With the current climate — we thought that some of these issues were behind us and we see that they aren't."
The parade was followed by the Taste of North Omaha, which featured north Omaha entrepreneurs, chefs and restaurants.
Photos: Thought-provoking murals enrich Omaha walls and buildings
Omahans sure love their murals. Check out these pieces of art — space aliens, octopuses and vegetables, oh my! — you can find all over the city.