The idea for this World-Herald series on the safety of the 55th Wing C-135 reconnaissance fleet was sparked three years ago, when 27 crew members narrowly escaped a raging fire aboard an RC-135V Rivet Joint on the Offutt runway. The aircraft was salvaged, but the fire burned a hole near the tail and caused $13 million worth of damage to a jet the Air Force could ill afford to lose because of the critical missions it performs.
It had been 30 years since the last fatal crash of one of Offutt's C-135 jets. But we started to wonder: How often do the pilots of these planes declare emergencies?
That question has proved surprisingly difficult to answer — though we soon realized that it happens a lot more often than we would have guessed.
We learned that, after certain incidents, 55th Wing pilots fill out a form called an "Aircraft Incident Worksheet." We filed a Freedom of Information Act request for four years of these worksheets, expecting to receive a small number. Instead we found 150 or more per year.
Many of them concerned relatively minor events, such as bird remains found on an aircraft after a flight. But dozens of others appeared to be more serious: engine failures, uncommanded rudder movements, electrical outages, hydraulic failures, fuel fumes, smoke. Several were harrowing to read.
We requested additional records, including:
» Listings from the Air Force's Integrated Maintenance Database
» Incidents reported to the Air Force Safety Center in New Mexico
» A 55th Wing database of "Pilot Reported Discrepancies," detailing maintenance problems noted by pilots after every flight
» Nominations for monthly Air Combat Command "Aircrew Safety Award of Distinction," which filled in details on several incidents and included several additional incidents not described elsewhere

These records helped us to build a history of flights cut short by mechanical failure for each of the Wing's 29 C-135 aircraft. Lists for some planes were longer than others, but mechanical failures led to in-flight emergencies on every single jet in the fleet. Sometimes we noted repeated failures of the same part or aircraft system on the same plane, within days or weeks.
Even this long list is most likely not complete. For example, the Russian media has reported — and the Air Force has acknowledged — several aborted flights involving Offutt's two OC-135 aircraft, which conduct aerial photography over Russia and other countries under the 34-nation Open Skies Treaty. Information about those missions isn't included in the documents we obtained.
We also found what appear to be very serious failures in the listing of pilot-reported discrepancies (such as in-flight electrical failures and large liquid oxygen leaks) with no other corresponding incident report or notation in the maintenance database.
We compiled a database of 55th Wing incidents and shared it, or the numbers we compiled from it, with about a dozen aviation experts. Most had a prior connection to the Air Force. Four (Reg Urschler, Thomas Keck, Don Bacon, Maj. Gen. John Rauch) are former 55th Wing commanders.
We also puzzled over a way to compare the number of incidents with civilian airlines or other military units. Then we discovered that the Tampa Bay Times had conducted a similar investigation into in-flight mechanical problems at Allegiant Airlines in 2016.
Using records obtained from the Federal Aviation Administration, Times reporters had painstakingly created a database of civilian airline flights interrupted by mechanical failure for the year 2015. Then they measured Allegiant's record against other U.S. airlines by looking at how many flights out of 10,000 had to land early because of mechanical failure. They called the metric "interrupted flights."
We queried the Times about it and verified with the FAA that the newspaper's methodology was sound.
To match that metric, we added up all of the aborted flights and in-flight emergencies involving 55th Wing C-135 aircraft for fiscal years 2012 through '16 (Oct. 1, 2011, through Sept. 30, 2016). We did not include 2017 data because 55th Wing declined to provide information from their maintenance database for part of that year, leaving us with an incomplete data set. We also omitted emergencies that occurred on the ground, or flights that were cut short because of bird strikes. 
The "interrupted flight" total for those years was 413, out of a total of 12,529 sorties. We calculated a rate of 330 interrupted flights per 10,000.
We also calculated the rates for each of the 55th Wing's five missions and its training jets. They ranged from a low of 130/10,000 flights for Combat Sent, to a high of 596/10,000 flights for Constant Phoenix.
The World-Herald sought an interview with the current 55th Wing commander, Col. Michael Manion, in August 2017.
The 55th Wing offered a tour of several hours that included a visit to the Wing's Rivet Joint aircraft simulator, an off-the-record interview with the unit's aircraft scheduler, a chance to observe Manion's daily weather and maintenance briefing, to include an interview with Manion.
At the last minute, Manion's interview was canceled because of a schedule conflict and replaced by an interview with other senior Wing officers.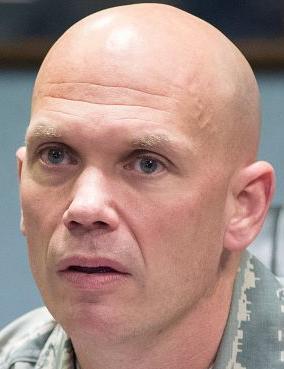 A follow-up request to interview Manion was declined, and further requests for information were referred to Air Force public affairs in Washington.
The 55th Wing was given an opportunity to review a late draft of these stories earlier this month as an accuracy check. 
Wing officials were also invited to offer comments on the broader issues raised by the series.
"We have no further inputs and respectfully decline any additional interview requests at this time," 55th Wing spokesman Ryan Hansen said in an e-mail.
The Air Force, and the 55th Wing, are working to make investigations like this one more difficult. In mid-2017, the Wing began censoring certain information from the incident reports that it releases, including the tail number, aircraft type, and takeoff and landing location, in response to a Pentagon directive to limit the release of information about operations.