Look at the sale pictures of one Omaha home, and you might think that you've stumbled on some wacky "Jurassic Park" remake.
There's a dinosaur in the shower, in the kitchen looking for a snack and in the backyard with a glass of wine.
The photos are part of a creative way realtor Bambi Case is trying to sell a northwest Omaha home.
The photos show Case in a T. rex costume throughout the home she put on the market Monday.
"I thought it would be so funny to do this,'' said Case, who works for Nebraska Realty. "It's a different way of marketing."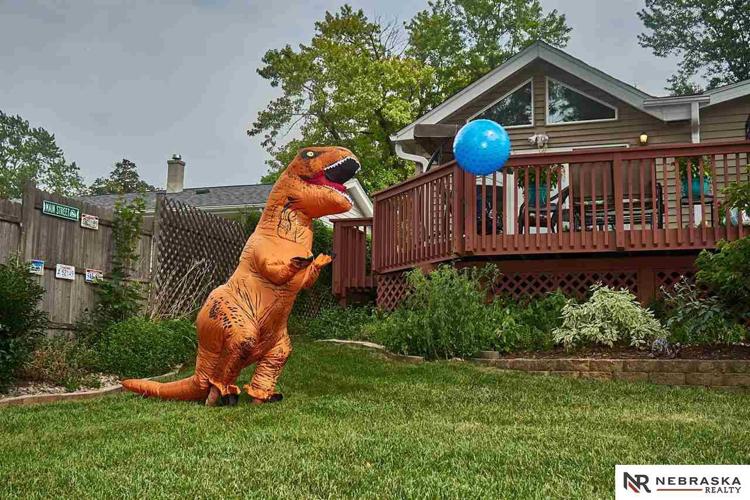 Case said she saw photos of a real estate agent on the East Coast doing the same thing a few years back and always wanted to try it.
Her husband gave her the costume for Christmas, and she pitched the idea to Becki Wyscarver, who's selling a home near 96th and Emmet Streets.
"I got a big chuckle out of it,'' Wyscarver said. "I said, 'Go for it.' "
Case said she wanted to draw attention to Wyscarver's home, listed for $189,000, because it's unusual for its Maple Village subdivision. Most of the homes are small three-bedroom ranches, but Wyscarver's home almost doubled in size to 2,778 square feet because of a major remodeling and now includes four bedrooms, a big sun room, a family room, a master bath and a larger basement.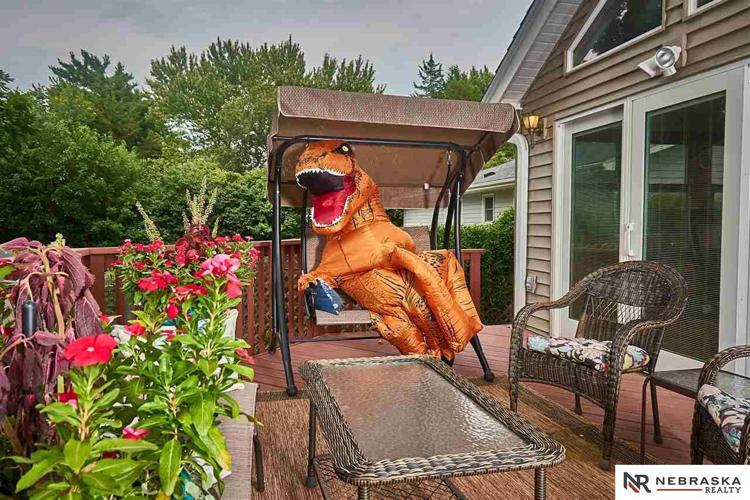 The dinosaur costume is big as well. It's the type that inflates with a small battery-operated fan once you're zipped up inside. So even though Case is 5-foot-5, the dinosaur costume inflates to about 7 feet tall and comes with a long tail.
Case's T. rex dwarfs the home's fridge, can't be contained by the shower curtain and fills up the sun room even though it has a cathedral ceiling.
Case said that so far, the T. rex is helping draw attention. She already had showings scheduled for Tuesday night.
Wyscarver is guessing that Case's dinosaur days might not be over when the home sells.
Said Wyscarver, "She'll probably get bookings for birthday parties."
The latest and greatest from The World-Herald's Michael O'Connor
He has the latest on the dog that hitched a ride to Vegas. He spells out why the sky was orange that one time. He knows why that tiny Nebraska town had a giant Arby's sign. World-Herald reporter Michael O'Connor is bringing you some of the best (and strangest) stories Omaha has to offer.