The group of refugee women crowded in an empty first-floor apartment nodded and murmured in understanding as Paw Bway Htoo pantomimed an act known and feared by parents the world over: a child scribbling with markers on a wall.
Speaking a language called Karen, she gave tips on how to clean the walls, recommending a Mr. Clean Magic Eraser sponge to wipe away unwanted artwork. She perched on a tub and pointed out all the parts of a toilet that need to be disinfected — the bowl, the lid, the seat. She pretended to spray windows with glass cleaner and switched out attachments on a vacuum.
On this sunny Saturday in July, dozens of residents of the Fairview Apartments, near 66th Street and Ames Avenue, filed in and out of the apartment for cleaning classes conducted in five languages: Karen, Karenni, Burmese, Spanish and English.
"They love to learn," said Lay Paw Shein, a 19-year-old Metropolitan Community College student working as an interpreter that day. "Most of them don't know how to use American cleaning supplies."
Organizers hope, in the long run, educational, bridging-the-gap efforts like this could help ease longstanding landlord-tenant tensions that exploded out in the open last year when the Yale Park Apartments were evacuated and shut down by the city.
"It's a two-way street: Tenants have responsibilities and landlords have responsibilities," said Hannah Wyble, the executive director of Restoring Dignity, a refugee advocacy group, who helped file the housing complaints that led the City of Omaha to intervene at Yale Park.
To be sure, the conditions building inspectors discovered at Yale Park, at 34th Avenue and Lake Streets, went beyond cleanliness issues, though landlord Kay Anderson blamed some of his tenants for not taking better care of their apartments.
Inspectors found gas leaks, bedbug infestations, leaky ceilings and mold and eventually cited Anderson with a total of 1,962 code violations after conducting a mass inspection of the 100-unit complex on Sept. 20, 2018. Anderson has been charged with 99 misdemeanors, to which he has pleaded not guilty, and is due back in court in November.
Five hundred tenants, all refugees from war-torn Myanmar in southeast Asia, had to find new homes when the apartments were condemned. Forced to leave with just a few hours' notice, many stayed in emergency shelters or hotels for a week or more and had to start over after leaving behind clothes and furniture to prevent the spread of bedbugs.
Photos: Yale Park Apartments inspection
City of Omaha housing inspectors descended Sept. 20 on a north Omaha apartment complex to inspect units and potentially remove and relocate up to 500 refugees from Myanmar.
Much has changed in the year since, and much has stayed the same.
Some Yale Park residents — many work in local meatpacking plants — were able to scrape together savings for a down payment to achieve a slice of the American dream: a home of their own. Others are still struggling to find decent, affordable housing in Omaha, bouncing around to rentals with backed-up toilets or mice that invade kitchen cabinets.
Ninety-two former tenants have sued Anderson for the "squalor and slum-like conditions" of their apartments. He has countersued them and filed a federal lawsuit against the City of Omaha and Restoring Dignity, saying they conspired against him to shut down his property.
John Chatelain, the president of the Metropolitan Omaha Property Owners Association, said he's still concerned that the raid on Yale Park was a stunt designed to stir up sympathy for stricter housing inspections.
"It appears due process rights may have been denied to both the landlord and the tenants, who were loaded up in buses and torn from their community, before the owner of the property had an opportunity to address any of the alleged code violations," Chatelain said in a statement.
City Planning Director Dave Fanslau stands by the city's response.
"The actions taken at Yale Park brought landlord/tenant problems to the forefront," he wrote in an email. "Due to the Yale Park inspections, the community and property owners are more aware that the Planning Department is serious about making homes and apartments safe and sanitary for residents."
After tenant advocates and local landlords lobbied in front of the City Council and the Nebraska Legislature, Omaha passed a rental inspections ordinance that requires landlords to register with the city in 2020 and ratchets up inspections of problem properties. By 2022, most properties face mandatory inspections once every 10 years.
Some feel it's not aggressive enough. Landlords have urged the city not to punish everyone for the sins of a few, saying the city should crack down on the worst offenders instead.
And the Yale Park Apartments are slowly filling up again. Anderson has been fixing up his property and re-opening units after getting the thumbs-up from city inspectors. A few dozen people are living there now, and rents reportedly have been raised to roughly $695 per month, up from the $550 to $595 rent Anderson previously charged for two- and three-bedroom apartments.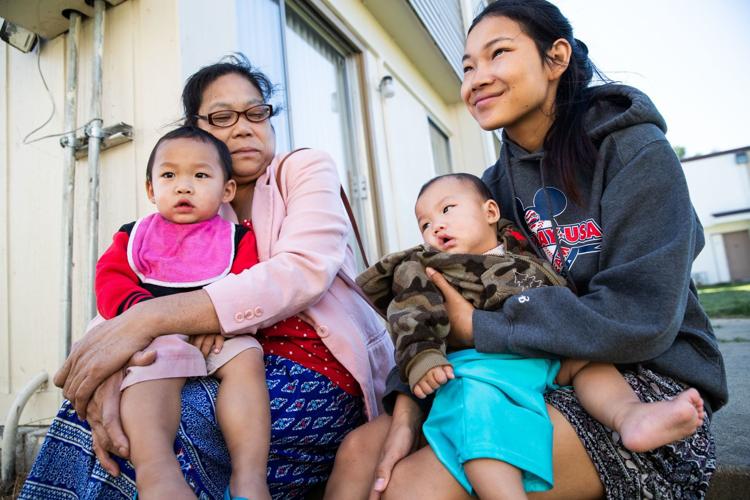 Anderson allowed a reporter and photographer to visit the property, but declined to be interviewed. The 10 or so tenants who spoke with a reporter identified themselves as Karen, an ethnic minority from Myanmar.
Shaw Moo, a 21-year-old mother of two who moved into Yale Park about a month ago, heard about the people forced to leave Yale Park last year. But the apartment complex her family was living in near 48th and Boyd Streets had its own problems — noisy neighbors, fighting. Her children are small — baby Rose is just 8 months old and toddler Ghey Moo is not quite 2.
Despite its reputation, "I thought it was going to be OK," she said of Yale Park. Her new apartment there is quieter, more peaceful.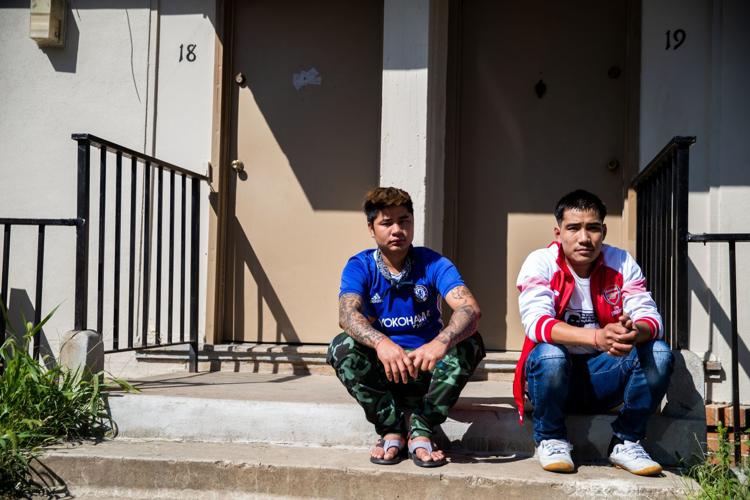 Restoring Dignity has been conducting follow-up surveys with the 100 Yale Park families who were displaced to see where they're living and how they're faring.
Thirty-one families have bought a house. Those former renters, often in homes more spacious than their previous apartments, "seem to be doing really well, they're really happy," Wyble said.
The same can't be said for some families who ended up in rentals not much better than Yale Park. Roughly 40 families said they had maintenance issues in their new home. The most common problems were cockroaches, mice and rats and faulty windows.
"Why did you move us out of Yale Park?" some have asked Wyble.
It's a question that leaves her pained and conflicted.
"That was never what we wanted, for it to get shut down," she said. "We wanted to get repairs made. ... When that happened, it was extremely traumatic on the families. On me, too."
But the gas leaks, electrical problems and other safety hazards uncovered by inspectors made the complex a ticking time bomb, she said. (Anderson has maintained that the city exaggerated its findings and that Wyble tricked residents into signing housing complaints.)
"(The tenants) are taken out of a bad situation and then put in a similarly bad situation, and it is frustrating because there's not very much good affordable housing in Omaha," Wyble said. "It makes housing advocates feel like we're running into brick walls all the time, because no matter what you do, it doesn't improve the situation that person is living in."
Families, churches and other organizations sponsored Yale Park families, helping them get settled in new rentals with donated lamps, beds, shampoo and rice cookers.
Sponsors often became unofficial go-betweens. Kaela Volkmer, who trained as a social worker and sponsored a family of five with the St. Wenceslaus and St. Pius X parishes, said she spent hours talking to the family's new landlord and submitting maintenance orders to fix a broken knob on a stove, leaking pipes and a persistent mice problem.
The family felt lost and uprooted after the evacuation, and their young son had to switch schools. But they closed on a house in the Benson area last month, not far from family and other members of the Karen community.
"We're grateful that it turned out the way it did, but it takes a team of people working hard to have that kind of outcome," Volkmer said.
At least three or four families forced to leave last year have moved back to Yale Park, a decision that has troubled some of Wyble's staff.
"People have to make their own choices," she said.
Ngwe Tey, 21, moved into Yale Park at the end of August. She also came from the apartments off 48th Street.
With the ongoing construction work at Yale Park, it's a little noisy, "but the apartment is nice" and clearly some recent repairs had been made, she said. Another woman gathered outside had lived at Yale Park several years before and returned.
"She loved these apartments," Ngwe Tey said.
Even former tenants who complained about holes in ceilings or cockroaches said there was a reason they stayed at Yale Park. For some, the complex was all they could afford. For refugees still acclimating to a dizzying new country, there was safety in numbers and a comforting sense of community — residents shared child care duties or carpooled to work. Anderson said he had a waiting list to get in.
"You're working with a population that's been mass displaced before and that's essentially what then happened again to them," said Nicky Clark, the vice president of community well-being at Heartland Family Service, the agency that helped find new homes for Yale Park families. "The reality was their mental health was affected, greatly affected."
Ta Aye Aye, 30, works at an OSI Industries meatpacking plant nearly 45 minutes away in Oakland, Iowa, and lived at Yale Park for more than five years. Speaking through an interpreter, Eh Sayler, she said her apartment was decent at first but deteriorated over the years. There were bedbugs that bit her four kids, busted plumbing and ceiling leaks.
Even though shutting down Yale Park forced her to live for months with friends, with more than 10 people crowded together, she thought it was the right thing to do. "There were bedbugs everywhere."
Three months ago, Ta Aye Aye and her family moved into a three-bedroom, two-bathroom apartment near 52nd Street and Northwest Radial. It is in better condition than her previous rental, but the living room is sparsely furnished, with a single couch, TV on the floor and sacks of rice stacked high. Ta Aye Aye said she had to "spend, spend, spend" to replace what was left behind.
Her monthly rent is $950, a hefty sum considering a mortgage would be less, she said. She's looked at houses, but didn't find much she liked in her $50,000 price range. So she's saving up, hoping to buy a home in the next year or two.
She misses some of her friends and neighbors whose new homes are now scattered across Omaha, but she is firm: She will not move back to Yale Park.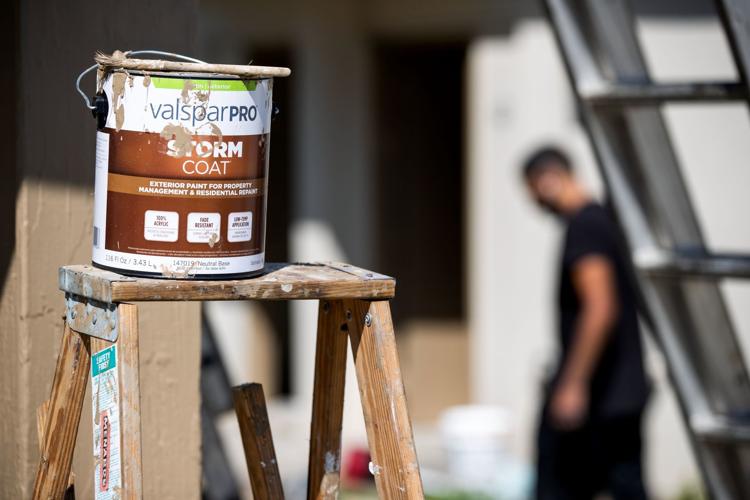 Since the Yale Park evacuation, Omaha groups that work with refugees and on housing issues, including Family Housing Advisory Services, Together Inc. and Habitat for Humanity, are meeting together more regularly and sharing notes — and that includes some landlords and management companies. The tone is more collaborative, less confrontational.
"That is something positive," Wyble said. "We've formed a team and it's not just a team of advocates, it's a team of landlords, different agencies, trying to make housing better in Omaha."
Lutheran Family Services is one of three federal refugee resettlement agencies in Nebraska. Last year, officials there said 22 clients were Yale Park renters, but stressed that the refugees choose where they want to live.
Emily Sutton, an assistant vice president for community services, said community organizations are working together to ensure that a situation like Yale Park "never, ever happens again." And service agencies, tenants and landlords are talking more, too.
On the enforcement side, Fanslau said city staffers have been contacting owners with outstanding code violations and prodding them to fix problems or face criminal citations. Staff are also holding info sessions on common code violations.
Advocates have pushed for stronger code enforcement of problem properties and a landlord licensing program similar to one in Minneapolis, and created a website — wedontslum.com — to shame property owners for not fixing roof leaks and broken furnaces. But they — along with some landlords — have also acknowledged the need for more education on tenants' rights and responsibilities.
Chris Rios, the property manager at the Fairview Apartments, approached Restoring Dignity earlier this year about cleaning problems.
Many of the tenants living at the 204-unit complex are refugees, including a handful of Yale Park families. Monthly rents range from $575 to $765 for one- and two-bedroom apartments. A Burmese-speaking interpreter works part time in the office there and a Karen-speaking maintenance worker was just hired, but a language barrier persists, Rios said.
"They don't know how to put in maintenance orders," Rios said. "They don't know cleaning supplies, the simple things those of us born and raised here know."
She and her maintenance supervisor do quarterly walk-throughs of apartments and in some have found food that wasn't being stored in sealed containers and grease-spattered stovetops. Sponsors helping the families who moved from Yale Park to Fairview walked into chilly apartments — tenants couldn't figure out how to work a different thermostat.
Rios and her employer, Corsica Management, didn't want to evict refugee tenants — they're typically quiet and pay rent on time — but Rios asked for a little help after researching a Minnesota program called The Tapestry Project that brought together refugees and different community organizations.
Those discussions led to the cleaning classes, organized by Restoring Dignity, Relevant Community Church in Elkhorn and Rios, and other events at Fairview, like a fire safety demonstration.
Refugees who are placed in the United States receive just 90 days of assistance from a resettlement agency case manager, and immediate needs like finding a job or learning English can take precedence over teaching routine tasks, like how to use and clean an oven when you're more familiar with cooking on an outdoor grill.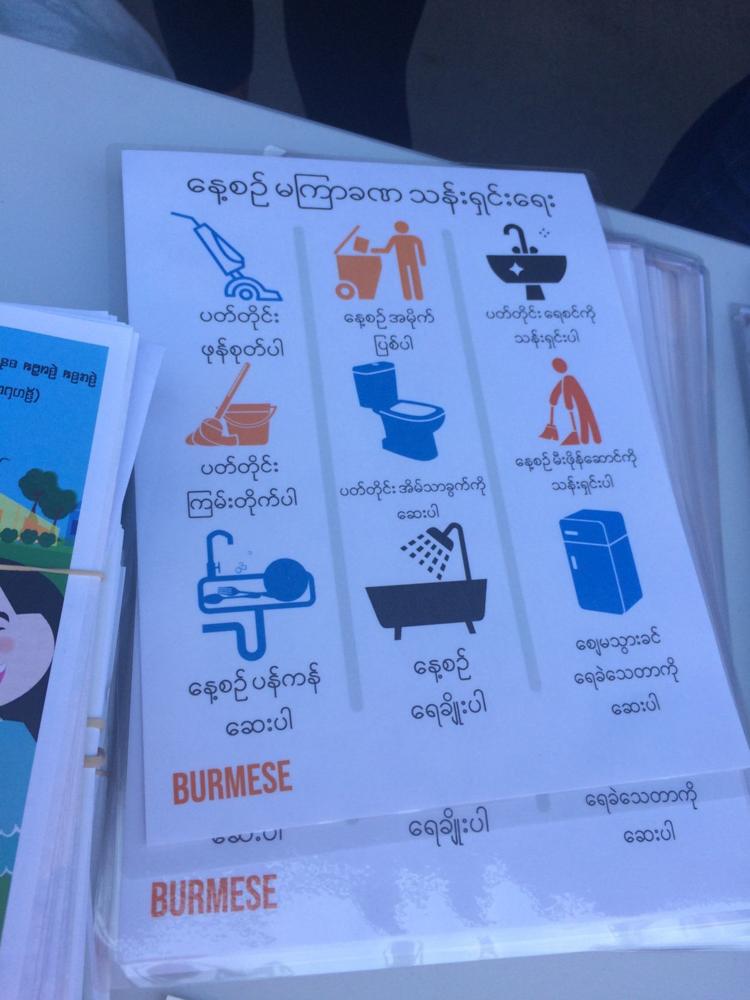 Relevant Church passed out dozens of cleaning starter kits and food storage containers to those who attended a class. Volunteers placed tags in different languages on cleaning supplies; some tenants had trouble distinguishing between bottles of bleach and Windex when the labels were written only in English.
Rios provided the hot dogs and fruit juice devoured by kids who hopscotched and hula-hooped with church volunteers as their parents picked up mops. More than 130 families have signed up since for one-on-one cleaning tutorials, and nearly two months later, Rios said she's seen improvements.
"This isn't just 'give them a bunch of free stuff,' " said Cory Nelson, the director of impact ministries for Relevant Community Church. "This is an education thing. Now when they go to Walmart, they know what to get."
Wyble hopes more landlords invite them in to work with tenants.
"We'll teach cleaning," she said, but "please respect people, keep rentals in conditions you'd want to live in. I think that's the lesson. Just treat people with dignity."