Clean energy advocates want to see if a $4,000 grant for purchasing a new electric vehicle and a $500 grant for installing a specific home charging station are enough to get interested people off the fence.
Douglas County residents are the guinea pigs for this experiment by the Nebraska Community Energy Alliance, officials say, because the Omaha area is home to more than half of the state's 600 registered electric vehicles. (The state has about 1.7 million total registered vehicles.)
If the program spikes interest in electric vehicles, the Energy Alliance plans to approach state lawmakers in Lincoln and push for state incentives with data showing that they work, said Anne McCollister, the alliance's director.
"Government has always been a partner for beginning businesses," she said. "We would likely go to request general funds, along with matching funds from the Nebraska Department of Environmental Quality."
In the past week, California and Texas and utilities in New Jersey and New York have taken steps to encourage use of electric cars.
The Nebraska pilot program's grants are powered by roughly $275,000 in funds from the Nebraska Environmental Trust. They should provide enough to grant $4,000 to about 50 people and, with the Omaha Public Power District's help, enough to grant hundreds the help for charging stations.
The charging station grants, up to $500 each, will be available in all 13 counties of the eastern Nebraska OPPD service area. OPPD and the Energy Alliance expect to release more information about the grant process this month.
Program organizers are working with OPPD to distribute the first-come, first-served grants, OPPD officials say, so the utility can glean information at the neighborhood level from specifically networked electric vehicle charging stations. They want to study power use patterns and load strains.
Utility leaders will be watching the effects of electric vehicle usage on the power distribution network and transformer system, they said, because adding an electric vehicle is roughly equivalent to adding the usage of about a third of a home or a new air conditioning unit.
The utility's aim: to better steer local infrastructure investments that prepare the utility's power grid to handle wider future adoption of electric vehicles, said Heather Siebken, director of product development and marketing for OPPD.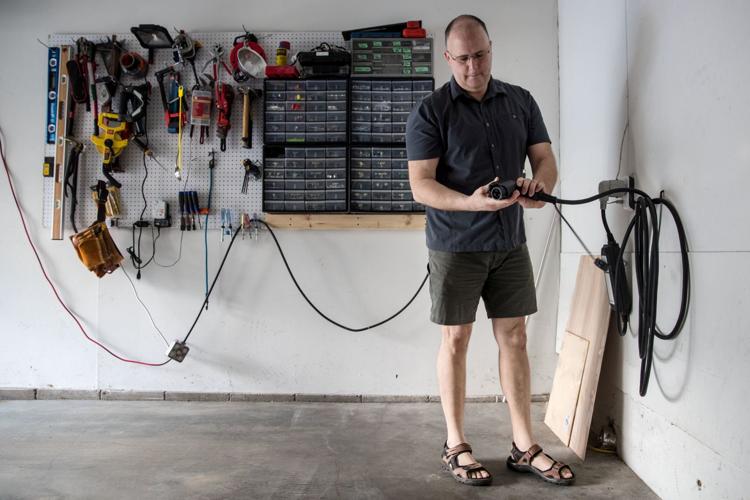 South-central Omaha resident Gregory Burnett, a 49-year-old dad and engineering consultant, said he would have loved a $4,000 incentive like the one about to be offered to Douglas County residents. He bought his 2018 Nissan Leaf at Woodhouse Nissan in April.
He had been thinking about buying an electric vehicle for a while and finally took the plunge . He said he was swayed, in part, by federal tax incentives of up to $7,500, plus incentives from individual manufacturers that can reach into the thousands.
"Any sort of incentive helps," he said. "You have to pay a little extra to register an electric vehicle because you don't pay gas tax." (It's $75 more, according to the Douglas County Treasurer's Office.)
But what really sells electric vehicles, Burnett said, is the experience of driving one. It's quiet. Low-maintenance. And surprisingly quick off the draw. He plugs his Leaf into regular outlets, which take longer than a higher-voltage charging station. He doesn't miss gas stations.
The new incentive to install a ChargePoint Home electric vehicle charger might sway Burnett to get one. OPPD and the Energy Alliance will pay up to $500 to offset the roughly $600 to $750 cost. A lot depends on whether he stays put.
His vehicle purchase is part of a nationwide trend toward electric vehicles, said McCollister, who directs the Energy Alliance , which includes representatives from cities and universities in Omaha and Lincoln and transportation advocates.
The purpose of such incentive programs, she said, is to speed the adoption of electric vehicles as utilities transition to cleaner sources of electricity. Cleaner air is possible with a little push, she said.
The alliance's most recent report showed a reduction in carbon dioxide emissions by electric vehicle usage in Nebraska of almost 113 tons from late 2014 to April 2018, a number McCollister says incentives should boost.
"We just want to make it high enough to get people enthusiastic," she said.
Correction: A previous version of this story listed an incorrect cost for registering an electric vehicle.