From the air, Lewis and Clark Lake along the Nebraska-South Dakota border appears immense as it stretches some 25 miles behind Gavins Point Dam.
It would be logical to think of the sprawling lake — formed by damming the Missouri River — as a big deal in flood protection.
There's 90 miles of shoreline along this watery playground that draws 2 million visitors a year.
It is formed by one of six massive dams on the Missouri River, all operated by the U.S. Army Corps of Engineers.
Together they constitute the largest reservoir system in the United States.
And together, they deny the Missouri River its nearly annual habit of flooding twice a year because of snowmelt — first from the plains and then from the mountains.
When an epic storm hit in mid-March, the gargantuan system had 22 percent of its space set aside for flood storage, and a full 96 percent of that stood empty and ready to take in water.
Yet on the night of March 14, when historic and previously unimaginable flooding washed down the Niobrara River into Lewis and Clark Lake, the limitations of Gavins Point Dam became apparent.
It's small, holding back less than 1 percent of the water in the six reservoirs. It's not even Nebraska's largest lake — it's about one-fourth the size of Lake McConaughy.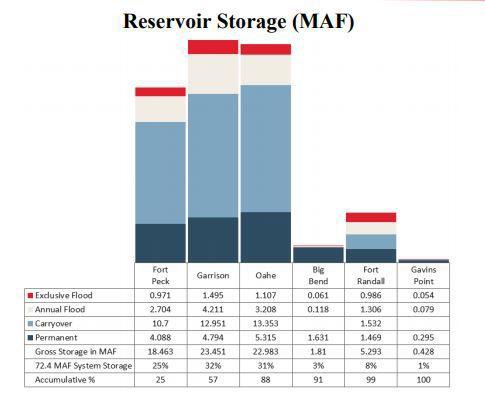 And there's another thing: The dam, as it turns out, is not designed for significant flood control.
"It's not?" said Ken Doyle, who lives downstream of the dam in Dakota Dunes, South Dakota, a community that flooded in 2011 and was evacuated in March. "That's crazy. I was always told all those dams were for flood control."
Instead, Gavins Point's main purpose is to smooth out widely fluctuating discharges from the much larger hydroelectric dam immediately upstream. If Gavins Point weren't in place to do so, river levels downstream would rise and fall, perhaps multiple times and sometimes as much as 5 to 6 feet, on any given day. About 30 percent of the space behind Gavins Point Dam is set aside for flood control.
Only four of the six reservoirs are designed to impound significant runoff. As luck would have it, the record-shattering runoff from this historic storm occurred downstream of those four.
So when the Niobrara dumped its floodwater into Lewis and Clark Lake — on the peak day of flooding, 31 times the river's average March flow was pouring into the lake — the Corps of Engineers had few options but to open the floodgates.
The timing couldn't have been worse: Downstream, the Platte River was pouring even more water into the Missouri River, which was swelling to record levels. South of the Platte, levees were overtopped, broken or weakened. Low-lying neighborhoods, businesses and cropland flooded.
In information provided to The World-Herald, the corps said the largest single source of floodwaters entering the Missouri was the Platte River. Significantly, the corps says, the levee that protects Hamburg, Iowa, was overtopped well before the increased discharges from Gavins Point reached that stretch of river.
Corps officials say they did what they could, undertaking rarely or never used actions:
» Shutting off Missouri River flows coming out of Fort Randall Dam immediately upstream of Gavins Point.
"We stopped the upper 1,440 miles of the Missouri River, the longest river in the nation ... for four days," said Col. John Hudson, commander of the Omaha District of the Army Corps of Engineers. Eventually those flows would be halted for a total of eight days, interrupted by modest releases over two days.
» Raising the Gavins Point floodgates in a manner that allowed the height of the lake to rise 1.6 feet higher than ever before in its 62-year history. Doing so required a determined effort because two of the 14 gates had become frozen in place during late winter's bitter cold.
» Boosting, temporarily, Gavins Point releases to 100,000 cubic feet a second, second only to the amount released during summer 2011.
At the height of the flooding, the corps sent 44 percent less water downstream than was coming into the lake.
"There was far more water flowing into Gavins Point than we could hold in that reservoir," said John Remus, chief of the corps' Missouri River Management Division. "We kept flows as low as we possibly could, and we delayed increases as much as we could."
The corps' explanations of what it did and why will do little to soothe people who experienced flooding along the Missouri River. Political leaders are leveling varying degrees of criticism.
"Perhaps a good scrubbing of the (corps guidebook) may help clear wax out of bureaucratic ears that haven't gotten the message: The number one priority of the corps should be flood control. Period," said Sen. Chuck Grassley, R-Iowa.
Due to high precipitation, flood control has been the guiding priority for the corps since March 2018, Remus said.
Any semblance of its natural flows have been engineered out of the otherwise flood-prone Missouri River. Congress has directed the corps to manage the river according to eight priorities: flood control, navigation, hydroelectric power, irrigation, water supply, water quality, recreation, and fish and wildlife, including endangered and threatened species.
Years ago, flood control was the corps' top priority, but changing conditions, including extreme drought and continued ecological degradation, led to numerous lawsuits by interest groups and political wrangling among states.
In 2004, a federal judge ordered the corps to do more for threatened and endangered species. Subsequent flooding set the stage for another lawsuit, this time a victorious one by landowners who blamed the corps for damage to their property. (The controversial spring pulses undertaken to help endangered and threatened species haven't been done since 2009 and were removed from the corps' guidebook in 2018.)
One thing that hasn't changed over the years, Remus said, is the amount of space set aside for floodwater.
"There has been a lot of mentioning in press lately by people and some politicians about changing our storage for fish and wildlife," he said. "We have not changed" the floodwater allocation.
Any effort to boost storage space for floodwater, even at "small" Lewis and Clark Lake, would require a re-examination of the entire complex system, Remus said. And there's no guarantee that doing so would prevent the next flood.
Still, corps officials say they will study what has occurred this year.
"There's always something to learn," Col. Hudson said. "We're not suggesting we couldn't have done better. We'll look at how we communicated, we'll go back and look in detail at what could have been done better."
Photos: Major flooding hit Nebraska and Iowa towns in March 2019