Residents of Council Bluffs, Oakland and Pottawattamie County, Iowa, tired of ongoing flooding and property damage have until Thursday, Oct. 31, to raise their hands and volunteer for what could be a government-funded buyout of their flood-prone properties.
Officials in western Iowa are trying to gauge how many people are interested in buyouts — while also figuring out how to pay for any property acquisitions and demolition.
As many as 350 to 375 residential, agricultural and commercial properties in Council Bluffs, Oakland and the unincorporated areas of Pottawattamie County that have been threatened or damaged by flooding could be eligible.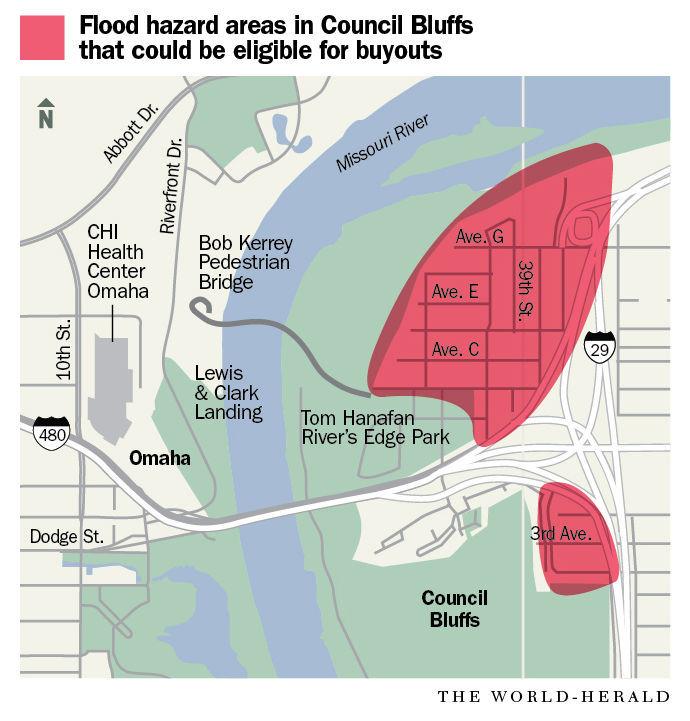 City officials in Council Bluffs have mailed about 300 letters to property owners west of Interstate 29 in neighborhoods north and south of Interstate 480 near Tom Hanafan River's Edge Park and Dodge Riverside Golf Course, according to city spokeswoman Ashley Kruse. Those neighborhoods are just across the Missouri River from Omaha.
New apartments going up near River's Edge Park as part of riverfront revitalization efforts and the large River Park complex just south of I-480 are not included in the map of potentially buyout-eligible properties released by the city.
Those complexes have been built up and don't have basements that are frequently inundated with water like some of the single-family houses nearby, Council Bluffs Mayor Matt Walsh said.
Buyouts are voluntary, and submitting a form isn't binding. This is the first step in what could be a long process, and property owners can change their minds and decide they don't want to sell.
Sign up for World-Herald news alerts
Be the first to know when news happens. Get the latest breaking headlines sent straight to your inbox.
The Federal Emergency Management Agency will have the final say on which buyout applications get approved and funded. Typically, FEMA pays for 75% of buyout costs through its Hazard Mitigation Assistance program. Local governments are expected to kick in 15%, and the state foots 10% of the bill.
"I'm not sure that anybody is going to get FEMA relief, but we don't want to miss an opportunity," Walsh said Wednesday.
An Iowa flood fund recently allocated $15 million for local flood recovery efforts, including a combined $5.49 million to cover the local costs of acquiring and demolishing flood-damaged properties in nearby Mills County and Pacific Junction in Iowa.
That didn't include any money for Council Bluffs or Pottawattamie County, where officials may have to ask the state for more aid to cover the local match.
Appraising, buying and demolishing houses can be expensive. More than 200 property owners in Pacific Junction and Mills County have expressed interest in buyouts, which could cost $15 million in Mills County and nearly $22 million in Pacific Junction.
"We just have to look at what we can afford to do," Walsh said. "We obviously don't have a big bank account to buy people's houses."
In Council Bluffs, much of the flooding problems are clustered around the city's low-lying west end, closest to the Missouri. But it's not water from the river that spills over — it's the high water table and propensity for street flooding and sewer backups that send water into people's homes and basements.
After several rounds of flooding this spring and summer, Walsh said frustrated residents have been calling him and asking if the city would buy their houses. The city previously conducted buyouts after the Missouri flooded in 2011.
Jessica Olson submitted a buyout form. She lives near 39th Street and Avenue C in Council Bluffs, near Playland Park and not far from the river. This March was the first time in five years that her house took on a little bit of water in the basement.
"This year was a real eye-opener," she wrote in a message. "It was a nice starter home, but I would love to start over and not burden someone else with a potential problem."
Residents who sell are supposed to receive the preflood value of their home. A house could be relocated to higher ground, or, more commonly, torn down and turned into dedicated green space owned by the city. The goal is to remove people and housing from the flood plain, to prevent future damage and repeat payouts.
Disputing rumors that have circulated, Walsh said this isn't a land grab for riverfront property. The city could turn demolished properties into a park, but it couldn't build houses or pricey condos there.
The mayor is concerned that any buyouts could result in a loss of residents, taxable properties and affordable housing. The Iowa Department of Transportation already acquired almost 50 houses in the same area for road construction, and the Council Bluffs housing market is tight, especially for affordable housing.
"We have a dearth of properties at the price point of $150,000 to $250,000," Walsh said.
This report includes material from the World-Herald News Service.
Before and after: Scenes from the flood
A few days after the flood, some parts of Kearney and the surrounding area are starting to dry up. Other sections of town are still covered with floodwater.