Levees would get higher, floodwalls would go up, some roads would get floodgates and some homeowners and businesses would have the option of making their property more flood-resilient.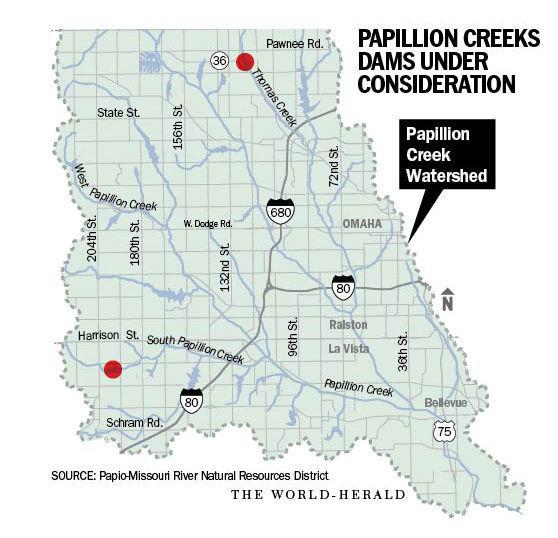 The proposed projects are:
Raise the levee on the Big Papillion Creek from L to Harrison Streets (and consequently raise the Little Papillion Creek levees at the confluence of the two).
Widen the channel on the Big Papillion Creek from Blondo to Pacific Streets.
Widen the 105th Street bridge at One Pacific Place.
Build a floodwall along the West Papillion Creek from Millard Avenue to 144th Street.
About 20 structures along the West Papillion Creek would be eligible to be modified. Some homes could be elevated, and some homes and commercial buildings could have their basements filled in. Some commercial buildings could be clad in a water-resistant barrier.
Build a levee/floodwall along the Little Papillion Creek from about Cass Street near Nebraska Furniture Mart, past Aksarben and downstream to West Center Road.
Build Dam Site 10 on Thomas Creek, a tributary of the Little Papillion.
Clad some homes and businesses with water-resistant exteriors.
Papillion Creek/Saddle Creek
About 40 structures on the Papillion Creek and 50 along Saddle Creek would be eligible to be clad with a water-resistant exterior.
Still under consideration, but not yet demonstrated to be fully cost-effective, is Dam Site 19, on the South Papillion Creek, and a floodwall on the West Papillion Creek.