On Saturday morning, bell tolls and names of fallen first responders rang out from Werner Park.
An estimated 200 people participated in the 2019 Nebraska 9/11 Memorial Stair Climb, said organizer Matt Gibbons, a captain in Offutt Fire & Rescue.
The $6,585 raised by the event's 165 donors will go to the National Fallen Firefighters Foundation to support the families of the 343 firefighters killed in the Sept. 11, 2001, attacks.
Each climber chose a badge depicting a firefighter or police officer who died on 9/11. Then they climbed stairs or walked laps to emulate the World Trade Center's 110 flights of stairs.
Upon finishing, they rang a bell and read the name of the first responder they represented. Gibbons said it made it a little more real.
Physical reminders of Sept. 11 lined the track as well. A list of times — when the planes took off, when they hit the towers, and so on — was displayed for climbers to see.
Jeremy Genier, a 32-year-old firefighter at Offutt, climbed for the first time Saturday. He and lead Offutt Firefighter Brent Bergstrom rested and posed for pictures with kids after the climb.
"I knew it was going to be tough," Genier said. "It's hard to even say it's tough compared to what they did."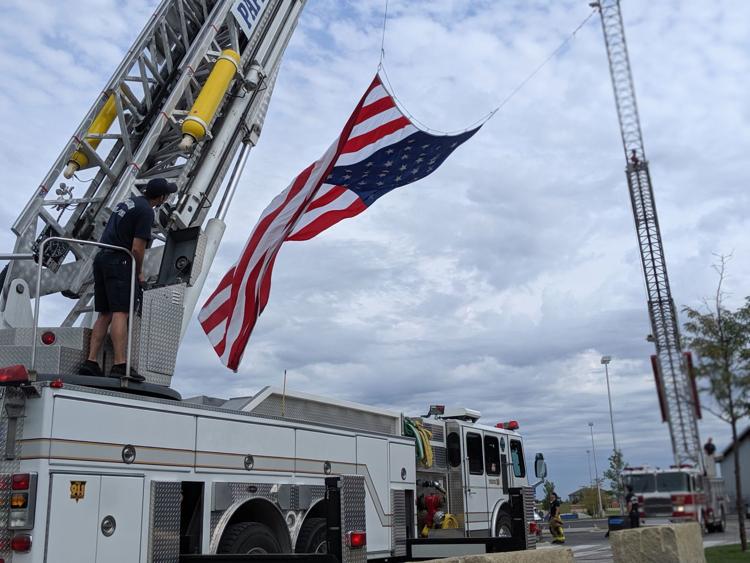 Climbers at the memorial walk didn't experience the heat of burning jet fuel or the pressure of panicked civilians escaping, Bergstrom said.
"We climb because they climbed," he said. "If we don't remember them — if we don't do this — they get forgotten. And that's unacceptable."
This was the third year of the event. Gibbons was glad to see that more children attended this year.
Kids could be seen walking the track or being carried by their parents intermittently. One young boy played with a water bottle after the event, spraying his friend with what he said was lava.
"A lot of these kids weren't alive when this happened," Gibbons said. "So that's the only way the history is going to be remembered, is if everybody at younger ages keeps bringing it about."
Katie Brown has worked at Lincoln Fire & Rescue for over 10 years but walked in the 9/11 memorial for the first time on Saturday.
"This was a little bit of suffering for which we knew we signed up for. And we're going to go home afterwards," she said. "Which is a night and day difference from what those first responders went through that day."
As volunteers were packing up after the event, one participant thanked Gibbons for the climb, and the two shook hands.
Looking forward, Gibbons hopes for more climbers, more sponsors and more people coming out.
World O! Water, harvest festival and 20+ other fun things happening this weekend
Looking for something fun to do in the Omaha area this weekend? Check out these family-friendly suggestions, which take place Sept. 5-8.