A statue of Medal of Honor recipient Miguel Keith will forever commemorate his courage, but it should also encourage young people to live for others, speakers said Sunday.
The dedication of the life-size bronze statue of Marine Lance Cpl. Miguel "Mike" Keith, who died in the Vietnam War, attracted a large crowd of officials and residents to the South Omaha park named in his honor.
Keith, who attended Omaha North High School in the late 1960s, died in 1970.
"He showed courage and gave his life for his fellow Marines," Rep. Don Bacon said. "Today, we honor a favorite son of Omaha. Thank the Lord for people like Miguel Keith."
Bacon recounted how the 18-year-old machine gunner with the III Marine Amphibious Force was killed in Quang Ngãi province while charging a much larger enemy force in order to protect members of his Marine platoon. He was severely wounded when his platoon came under heavy attack but kept firing his weapon, killing three attackers and chasing off two others. Then a grenade exploded near him.
Weak from blood loss, Keith charged a group of 25 enemy soldiers, killing four of them before being killed himself.
The park, at 30th and Y Streets, was named after him in 1994. Sunday would have been his 68th birthday.
Keith's sacrifice is a lesson for today and all time, said Douglas County Board member Mike Boyle.
"Miguel lived a life for others as he stepped up to defend his fellow Marines," he said. "Let us learn from Keith's example and leadership. Do we live a life for others as he did?"
Gov. Pete Ricketts, Mayor Jean Stothert and City Councilman Vinny Palermo also spoke about the dedication, honor and service of the young Marine. Ricketts invoked a Veterans Day speech by President John F. Kennedy, who said: "As we express our gratitude, we must never forget that our highest appreciation is not to utter words, but to live by them."
The keynote speaker, Col. David Fallon of the 9th U.S. Marine Corps District, said it should be remembered that Keith was protecting not just his fellow Marines but also the village where he was living.
"To his last breath, Miguel embodied the Marine Corps motto," he said. "Your effort here in Omaha represents not just a grateful nation, but a grateful community."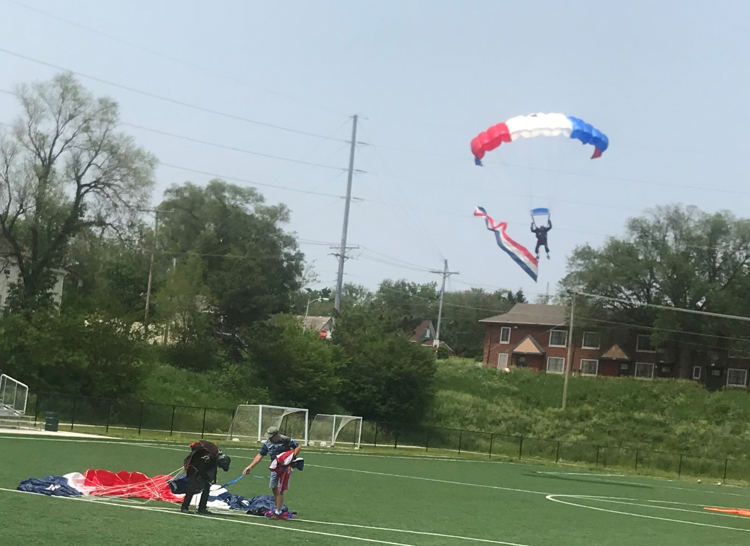 The ceremonies began with four members of the Lincoln Sport Parachute Club landing on the soccer field at the park.
Local artist David Biehl, who designed the statue, said he wanted to make the statue life-size because Keith was not a large man. At 5-foot-6 and weighing about 130 pounds, Keith was "small but strong and tough," Biehl said.
"I learned from Vietnam vets who visited with me as I worked that the guys (like Keith), who carried M60s (machine guns), plus gear and plus ammo, were carrying about 100 pounds. Think of that. He was carrying close to his weight," Biehl said. "Heroes come in all sizes, shapes, forms and ethnicities."