City of Omaha housing inspectors descended Thursday morning on a north Omaha apartment complex to inspect units and potentially remove and relocate up to 500 refugees from Myanmar living among bedbugs, lice, rodents, gas leaks, mold and other squalid living conditions.
Officials described the operation at the Yale Park Apartments, near 34th Avenue and Lake Streets, as a "humanitarian effort" involving code enforcement, police and fire personnel, as well as members of the philanthropic community and social service agencies who could be tasked with finding temporary housing for hundreds of people.
Some 500 refugees were packing a few days worth of clothes and relocating from their north Omaha apartment complex late Thursday in the wake of a massive, daylong city code inspection that uncovered multiple gas leaks and unsanitary conditions.
"We have been working feverishly over the last couple of days to come up with a coordinated plan," Dave Fanslau, the city Planning Director, told The World-Herald. "We have a code enforcement job to do, but it's a humanitarian effort as well. We want to take care of these folks."
Tenants, which include an estimated 175 children, may be forced to live out of community centers equipped with cots in coming days as the scramble begins to find places for them to stay. City officials said they're trying to respect the tenants' cultural wishes, too, which likely includes being placed together as much as possible. 
"Even if it has to be something that looks more like a shelter for now, where a group of them are all together," Mayor Jean Stothert said, "it would still be better than the conditions they're living in" at the Yale Park Apartments.
Unfortunately, she added, "The conditions where they came from are worse than where they are now."
Dozens of city workers, including inspectors, police and fire personnel, arrived at the complex a little before 9 a.m. Thursday.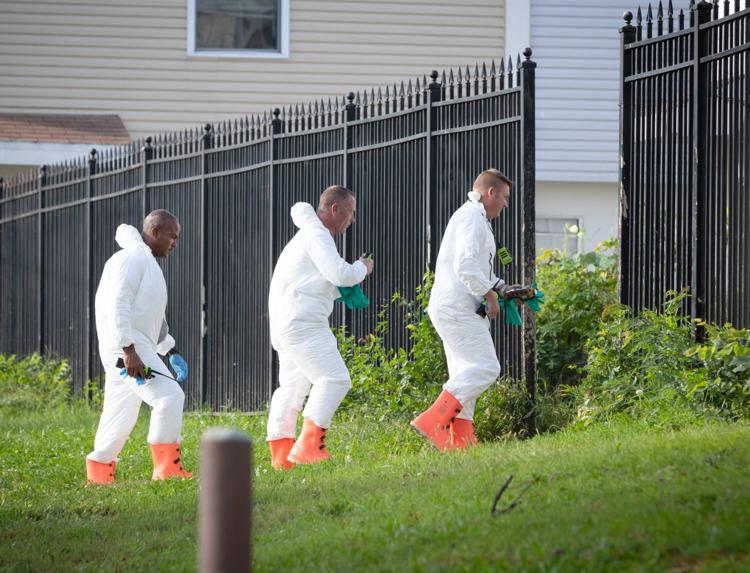 An undertaking of this size and scope is "probably one of its kind in Omaha," Scott said.  "Typically when we do this, it's a family or maybe one or two apartments in a complex, not a full-scale, entire complex."Three men entered the courtyard Thursday morning wearing white hazmat suits and orange rubber boots. People wearing Omaha Public Schools, Heartland Family Services and Lutheran Family Services gear were standing by.
Salvation Army volunteers were preparing mobile canteens to serve meals at two community centers three times a day through the weekend and beginning at noon Thursday.
Assistant Fire Chief Kathy Bossman said a rescue unit was doing air monitoring and the department had a medic unit standing by.
Barricades were placed on streets near the complex, and caution tape stretched across Lake, blocking traffic at 34th Avenue.
In the shade of a tree across the street, the owner and landlord, Kay Anderson, acknowledged some units need repairs but said he believes the units are safe, he responds when tenants have issues and he believes most are content. 
"We're here to help, we're here to fix whatever needs to be fixed," Anderson said. He charges $550 to $595 for two- and three-bedroom apartments, which he characterized as a bargain. He said he has 100 percent occupancy and a waiting list so could raise rents but chooses not to.
He said he and his wife decided to spend their retirement saving and operating the 100 low-income housing units "to give back to our God and our community." The couple live at the complex, and Anderson said he loves the tenants and attends many birthday parties and weddings. 
City officials said they were spurred to act after 94 complaints were filed with code inspectors since Friday. They were filed by the apartment tenants with help from  Restoring Dignity, an organization of volunteers who assist impoverished refugee families.
The complaints included a collapsed roof that wasn't repaired for three weeks, air conditioning that hasn't worked for years, rotting floor boards and mold. 
Anderson said he believes most tenants did not understand the complaints they were signing, and the effort has been led by "a couple ladies on a rampage," refugee advocates who have battled with him before. He said, for example, reports of gas leaks are more likely unlit pilot lights because many tenants have never used a stove and prefer to cook outside.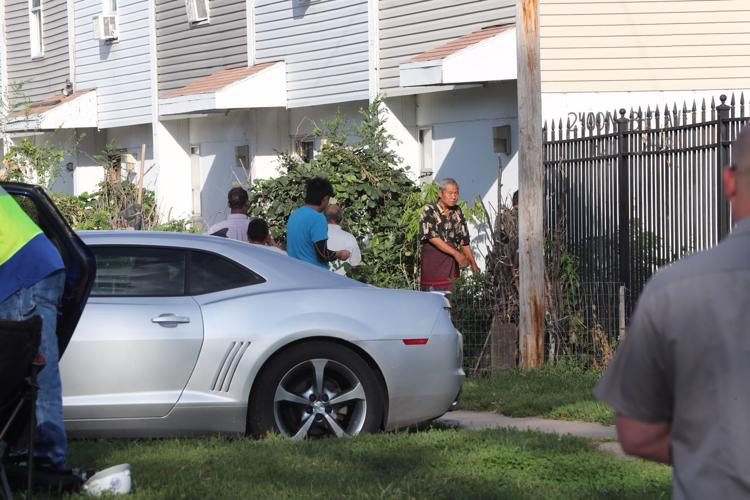 Code inspections are done on a complaint basis, said Assistant City Attorney Will Acosta-Trejo. And under city policy, he said, the city must inspect a property three to five days after a complaint is filed. That policy was created after the Metropolitan Omaha Property Owners Association filed a federal lawsuit against the city some years ago.
The city on Wednesday was also readying a search warrant to gain access all of the complex's 100 units.
Many of the complaints revolve around filthy conditions — roaches, bedbugs, holes in ceilings and water leaks, Lane said. But there are also utilities that don't work, "horrible" plumbing problems, faulty water heaters and electrical issues.
Stothert said the alleged conditions at the complex require swift action. Plus, the city worried that tenants could scatter or the landlord could leave town if they got wind that city inspectors were about to show up.
"We wanted more time, but we don't feel like we have more time now," she said.
"We don't want them to think that this is what living in America is like and they're just going to have to put up with the rats and the roaches and the bed bugs, because it's not," Stothert continued. "Their lives are in danger living in there, if it shows to be what we are hearing."
Lane, the city's top housing inspector, said that Anderson had acknowledged to him that he had become "lackadaisical" about repairs. Lane said he recently attended a meeting at the complex's office and told Anderson that he saw "many violations." But Lane said the city couldn't do anything because no complaints had been filed.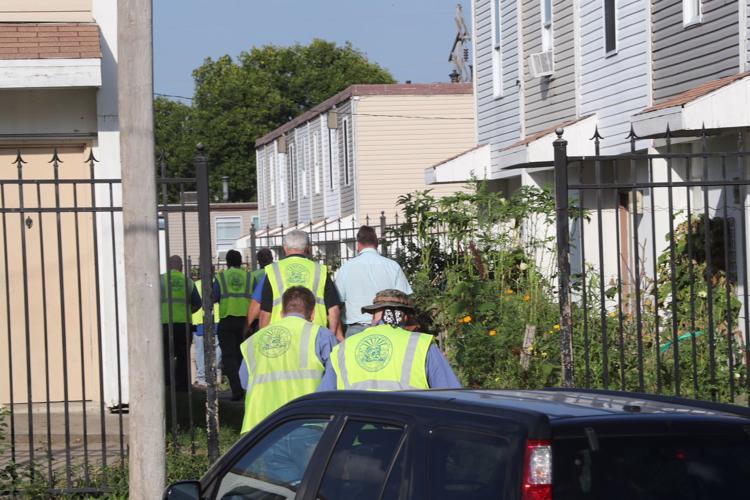 The apartment complex was built in the 1960s and is made up of 13 buildings and 100 units. On a recent morning, women tended to vegetable gardens across the scrubby property.
Bikes and children's toys leaned against apartment walls. A mattress was propped up next to a dumpster, a shopping cart was tilted over on a lawn, some windows were boarded up and laundry hung outside on balconies.
The property has a long and troubled history. Formerly known as the Tommie Rose Gardens Apartments, the complex was plagued by violence in the 1990s and early 2000s, including multiple shootings. The U.S. Department of Housing and Urban Development put pressure on the former owner to fix up apartments after they fell into disrepair, and HUD ultimately took over ownership.
AB Realty bought the building from HUD for $500,000 in 2007, property records show.
Officials said residents pay upwards of $500 to rent the two- and three-bedroom apartments there. All pay out of pocket, not from federal subsidies or refugee resettlement funds, city officials said.
Despite the dismal conditions, there's supposedly a waiting list for open apartments, Stothert said.
The refugees living there are from Myanmar, the country formerly known as Burma, work in meatpacking plants and need affordable housing, officials said.
The United States has taken in roughly 160,000 refugees from Myanmar over the past decade. Most are Karen or other ethnic minorities who fled violence in Myanmar, often first to camps along Thailand's western border.
The close-knit community at Yale Park often rely on each other for childcare or rides to work. And the landlord might look the other way when residents plant gardens right next to their front door or butcher livestock on the premises.
Thursday morning, residents peeked out from doorways as inspectors and other officials fanned across the complex. A little boy toddler holding a toy truck and a couple clutching mugs watched from their doorway. Inside one apartment, a resident watched, a half-eaten muffin sitting on a table nearby, as inspectors checked his heating system. A time-off slip from a Cargill meat plant hung from the wall.
Photos: Yale Park Apartments inspection
City of Omaha housing inspectors descended Sept. 20 on a north Omaha apartment complex to inspect units and potentially remove and relocate up to 500 refugees from Myanmar.
A young woman wearing a backpack came out of an apartment and looked at the barricades and talked to an officer about getting out to go to school. A Metro Community College parking pass hung from her rearview mirror. She reported back to a couple outside her apartment that it's "about housing."
Ma Tha Win harvested peppers from her garden, offering a couple to a reporter.
Sin Maung, a tenant, told The World-Herald through a translator that the owner inspected a broken fan but never fixed it. It's been unworkable for four years, he said.
"Everything is broken," he said of his unit. "Everywhere is broken."
The man said he is from Burma, but fled to Malaysia. He's been in Omaha for nine years and works at an area Cargill facility.
Franklin Thompson, the director of the city's Human Rights and Relations Department, Thompson said the city and social service agencies are concerned about displacing already-fragile families who are still adjusting to a new life in America.
"A lot of them have gone through warfare and then they've spent years in resettlement and then now taking them out (of their homes) again looks like they're going to go through this for a third or a fourth time," he said.  "So it's important to me that we handle this with delicate care."
City officials said Wednesday that finding temporary housing for the tenants was an "ongoing effort." And they didn't yet have a solution for where the families will live for the next several years. A number of people in the philanthropic community have talked about helping, Stothert said, with some offers including funding a family's stay in a hotel or apartment for up to a year.
"That's our biggest challenge now, finding affordable housing for them," Stothert said.
Staff writer Christopher Burbach contributed to this report.