Bright flowers and a princess balloon stirred in the wind as cars and trucks zipped past the makeshift memorial in downtown Papillion, some going as much as 11 mph over the speed limit, others driving more cautiously.
A week had passed since a 10-year-old girl died after being struck in a crosswalk, and some drivers, no doubt thinking of the girl's death as they approached the intersection, tapped their brakes just before passing the memorial.
In the wake of Abby Whitford's death, some Papillion residents have questioned the safety and practicality of the crosswalk in which she was hit, a crosswalk that — despite the charming nature of downtown Papillion — sees tens of thousands of vehicles a day.
Abby was using the crosswalk near Washington (84th) and Second Streets just before 4 p.m. Aug. 20 on her way to Sump Memorial Library when she was struck by a car. She died later at a hospital.
The 19-year-old woman driving the vehicle that struck the girl remained at the scene, police said.
Each day, between 30,000 and 40,000 vehicles traverse the intersection where Abby was struck, according to 2017 city-provided data.
That means on the busiest days, vehicles nearly twice the population of Papillion pass through the crosswalk.
Those traffic figures may be at odds with how some local leaders and residents view the quaint downtown area, lined with a shoe repair business, an ice cream parlor and a barbershop. Nearby, an American flag mural decorates the side of a building.
That Americana vision of a main street is often employed by city leaders, including Mayor David Black, as one of Papillion's strengths. Residents, too, choose the city or stay put because of its smaller, suburban vibe.
But observe the intersection for an hour, as cement trucks and semis haul their loads, as lead-footed, impatient drivers interact with the 25 mph speed limit, and it's clear many motorists are simply passing through on 84th Street, a state highway.
"That's certainly a challenge when it comes to educating those people," Papillion spokesman Trenton Albers said.
For at least 30 years, the crosswalk at Second and Washington was a simple one, with painted lines in the road.
As traffic levels increased, it became more challenging for pedestrians to cross. They also had the option of crossing at an intersection with a traffic signal a block away, but it was the only option that forced traffic to stop.
So in 2017, the city looked into adding enhancements to the Second Street crosswalk with the goal of providing safer access to pedestrians, Albers said.
"It was basically impossible to cross that other crosswalk unless (traffic) was totally clear," Albers said.
After learning of other cities across the country that use crosswalks with in-pavement lights, Albers said, Papillion leaders decided to install their own.
But drivers were confused by the lights or didn't notice them during the day. The city began hearing of or seeing people failing to yield to pedestrians. A few months later, the city added flashing beacons and speed boxes that show drivers their speed.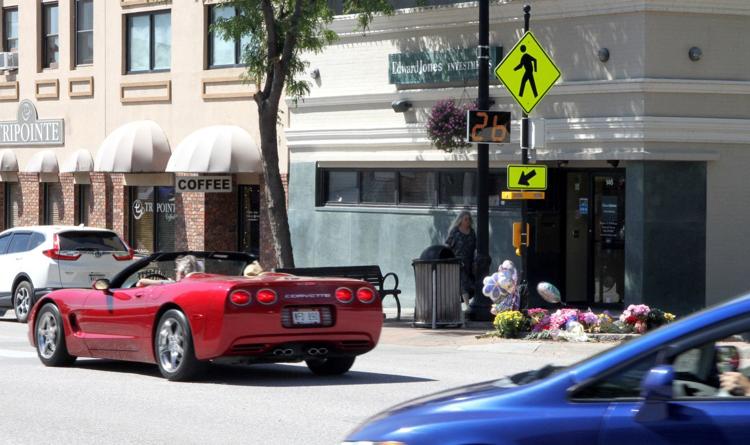 Mike Weaver, who has lived in Papillion since 2002, said he was one of the people who complained to the city in 2017 when it became clear that drivers were not responding well to the crosswalk.
The retired contractor said he was "livid" when he heard of Abby's death.
"People are bad drivers anyway, but when you're heading north or south on Washington and those lights are flashing, people don't know what's going on there," Weaver said. "It's very confusing."
Weaver said he thinks the city may be at odds with itself, promoting rapid growth as it hangs onto its status as a smaller community.
"You can't have it both ways," Weaver said.
The enhancements made to the crosswalk cost $90,000, according to the city.
The crosswalk model in downtown Papillion was not devised by the city, Albers noted: The traffic control devices all conform to standards established by the Federal Highway Administration.
The additional lights Papillion added a few months after the in-pavement lights — called Rectangular Rapid Flash Beacons — "enhance safety by reducing crashes between vehicles and pedestrians at unsignalized intersections ... by increasing driver awareness," according to a 2009 study by the highway agency.
Two crashes have been reported at the Second and Washington crosswalk, according to Papillion Police Chief Scott Lyons.
The first was the crash that killed Abby. The second, which occurred Friday, was a two-car rear-end crash that Lyons attributed to an increase in driver awareness of the intersection.
Even so, the Papillion Police Department has been spending extra time and money on speed enforcement at the crosswalk since Abby was struck.
In the week and a half since the crash, the department has stopped more than 300 drivers in the area, Lyons said. Officers are working overtime. The department is prioritizing enforcement at the crosswalk.
"We take it very personally, the safety of our citizens," Lyons said. "We take it very personally that people don't obey traffic laws."
Asked if the Police Department had an opinion on the crosswalk when the lights were added two years ago, Lyons said no.
"I'm not a traffic engineer," he said. "That's not my role."
Lyons said he hopes people will use this crash to learn more about crosswalk safety.
"You're pressing the button as an alert to traffic to let them know that you intend to cross the crosswalk," Lyons said. "But you've still got to wait for cars to stop, and you've got to give cars a reasonable amount of time."
Sign up for World-Herald news alerts
Be the first to know when news happens. Get the latest breaking headlines sent straight to your inbox.
Jane Terry is the senior director of government affairs for the National Safety Council, which works to eliminate preventable deaths at work, in homes and on the road.
Terry said educating the public about changing or new infrastructure is a vital component of ensuring a smooth implementation, which the city and law enforcement did.
The police made a video instructing motorists how to drive in the intersection. Albers said the city contacted local media, made social media posts and put information on the city's cable channel before the changes were made.
"You know you're going to have a learning curve with it," Albers said. "I think we felt pretty comfortable with the information we had put out."
Each school day afternoon, Phil Rivera estimates that he sees at least 50 kids walking downtown as he tinkers with bicycles or helps customers at Greenstreet Cycles.
Papillion Middle School and Trumble Park Elementary School are both nearby.
After learning of Abby's death, Rivera, a cyclist who knows all too well the dangers of the road, decided to conduct a test.
He attached his cellphone to his dashboard, hit record and drove south on Washington Street. As he came down the hill that leads into the city's downtown, Rivera took his foot off the accelerator, letting his vehicle coast as it approached the crosswalk.
"You hit at least 35 (mph) by the time you get to that (crosswalk), not touching the gas at all," Rivera, 30, said in an interview.
Rivera said he has noticed an increased police presence near the crosswalk. Drivers, too, seem more aware right now.
But Rivera said he's not hopeful.
"Come back in two weeks," he said. "It'll be back to normal unless the city does something about it."
Terry said that as cities like Papillion deal with these kinds of tragedies, it's important that leaders gather all the relevant stakeholders — city planners, downtown business owners, schools, families who live nearby — as they work to make the area safer.
The crosswalk's future is unclear. Albers said the city will consider police investigation findings when officials review the crosswalk. They may bring in an independent third party, he said.
Could the crosswalk be taken out?
"That's certainly a possibility," Albers said.
Changing Omaha: More than 50 stories of local development projects in the works
An ongoing list of some our development stories from 2018, with the most-recent stories at the top.