The holidays have arrived in downtown Omaha in the form of an ice skating rink tucked snugly into the central plaza of the Capitol District.
The signs pointing to the rink combined with the sounds of laughter and music were hard to miss at 10th Street and Capitol Avenue on Friday evening shortly before the rink's opening ceremony.
Serving a purpose beyond holiday fun, the 60-foot-by-120-foot ice sheet helps fund Conagra Brands' Shine the Light on Hunger campaign, with a portion of the rink's proceeds donated to the campaign.
Shine the Light on Hunger calls on leaders, businesses and families in the Omaha community to raise food and money for the Food Bank for the Heartland.
Brian Banks, president and CEO of the food bank, said the effort "makes a significant impact on the thousands of children , families and seniors across Nebraska and western Iowa who struggle with food insecurity."
"For 13 years, this extraordinary initiative has raised awareness of hunger in the heartland while generating meals for those in need," Banks said. "We're grateful for the ice rink's support of this campaign."
Richard Davidian recently moved to Omaha with his wife, Gail Davidian. The couple were among the first people on the ice.
"It's really nice. Some people are better skaters than others," Richard said with a smile.
For those not so graceful, there are plastic penguins, about 3 feet tall, with handles that skaters can lean on for support.
Aaron Grote and his 5-year-old daughter, Julia, opted for a penguin, but it didn't slow them down.
The two had already been around the rink before sitting out for a break.
"It's slippery," Julia said, getting her penguin ready for another go.
"I think it's awesome to see people come out here and enjoy this and be a part of it," Grote said.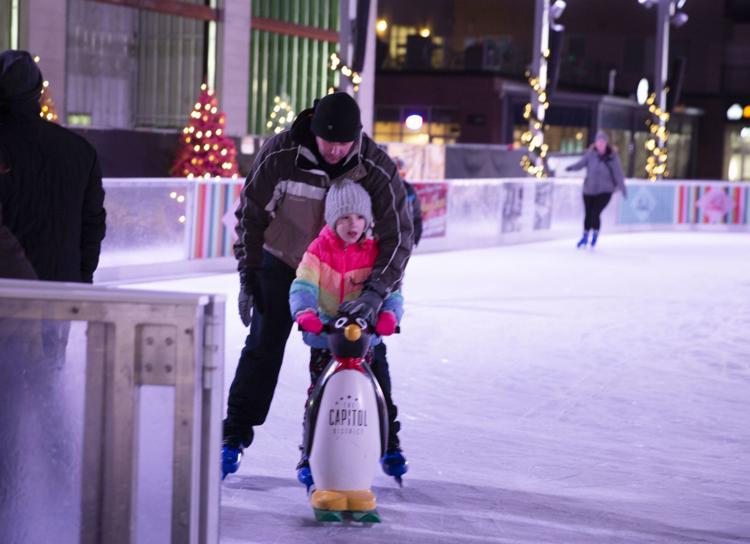 Joe Wells also enjoys seeing people having fun skating. Wells, one of the owners and general manager of Annie's Irish Pub, Beer Can Alley and The Exchange, said business was more consistent when the rink went up last year.
"Our weekdays during happy hours, people were always in and out," he said. "We sold a lot of cocoa, coffee and Irish coffee. During the day, we relax our 21 (and older) policy because there's a lot of kids coming in and out for cocoa (and) bathroom breaks."
Admission to the ice rink at 1022 Capitol Ave., which includes skate rental, is $10. The rink will be open until Jan. 21.
Avid ice skaters can also visit the University of Nebraska Medical Center's outdoor ice rink east of 42nd Street between Emile Street and Dewey Avenue.
Admission there is $5 and includes skate rental. That rink will be open through Feb. 2.