Omaha Police Officer Paul Hanson is accustomed to time in his cruiser.
He has worked as a patrol officer for his entire Omaha police career — primarily in the gigantic swath of the northwest precinct, which today spans 15 miles east to west, from 42nd Street to just past 216th Street.
He recalls that when he started 14 years ago, 144th Street and West Maple Road seemed like a significant far-western point in the city. In recent years, as Omaha has expanded much farther westward, it has taken him a lot more time to drive between police calls.
"At times, it can be really frustrating when it's really busy," Hanson said. "As police officers, we took this job because we want to help people when they need our help. We don't want to show up 15 minutes later and just write a report. We want to catch the bad guy."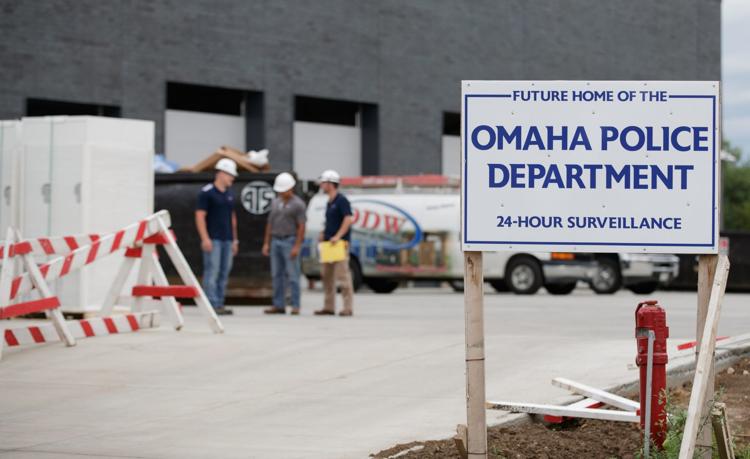 Omaha Police Chief Todd Schmaderer says his officers and the public soon will see improvements out west when the department opens its fifth precinct in the Elkhorn area — the aptly named west precinct, northwest of 204th Street and West Dodge Road — on Sept. 8.
The plan has been in the works for five years but discussed by city officials for nearly two decades. The goal is to accommodate the city's increasing population as housing continues to boom in western Douglas County.
The creation of the west precinct, which will cover land from Interstate 680 west to Elkhorn and about Ida Street on the north to Harrison Street on the south, will reduce the larger 911 call volumes in the northwest and southwest precincts.
Schmaderer said he expects to see response times for higher-priority calls decrease right away. He also expects a "small tick-down" in property crimes because of a higher visibility of patrol officers in neighborhoods.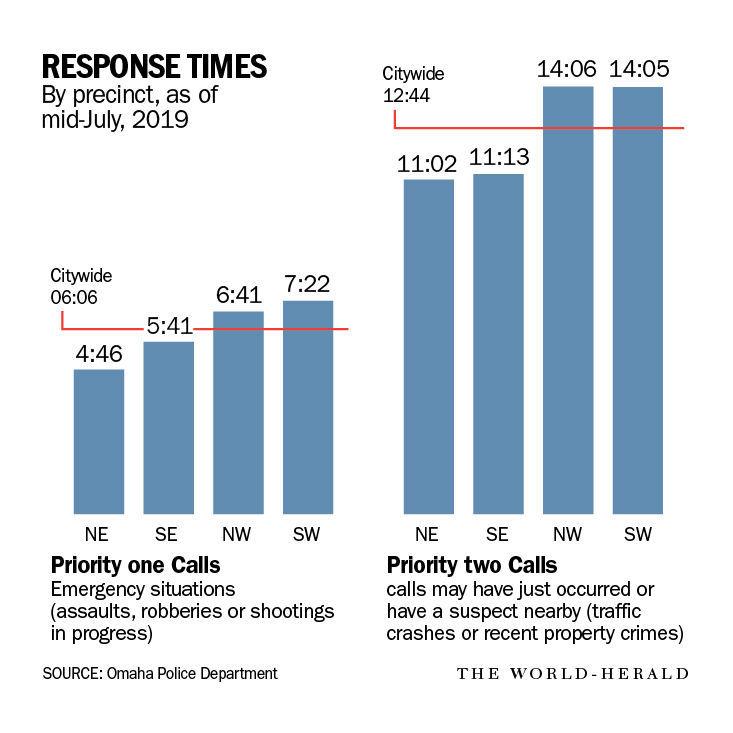 "There's a yo-yo effect that we had in place, from call to call to call to call, the long drive time ... that yo-yo effect should be severely diminished by this fifth precinct," he said. "We alleviate any one precinct, any one part of the city being overwhelmed, and we have much more uniform coverage."
To prepare for the redrawing of precinct boundaries and the creation of the west precinct, Schmaderer has been steadily increasing the number of officers in the department so he wouldn't have to cut staff in the higher-crime northeast and southeast precincts.
In his seven years as chief, Schmaderer has overseen the graduations of seven recruit classes and added a combined total of 289 officers to the force. Another class of 35 to 45 officers will start later this year and graduate in 2020, when the department will hit a years-long milestone of 902 officers.
In her first campaign for mayor, Omaha Mayor Jean Stothert said she would make it a priority to hire more officers. Stothert has said for years that she wanted to have 900 sworn officers by 2019, but due to attrition and retirements, the department wasn't able to reach that coveted number as quickly as desired. Schmaderer said 2020 will be a steady year without many retirements, so the number of officers shouldn't drop off much.
As of the beginning of August, the department had 415 patrol officers who respond to 911 calls out of a total of 871 officers in the entire department. The patrol officer number does not include the command staff or mounted patrol, K-9, riverfront and traffic units.
In August 2012, when Schmaderer took over as chief, the department had 366 patrol officers. According to the department's annual report, it had a total of 790 total officers by December.
The nationwide rate of sworn officers per 1,000 population was 2.4 in 2017, the last year data was published by the FBI. For Omaha, the rate was 1.8, while cities that Omaha uses as comparables for union contract purposes had slightly higher rates — for example, 2.1 in St. Paul, Minnesota, and Denver.
But experts have said a higher officer-to-population rate doesn't always correlate to lower crime levels. In Chicago, the officer rate per 1,000 is more than double Omaha's rate, while that city has 21 times the number of homicides and five times the number of property crimes as Omaha.
"We have the highest concentration of officers in the Omaha Police Department right now and the highest concentration of officers in the Uniform Patrol Bureau — primary policing — that we've ever had in the city of Omaha," Schmaderer said. "It does feel good to see us hit the strategic plans. With violent crime on the decline, we feel that (the fifth precinct) will only enhance the coverage and the service that we provide to the city."
Department officials have redrawn the patrolling districts in the northwest, southwest and west precincts based on the number of 911 calls, said Deputy Chief Scott Gray, who oversees the Uniform Patrol Bureau. Any district that had more than 3,200 calls to 911 per year was altered so they were more manageable, Gray said. Districts with hospitals, which usually have a large amount of calls, were made smaller.
---
Slide this image to see the number of 911 calls under the current precinct boundaries compared to if the West precinct boundary had been established in 2018.
---
For example, Officer Hanson's current district covering the Benson entertainment district will be cut into two districts, while a western district that spanned 4 miles long and 3 miles wide also will be split.
A certain number of officers is assigned to each district, but the officers also respond to calls in any part of the city during busy times when other officers are otherwise engaged. Having officers uniformly spread across the city in smaller districts will help decrease response times for emergency priority one calls and lesser, priority two calls such as traffic collisions or recent property crimes, Schmaderer said.
In the last decade, response times citywide for priority one calls have largely hovered around the 6-minute threshold, from 6 minutes and 28 seconds in 2009 to a low of 5 minutes and 43 seconds in 2015. Priority two call response times citywide have slightly increased, from 11 minutes in 2009 to 12 minutes in 2018.
The southwest and northwest precincts each has slower response times for both priority one and priority two calls than the southeast and northeast precincts — about 2 minutes more for priority one calls and 3 minutes more for priority two calls. Response times are calculated starting from the time a 911 call is received to when the first officer arrives on scene, said Lt. Sherie Thomas, a police department spokeswoman.
"Our response times have always been within an acceptable level and commensurate with other major cities," Schmaderer said. "They're not unacceptable at this point in time, but that isn't the barometer that we're looking at — we're trying to improve things for the city. I wouldn't call it a problem that we're attempting to address, but (faster response times) should be a benefit we receive."
Schmaderer declined to speculate on how much the response times will drop, but he said he expects to see the largest decrease in the northwest and southwest precincts.
Patrol officers will know their smaller districts better, and their presence will help prevent in-the-moment property crimes, he said.
Sign up for World-Herald news alerts
Be the first to know when news happens. Get the latest breaking headlines sent straight to your inbox.
Recently, Hanson got a call that a man had stolen a case of beer at 60th and Maple Streets. Hanson was just two blocks away, responded quickly and caught the man as he crossed the street. That isn't as likely to happen if an officer has to drive 4 miles or more to the call.
"If you have presence in the area," Hanson said, "the crimes that we don't prevent by our presence, we're going to be able to solve because we're going to be there faster."
Two additional changes that the department is looking at implementing also may speed up response times, Schmaderer said.
Officers in the northwest and southwest precincts now start their shifts an hour earlier than patrol officers in the northeast and southeast precincts, Gray said. That helps prevent a time when all officers are out of service and switching shifts.
With the formation of the west precinct, department officials may explore various start times for all five precincts to continue the benefit of on-duty officer overlap.
Officials also are considering creating an online reporting system in 2020 for older crimes, which would assist the Telephone Response Squad, staffed by officers who handle reports for non-emergency and not-in-progress destruction or theft-of-property incidents. Residents could file a police report for those crimes online, which could free up the phone squad and other patrol officers for other duties.
The west precinct will house the Emergency Response Unit, which includes the bomb squad, crisis negotiators and SWAT team, and the traffic unit, which is assigned duties throughout the city.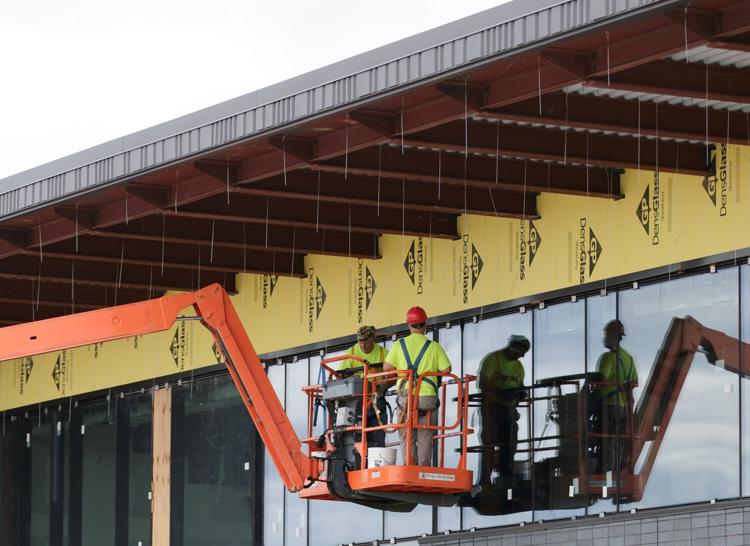 Schmaderer recently told the Omaha City Council that now that the fifth precinct is finished, the department plans to turn its attention to the state of the downtown headquarters. Researching the cost and feasibility to either renovate the current headquarters at 505 S. 15th St. or find a new location may begin in 2021, he said.
Hanson said he and other officers are looking forward to the changes with the addition of the fifth precinct.
"Everyone I talk to is excited about it," he said. "There's a positive attitude regarding this change, and all believe it's a change for the better. Officers are going to be happier and citizens will be happier."
As for a future sixth precinct?
Schmaderer laughed when asked the question.
"No, this is it for a while," he said.
Photos: Omaha-area K-9 units through the years