Rain slowed Sunday's setup for the One Community Cultural Festival in Stinson Park at Aksarben Village. But it couldn't dampen the exuberance.
"It was very interesting," said Barb Connor of Omaha, who attended with her husband, Tim. "There certainly was a lot of enthusiasm in all the booths we visited. I enjoyed the food booths. We watched them make crepes, and it was fascinating."
Linda Steele, president of the Nebraska Chinese Association, said the multicultural festival provided a showcase for foods, crafts and arts while raising money for flood relief. The Chinese were joined by organizations representing German, Irish, Native American, Hispanic, Japanese, Vietnamese, African, Indian, Filipino, Thai and other cultures.
The idea for the festival came about in April after 65 members of the Nebraska Chinese Association spent a day in Fremont helping to clean up a mobile home park ravaged by the March flooding. Members of the association "began to think about how to unite Omaha's cultural associations" to give back to the community, Steele said.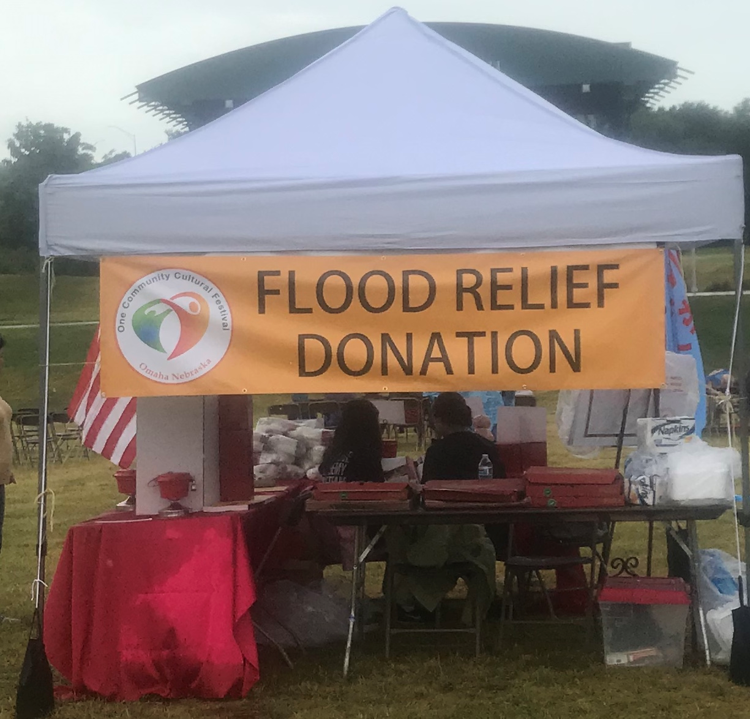 Flood recovery seemed a good fit for the first festival, said Steele, whose home near Pacific Junction, Iowa, escaped damage. The money raised will be distributed through the Salvation Army, she said.
"Number one, we wanted to help our neighbors with flood recovery," Steele said. "Number two, we wanted to involve the whole community and showcase the variety of groups that make their homes here. To us, it's very important because we come from all over, but Nebraska is home."
Steele said planning for next year's festival will begin in the next couple of months. This year, there were only four months to prepare, she said.
"Basically, next year, we will put it together bigger and better," Steele said. "We want to continue to show our hearts to the community."
Brian Hodges, a University of Nebraska at Omaha student working on his master's degree in computer science, put his heart into clearing a container of Chinese food. He sat on the brick wall surrounding Stinson Park and went to work on his lunch.
"It's really good," Hodges said between bites. "I think (the festival) is really unique. I love it."
Stinson Park is a good place to spend Sundays because there's "always something happening," said Brad Richling, who lives nearby. He and his girlfriend shared a plate of Thai food at her suggestion.
"It's chicken adobo and pancit (noodles) and it's very good," Richling said. "You have to be a little adventurous."
Sign up for The World-Herald's afternoon updates
Receive a summary of the day's popular and trending stories from Omaha.com.
Our best photos, July 2019