NEBRASKA CITY — The lives of people living along the Missouri River have been devastated, they say, washed away in the catastrophic flooding of 2019.
In some areas, farmland was scoured out by the force of the water; in others, it was buried beneath feet of sand. And for miles and miles, the land remains flooded, seven months after a late winter megastorm sent an unimaginable surge of flooding downstream. The wall of water was so high that it overwhelmed levees from Omaha south into Missouri.
So as winter nears with conditions again prime for spring flooding, about 150 to 200 residents of Missouri, Nebraska and Iowa told the Army Corps of Engineers on Thursday night that they wanted action — not more talk, not more meetings, and certainly not more studies.
"Our lives have been destroyed," said 69-year-old Alice Hodde. "Do you know the human toll this takes on farmers? Suicide is a big thing. ... What's the price of a human life? Do you have an answer?"
It was a question without an easy answer. Billions of dollars are involved in controlling the river, and there are competing needs and conflicting laws.
"People need to know what this does to (us), what it costs a person," Hodde told corps officials gathered in a stone lodge in this historic town. "We've talked to our congressmen, our senators. Our little group in Fremont County (Iowa) wrote at least 800 letters. It's destroying us; something needs to change."
Multiple riverside property owners stepped to the microphone to ask that an emergency be declared so that policies governing the management of the Missouri River can be changed. With each request came applause.
"Managing" a river may sound like a foreign concept, but the Missouri is more of an engineered drainage ditch than a free-flowing stream. Its water level is controlled, in part, by six massive dams upstream. The speed that the water travels and the channel it takes are governed by structures that have been built into the river, mostly rock berms. Those who attended the meeting want to see more water evacuated from behind the dams so that there's more room to hold runoff, and they want to see a return to forcing the river to flow fast and deep downstream.
"Who would have the authority to declare a flood emergency and give us more storage (in the flood control reservoirs)?" asked John Roddy of Nebraska City. "Is it the president? Is it Congress? Somebody has to have the authority to declare this an emergency to deal with this problem."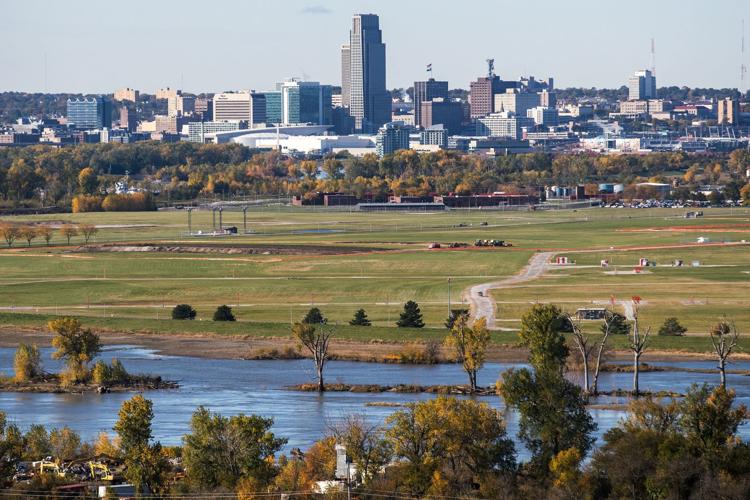 John Remus, the corps official who oversees management of the six dams, said it's not clear who would have that kind of authority. He said he would get back to Roddy and the others.
Remus told the group that the corps will move aggressively this fall and winter to release as much water as possible from behind the dams. The agency is releasing 80,000 cubic feet per second from Gavins Point, the dam farthest downstream, and he said that rate is likely to continue into late November. The corps can't go higher than the current 80,000 cubic feet per second because doing so would require increases in releases from upstream dams that could flood upstream communities, Remus told The World-Herald before the meeting.
By early December, the corps will shift to lower wintertime release rates. The agency anticipates that it will be releasing water at a rate of 22,000 cubic feet per second this winter, about 30% higher than the average winter release rate. The corps may not be able to release more because of the danger of ice jam flooding in the Dakotas. But if winter is mild, the corps will release higher amounts, Remus said.
Col. John Hudson, commander of the Omaha district of the corps, said the agency is focused on repairing levees back to their previous state. Over the long term, it plans to evaluate what needs to be done differently to manage the river. He drew a contrast between the Missouri and Mississippi Rivers. Flood control on the Mississippi is one integrated system built to federal standards. The Missouri River is lined by a patchwork of levees owned by everyone from local farmers to the federal government, and they're built and maintained to different standards.
"The Missouri is not a system that works together," he said. "It's not a simple solution."
Sign up for The World-Herald's afternoon updates
Receive a summary of the day's popular and trending stories from Omaha.com.
Photos: Flooding in central Nebraska in July 2019
Kearney, in addition to other towns in the surrounding area, is suffering the effects of Monday night's rainstorm. Roads and buildings are flooded, stranding some in their homes. 
If you'd like to share a photo with us for use in this gallery or publication in the paper, please email news@kearneyhub.com, stating that you own rights to the photo(s) or video attached and give Kearney Hub permission to use the content for publication.