Omaha Public Power District customers will soon be able to support the local production and use of solar power — at a cost.
OPPD as early as next year will start selling shares of solar power to customers interested in using more renewable power, including those who lack the means to buy or lease their own solar panels.
A residential customer who buys five shares of solar power, for example, could bring enough solar power onto the OPPD grid to offset about half of a home's monthly electricity usage. The utility designed each share of solar power to represent roughly 10 percent of the electricity that an average residential customer uses each month.
More than two-thirds of OPPD customers contacted for recent market research said they would consider the program, and support stayed strong even when higher prices were tested. Sign-ups in other cities have trailed public interest before the programs were unveiled.
An OPPD estimate showed that residential solar program participants could pay roughly $2 more a month per share of solar, based on today's power prices. But those costs would fluctuate based on regional market rates for solar power and expected costs of the power purchase agreement.
Participating residential customers would sign a five-year contract with a security deposit; commercial customers, a 10-year contract; industrial customers, a 20-year deal.
The program's full costs will be borne by those who sign up. The OPPD board chose not to subsidize solar costs. Utilities in Lincoln and Fremont do, for a time.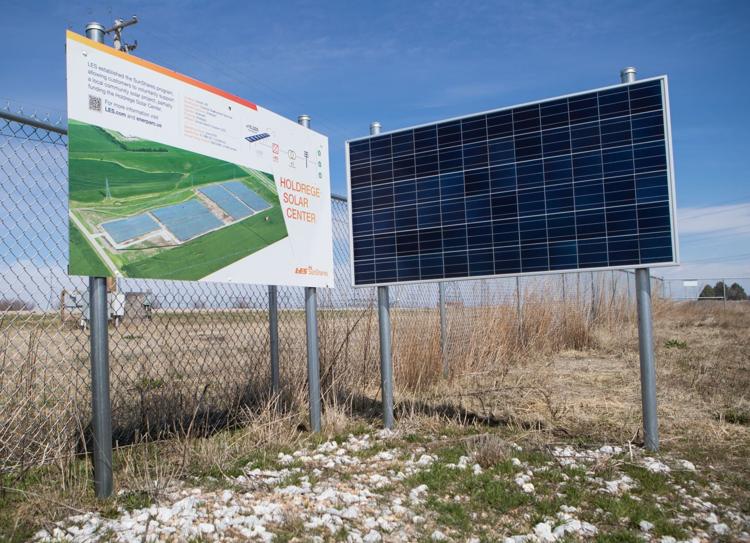 OPPD CEO Tim Burke said it was his duty to OPPD customers to make sure that all customers didn't pay higher rates for power because some customers wanted more options.
OPPD could start marketing the solar program as early as the first quarter of 2019 now that the OPPD board has approved a framework and rate structure for the program.
OPPD has a request for proposals out for a developer to build, own and operate a solar array system in the 13-county OPPD service area and sell power to the utility for at least two decades. This solar array is likely to be placed in one or more of three locations, OPPD says: Fort Calhoun, Bellevue or near Gretna.
OPPD says it would use the solar power produced locally and sell any excess power to the regional Southwest Power Pool.
The utility would start by offering about 6,000 shares of solar, said Brad Underwood, OPPD's director of corporate planning and analysis. That number could be scaled up as needed.
"We tried to create a low-cost program so that once you're in it it's as economic as possible," Underwood said.
OPPD describes the program as "community solar," but the program does not follow the typical community solar model of sharing ownership of power production and profits.
OPPD board member Craig Moody of Omaha says the new program lets OPPD dip an important toe in solar power, though he has said publicly that the board should have done more.
Moody, like leaders of a local solar advocacy group, Nebraskans for Solar, were hoping that OPPD might offer neighborhoods and property owners more options, including the chance to host solar arrays and share in the profits.
Michael Shonka, president of Nebraskans for Solar, called OPPD's effort "a start" but said other utilities offer customers solar power at market rate, with the promise of getting ahead financially.
"If I'm going to do solar, A is economic incentive," Shonka said in an interview. "B is the environment."
The Lincoln Electric System started in much the same way OPPD is now, with a low-risk version of its SunShares program. It struggled to find enough customers to sign up, officials said.
Scott Benson, who manages the Lincoln Electric System's resources and transmission planning, said consumer demand never reached what the utility saw in surveys.
At peak, about 1 percent of the Lincoln Electric System's customers, roughly 1,300 accounts, pledged about $6,000 a month toward Lincoln's new solar power program, he said. That wasn't enough to build the solar array project that made the most sense.
The utility's board opted to build the larger, 15,333-panel solar array west of Lincoln because it provided the best benefit for customers and helped it develop internal expertise in solar power generation.
Now the Lincoln Electric System offers customers several options for how to participate, including paying an upfront $665 fee that lets customers essentially purchase a solar panel and save money based on the power each panel produces.
The utility calls this approach virtual net metering, and it has already signed up about 130 customers for a total of about 300 panels. The cost per panel erodes over time and ends near the inherent value of solar power, Benson said.
The Lincoln Electric System board justified the program by estimating how long adding solar power to the system might delay the need for an additional traditional power production plant and calculating how much that would save the utility.
SunShares, Lincoln's program that resembles OPPD's approach, still has 1,000 customers paying about $4,000 a month. Benson says it's too soon to tell which approach is best.
Construction on the Omaha area solar array could begin as early as this spring. Moody and Burke both said they hope customers respond well.
Both cited OPPD's recent trajectory toward using more renewable sources of energy. The utility is on a path toward getting 50 percent of its power from renewable sources by 2020-21.
This program, Moody said, is only the beginning for solar.