With each letter he receives from the City of Omaha detailing the hundreds upon hundreds of building code violations that pushed 500 refugees from their homes, the clock starts ticking for owner and landlord Kay  Anderson.
For the most serious violations — furnace gas leaks, broken heat, bedrooms that don't provide proper escape in case of an emergency, carbon monoxide leaks at flue pipes — he has 30 days to make repairs and bring conditions at the Yale Park Apartments up to code.
For more minor problems, like worn plumbing fixtures, broken bathroom vents and missing screens, Anderson will have 60 to 90 days to fix things up.
The City Planning Department sent out the first notice of property violations on Sept. 26, and a flurry have followed since, leaving Anderson sounding equal parts defiant and defeated as he decides what to do with a property that's been shut down and slapped with a total of 1,962 violations.
"We need to sit down with the city and see if we can't work out a plan to repair them," Anderson said in an interview Thursday. "I don't want to go into a half-million dollars (worth of repairs) and the city says, 'You've missed a deadline, we're demolishing it.' "
By Friday evening, the city had sent the violations for all 13 buildings and 100 units at Yale Park to Anderson. Two-thirds of those violations constitute Level 1 or Level 2 offenses, those considered most serious by city housing officials.
The number of violations dropped from a previous estimate of 2,500 because the city decided not to count violations that applied to entire buildings — like roof or gutter problems — against each individual unit, city officials said.
Photos: Code violations at Omaha's Yale Park Apartments
In one breath, Anderson says most of the violations cited on the property are "so minor they're a joke."
Any good electrician or plumber could put missing covers on breaker panels or patch up gas leaks in a few days or a week, he said.
In the same conversation, he concedes that "the violations, I would guess the majority of them, they're going to be legitimate."
Realistically, he thinks that it could take as long as a year to fully fix up the complex at 34th Avenue and Lake Street.
"It's not feasible, the 30-day deadline," he said.
City Planning Director Dave Fanslau said the city is willing to extend those deadlines if Anderson shows progress during the first 30 days, uses licensed contractors for electrical, mechanical, plumbing and building violations and secures valid permits. Anderson and a small crew had previously handled much of the maintenance duties.
Fanslau said Anderson can perform simple work, like painting, debris removal and landscaping, without contractors or permits.
The city could agree to extend the first deadline by another month, and if further progress is made after 60 days, Anderson could get an additional 30 to 90 days to continue repairs, Fanslau said. The city will reinspect units before they can be rented out again.
"Appropriate progress with licensed contractors and approved permits may afford him the time and opportunity to restore the Yale Park Apartments to livable condition," Fanslau said in an email.
Anderson wants time to rehab the buildings but said he has considered just walking away — selling the property or demolishing it. Property records show that Anderson and his wife, both of whom lived on-site at Yale Park, also own several single-family homes in north Omaha.
"We're here to help, and it just turned into a nightmare," he said. "Now we just have to look at it from an economic standpoint."
The World-Herald obtained letters and photos documenting roughly 1,130 code violations at Yale Park.
They include: missing or nonfunctioning smoke alarms and carbon monoxide detectors; gas leaks at stoves, hot water heaters and furnaces; mold and mildew in kitchens; filthy or leaking bathroom fixtures; hot water temperatures that registered above 120 degrees; water heaters and other appliances installed without proper permits; and water damage.
There were low-level findings, too — broken exhaust fans, electrical outlets without covers, dirty interiors, pest infestations and missing doorknobs.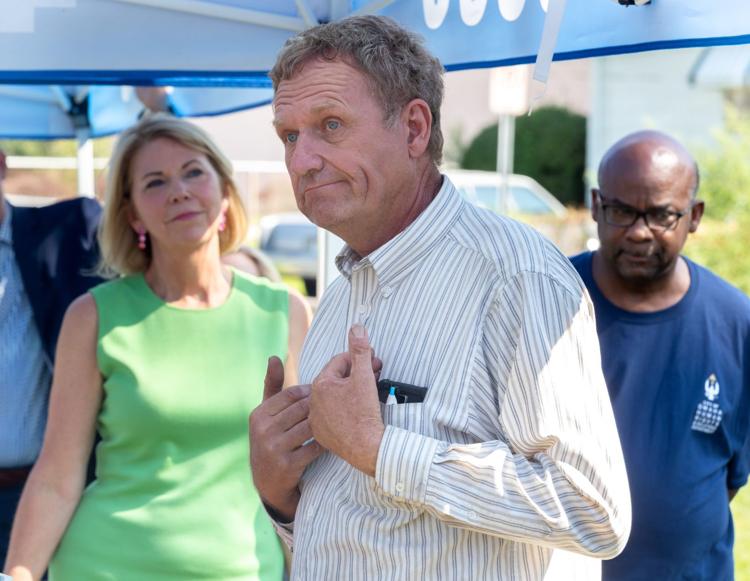 Anderson said the city is holding the almost 50-year-old property, which he bought in 2007, up to impossibly high standards. And he said his former tenants share some blame for not keeping units clean.
"I doubt there's a home in northeast Omaha that could pass this kind of scrutiny," he said.
Anderson said he received few complaints over the years, but several residents who spoke with reporters during city inspections said they repeatedly asked him to repair broken air conditioning units or patch up ceiling holes that sent rain streaming in.
"When they fix things, it takes so long, one months, two months like that," Eh Htoo said at an earlier press conference. Others said their requests went unanswered.
Then a volunteer group that works with refugees, Restoring Dignity, persuaded residents to submit more than 90 housing complaints to the City of Omaha in mid-September. Anderson maintains that many of the residents didn't know what they were signing.
Armed with the complaints, city inspectors, social service agencies and volunteers moved in on the apartment complex on Sept. 20, conducting a mass inspection and evacuation effort.
What the city calls a humanitarian effort to remove vulnerable refugees from squalid housing Anderson calls a well-orchestrated ambush that's disrupted the lives of his tenants and smeared his name.
"Even when the city gets involved, they didn't need to come in this way with brute force," he said.
The displaced residents, refugees from Myanmar, have been forced to find new homes with the help of agencies like Heartland Family Service. Many have signed new leases, some have moved in with family or friends and some are buying a house. Several are in extended-stay hotels.
At the complex now, couches, tables and other belongings left behind are piled up near dumpsters.
Anderson called a World-Herald reporter twice on Thursday and put former tenants on the phone as they turned in keys. He urged them to repeat what he said they had told him: that they would return to Yale Park if and when it reopens.
Mae Paw, a sophomore at Northwest High, said her family's new apartment isn't bad, even if parking is tight — but someone cracked the mirror on her car.
Hpa Po has moved to a complex near 48th and Boyd Streets and said he would consider returning — if permanent fixes are made.