Fireworks sales, which started Sunday in Omaha, were off to a sizzling start according to nonprofit volunteers staffing tents around the city.
"We have heard that a lot of people are here because so many of the (traditional) fireworks shows have canceled because of the coronavirus," said Suzi Busby, a parent at the Omaha Northwest High School booster tent. "People are still somewhat quarantined, and it's easier to stay safe at home with your own fireworks."
Busby said sales had been "quite steady" since the fireworks stand opened at 8 a.m. near 90th and Binney Streets. Typically, she said, the first day can be pretty slow.
The tent is staffed by the school's Parent/Booster Organization and students. Shop teacher Bob Cote built wood and plastic safety barriers to help with social distancing at the checkout stands.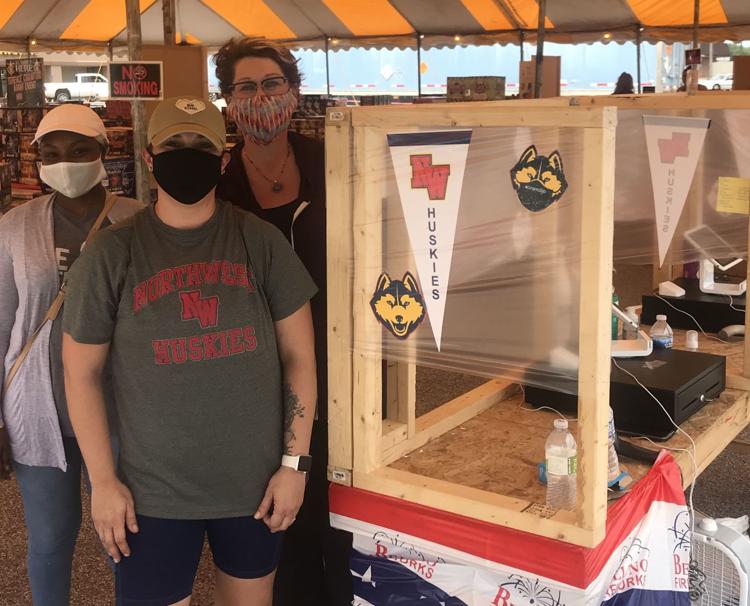 Students took turns stocking shelves. Profits help fund multiple projects.
"The stand is in our neighborhood, and it's a lot of fun," Busby said. "The kids were telling me that it's nice to have the opportunity to hang out with kids from other groups they don't see a lot."
Glenn Fowler and his 4-year-old daughter, Kyla, were shopping at the Omaha Central Wrestling Team tent at 360 N. Saddle Creek Road. She likes the pretty colors that fireworks make in the sky, and he loves putting them up there.
"I like to put on a show for the family," Fowler said. "As long as the fireworks are a good quality. I took a couple years off because they weren't very well made, and that's a bummer."
Central wrestling coach Jimmie Foster said sales were the best he's seen for an opening day. He believes that people "are just ready to get out and have some fun" while avoiding big crowds at public shows.
"This time last year, we had one person in the first four hours," he said. "Today, we've already had at least 25 people. I think (the suppliers) recognize what's going on because we have more big stuff than I can ever remember."
Mario Deal bought his fireworks at the 100 Black Men of Omaha tent near 68th Street and Military Avenue. He favors the big booms that come from artillery shell fireworks.
"I'm more excited this year because everybody's been sitting around with nothing to do," he said. "We usually go to a fireworks show, but this year, we'll be putting on our own display."
Joe Sadler of Omaha said his family tradition is to gather at his grandmother's house for the City of Ralston's annual Independence Day parade and fireworks show. With those events canceled, he went shopping at the Bellino Fireworks tent at the Crossroads Mall.
"I used to go for the big ones, but I like the Screamers and the Darts that make flowers (in the sky)," Sadler said."With (Ralston canceling), everybody is coming to my house. We're going to have homemade ice cream and apple pie before the fireworks," he said.
Cedric Lee, who is working the Bellino Fireworks tent for the fifth year, also noticed an uptick in opening-day sales compared with past years.
"We're seeing a lot of people for the first day, more than usual," he said. "I think people are trying to get their fireworks fix since most of the shows are not going (on)."
Photos: Omaha celebrates July Fourth 2019 at J.E. George Boulevard Parade