While fire crews were outside packing up ladders and rolling up hoses, Jamey Hendricksen walked into the fire-ravaged apartment building.
Hendricksen, a captain in the Omaha Fire Department, and another firefighter were on a mission to salvage a wedding dress from one of the apartments.
Hendricksen opened the closet door and found the dress hanging in a garment bag. They were just in time, Hendricksen said. Water had started seeping through parts of the ceiling and light fixtures.
He thinks that he got the dress outside without any water settling on the bag.
When he handed it over to Caitlyn Worden, the bride-to-be, she was flooded with relief. Worden, smiling, hoisted her dress in the air. Her fiancé hid his face so he wouldn't ruin the wedding day surprise.
Sign up for The World-Herald's afternoon updates
Receive a summary of the day's popular and trending stories from Omaha.com.
"I broke down," she said. "I totally forgot about it and was so happy he got it."
Worden was in shock. Her mind was racing as she watched crews work.
It didn't occur to her that the dress for her wedding, which is less than three months away, was still in the apartment.
But, luckily for Worden, her fiancé remembered. As crews were cleaning up, he asked a battalion chief if they could retrieve it.
That's when Hendricksen and another firefighter were tasked with getting the dress. Hollingsworth had described where it was in the apartment.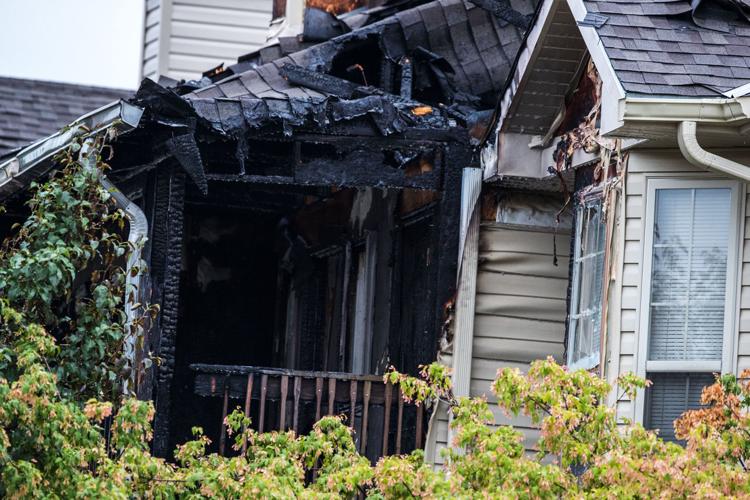 Worden said they likely won't be able to save anything else. The couple's apartment was below an apartment involved in the fire, Hendricksen said. Fire Department officials were concerned about water damage and structural integrity. The ceiling collapsed in the apartment next to theirs. It wouldn't have been safe to let civilians inside, Hendricksen said.
No injuries were reported in the fire, but it caused an estimated $750,000 in damage and displaced 12 families. Investigators determined that the fire was caused accidentally by improperly discarded smoking materials on an exterior balcony.
In Hendricksen's almost 19 years with the department, this was the first wedding dress he has saved. He has helped grab photo albums before and once retrieved an urn.
"For most brides, one of the big events of your wedding is picking your dress. ... It's nice to be able to go in and grab something like that and save her one headache," Hendricksen said.
When the situation allows, firefighters will help rescue possessions with sentimental value, said Battalion Chief Scott Fitzpatrick. Other times, they will place tarps over furniture to protect it from additional damage.
"When we show up, usually people are having a bad day," Hendricksen said. "We do what we can to make things go more smoothly and to help out. ... It does make you feel good when you're able to go a little bit further than what's in your job description and make someone happy."
Our best photos, July 2019