When David Zickefoose saw the bench dedicated to his wife's memory at the Henry Doorly Zoo, he described it as the best day of his life.
"I thought it was going to be a crying session, but I didn't cry at all," Zickefoose said.
David and his wife, Joanna, had been married 44 years before Joanna, who battled cancer, died in 2015 at age 66. David, 79, described their marriage as full of love with fishing trips to Canada and a mutual fondness for elephants.
That fondness became a symbol of their love that is now represented on a bench near the elephant exhibit at the Omaha zoo.
A plaque on the bench reads, "Elephants love reunions, they recognize one another after years and years of separation and greet each other with wild, boisterous joy. Until we are reunited ... Joanna Celine Zickefoose."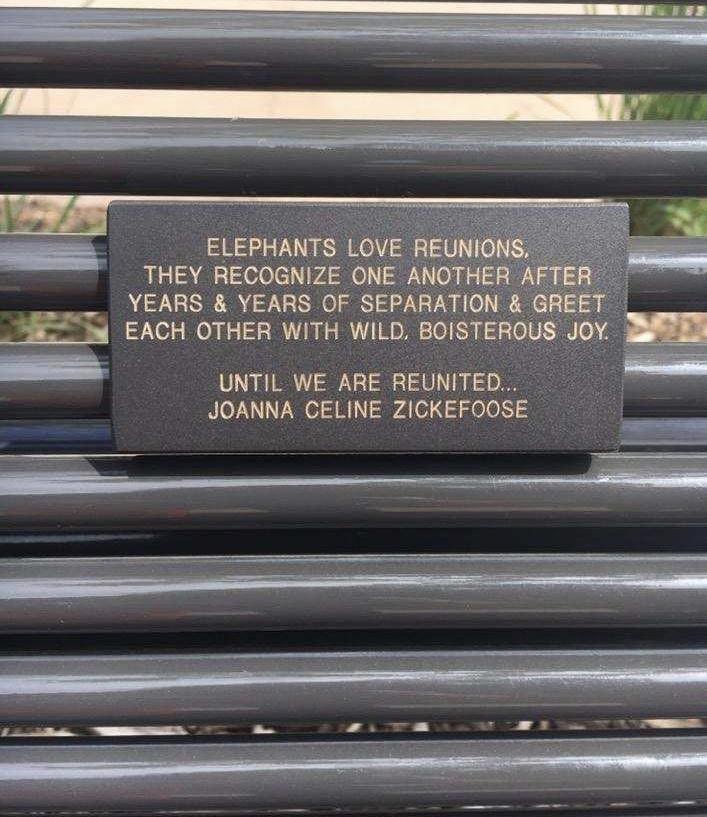 David and Joanna's children, Ryan Zickefoose and Samantha Wood, arranged for the bench memorial months after their mother's death. Samantha said she and her brother wanted to create a place where their mother's memory would live on.
"(The bench) created a place for us to visit her spiritually, so sitting on the bench and watching the elephants allows us to transcend a little bit and feel connected with her," Samantha said.
The quote on the bench was selected from Jennifer Richard Jacobson's book, "Small as an Elephant" because "it tells our story," she said, referring to her parents' inseparable love.
Yet, that love was painful for David after losing Joanna. It took David five years to visit Joanna's memorial at the zoo.
"After he was in hospice, he had really lamented he had never gone," Samantha said. "It was sort of this bucket list item that he had hoped to do it sometime."
David has been in St. Croix Hospice since September 2019 due to declining health. After mentioning his desire to visit the bench, David's St. Croix Hospice nurses and Ryan coordinated the perfect day for David to finally see the bench on March 4. Ryan said being with his dad at the zoo was one of the best days for both of them.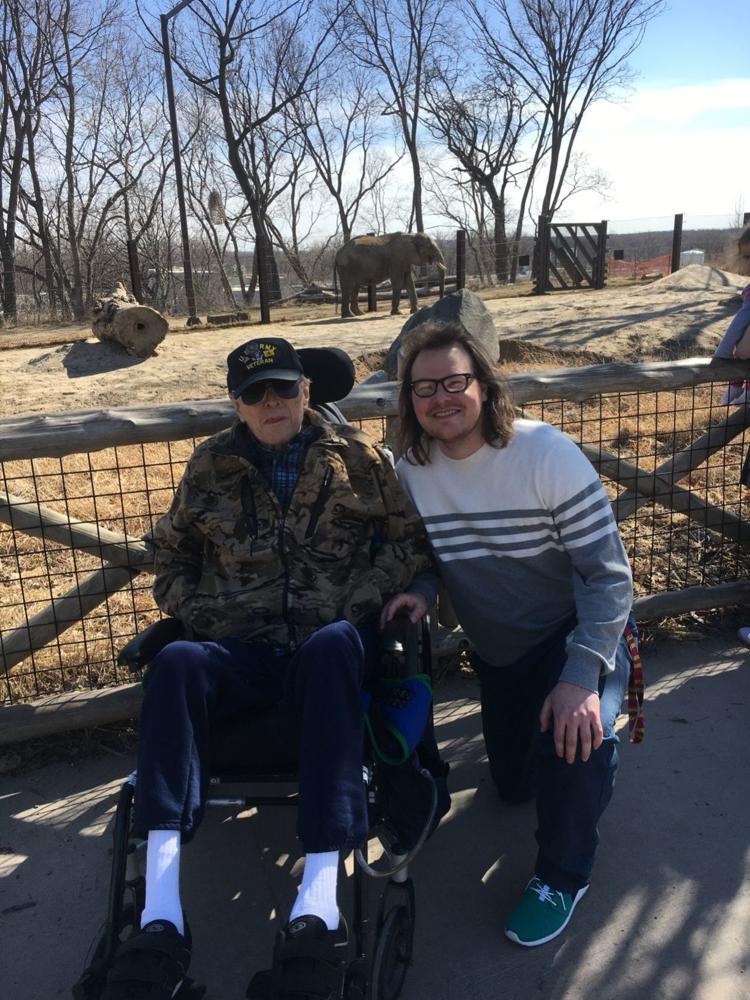 "He didn't cry tears of sadness, we just enjoyed the moment, the day and just being able to be there and see it together," Ryan said.
David said visiting the memorial was a happy day for him, and he cannot wait until he can reunite with Joanna. He said he still remembers the day he met Joanna at Northeastern Illinois University in Chicago. David was majoring in literature, and Joanna was majoring in education.
"I was in love, love at first sight," David said.
David and Joanna started a life together in Chicago and had their two kids. David worked in human resources at Chicago and North Western Transportation Co., and Joanna worked as a librarian from home. Years later, David transferred to Union Pacific in Omaha, and his family became Nebraskans. David said those years with Joanna and the kids were "wonderful."
Ryan and Samantha attended Nebraska colleges. Ryan became a special education teacher in Omaha, and Samantha is a speech language pathologist in California. Ryan and Samantha said their parents' love impacts them to this day.
"They provided me with a life that I hope I can give my kids one day. They gave me everything that I can ask for," Ryan said.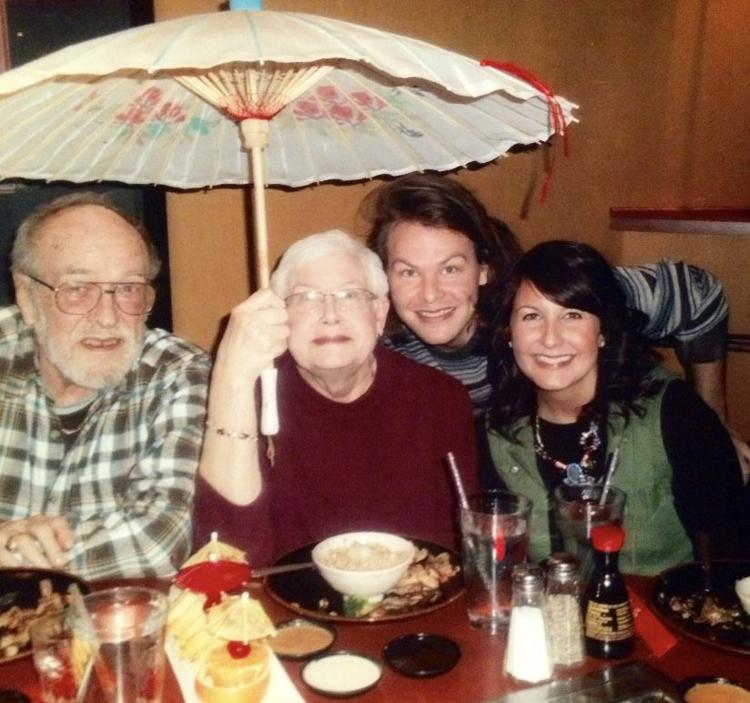 Samantha said her mom was a natural-born caregiver. She knew how to add magic to even everyday errands.
"Being around her made you feel like you were embarking on something," Samantha said.
She said she aspires to be selfless, strong and funny like her mom, but mostly to achieve the same concept of love her parents taught her.
"I do think that my parents' love really had an influence on my concept of what love and marriage should be," Samantha said. "We always had a strong family unit."
Photos: 106 of our favorite shots of Omaha's Henry Doorly zoo creatures through the years
Through the years, Omaha's Henry Doorly zoo has cared for animals as large as elephants and as small as tree frogs, offering the public a broad look at the earth's biodiversity.