They were sons and daughters, brothers and sisters.
Some were high school athletes. Some were combat veterans.
Like anyone, they had hopes and fears and first kisses. They were human beings.
There were 86 of them in total, the people from the Omaha metro area who died this year while experiencing homelessness.
On Friday night, their friends, family and the people who helped them during times of need gathered at the Siena Francis House to grieve and remember.
Through song and speech and prayer, attendees memorialized those who may not have received a proper funeral. Volunteers wearing the names of those who died lit 86 candles in their honor.
The Rev. Chuck Cornwell said the candles represented more than remembrance: "They represent the light that these people brought into the world."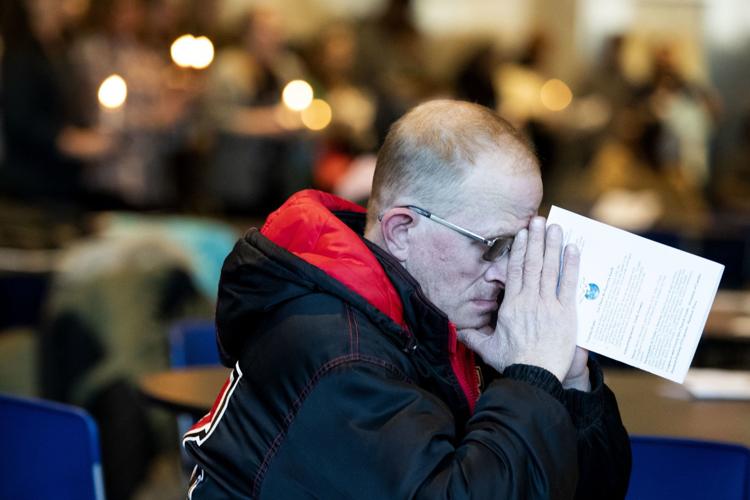 Cornwell felt the warmth of that light firsthand through his relationship with Tom Gavin, one of the people who died this year. Gavin's life wasn't easy, Cornwell said. He experienced traumas in childhood, during his time as a member of the U.S. Army and later in life.
Gavin eventually found his way to the Siena Francis House, where he met Cornwell, a licensed mental health practitioner. Cornwell said he feels privileged to have been invited into a "sacred space" with Gavin, one in which the man was able to find healing for his pain.
Gavin eventually left the shelter and, for a time, found supportive housing where he "became a support to those around him," Cornwell said.
Those who experience homelessness often don't have safety nets, said Tim Sully, the shelter's development director. They may not have family or friends who can help them when times get tough.
When they die, Sully said, their deaths may go unnoticed.
That's why community groups like the Siena Francis House hold such ceremonies, which occur nationally near Dec. 21 — the longest night of the year.
The ceremony is an act of humanity.
"The Siena Francis House has long held a philosophy of acceptance and hospitality," Sully said, "and what undergirds that is knowing that people are important, that they deserve respect and dignity as human beings."
A roundup of inspirational stories from Midlanders with heart
There's the woman with MS who runs despite her diagnosis. The 7-year-old born without his left hand who plays baseball just like the other kids his age. The refugee who turned to Zumba to help her recover from cancer treatments. Check out their inspiring stories and others below.