A new website called "We Don't Slum" aims to shine a spotlight on problem properties across Omaha and prod state and local officials to move faster to create a rental inspection program.
At a press conference Tuesday, advocacy groups including Omaha Together One Community, Family Housing Advisory Services Inc. and Restoring Dignity unveiled the website wedontslum.com, a play on the Greater Omaha Chamber of Commerce's "We Don't Coast" slogan.
The site features photos and videos submitted by renters or taken by housing advocates showing dilapidated conditions inside and outside rental units — an overflowing dumpster, cracks in walls and windows, dead mice, mold creeping up walls, rusted shelving and cockroaches.
Renters can also post photos to social media with the hashtag #wedontslum.
"Our hope is that We Don't Slum will bring true awareness to how widespread and devastating slumlording and substandard rental properties are," said Hannah Wyble, the executive director of Restoring Dignity, a refugee advocacy group involved in the inspections and evacuation of the Yale Park Apartments in September.
"We don't want slumlords operating in our city anymore," Wyble said. "We want people to live in safe and decent housing."
Sign up for World-Herald news alerts
Be the first to know when news happens. Get the latest breaking headlines sent straight to your inbox.
There are several competing proposals being floated at the state and local level to crack down on rental conditions.
The city currently inspects properties only when a complaint has been made, but advocates say more housing problems can be uncovered and fixed if units are inspected on a proactive, regular basis.
At Tuesday's press conference, members of community groups reiterated their argument that inspection programs have worked in other cities, from the smaller suburb of La Vista to larger cities like Minneapolis.
A bill sponsored by State Sen. Justin Wayne requiring Omaha rentals to be registered and inspected every three years is on standby after Wayne gave the city the option to come up with an ordinance first.
City Council President Ben Gray said last week that a rental inspection program modeled after La Vista's could come before the council in the next two weeks.
Councilman Pete Festersen supports a mandatory registry, hiring additional inspectors and targeting repeat offenders.
"Change is needed and change is coming," he said Tuesday.
And Mayor Jean Stothert, who has expressed concerns about the costs of hiring more inspectors and punishing good landlords along with the bad, said Tuesday that she's directed the city's Law Department to draft a rental ordinance. Stothert said it would aim to establish a free registration system for landlords and an inspection program targeting landlords who have not remedied code violations in the past three years.
"We may have more than one (ordinance) to discuss, and that's a good thing," she said.
Property owner groups have pushed back against the idea of mandatory inspections or rental registries, ideas resurrected after the displacement of 500 refugees living at Yale Park.
But at a legislative hearing last month, several landlords said more can be done to educate renters on their rights, as well as their duties to keep homes clean and presentable.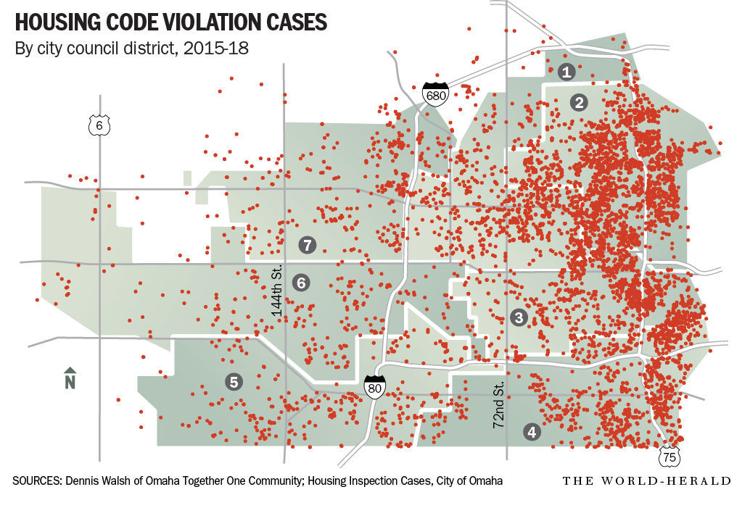 The new website features a Get Help section, where renters can learn more about the responsibilities of landlords and tenants, how to request repairs and how to report potential code violations to the City of Omaha.
The site does not identify specific rental properties or property owners, to shield renters who want to remain anonymous or fear retaliation from their landlord, Wyble said. But brief descriptions identify rentals in different parts of the city, including Millard, Benson and north Omaha.
An Omaha Together One Community analysis of 3,847 city code violations from 2015 to 2018 shows that most are clustered in neighborhoods with older housing stock and residents with lower incomes, especially in north, central and South Omaha.
Gary Fischer, general counsel with Family Housing Advisory Services, said requiring more inspections may cost the city, but there's also a human toll for those living in unsafe or unsanitary homes — kids may breathe in mold or tenants may have to dig deep to find the money to move.
"Think about the impact of that on childhood development, on health and on families who are struggling, trying to survive and do the best they can," Fischer said. "The expense is tremendous — we're just not counting those dollars."
World-Herald staff writer Aaron Sanderford contributed to this report.