Shadow Lake Towne Center in Papillion has a new owner that says it wants to bring new life to the struggling shopping center, though it hasn't said exactly how it'll do it.
Ohio-based PREP Property Group announced earlier this month that it had acquired the Papillion shopping center off 72nd Street and Highway 370.
With a vacancy rate creeping toward 20 percent — more than triple that of similar centers elsewhere in town — the Papillion center that opened in 2007 has fallen on challenging times.
That's underlined by the presence of PREP, the new owner: According to a statement from the firm, PREP is focused on turning around properties that are "undermanaged, capital-starved, poorly merchandised or distressed."
The acquisition is good news for some of the mall's tenants, who've watched as a string of their fellow tenants closed their doors in recent years.
"It's been a little concerning," said Kim Kavulak, who owns Nebraska Brewing Company. "But there are a lot of good tenants still here. We'd love to see every storefront full and a good flow of traffic through here."
PREP representatives contacted by The World-Herald didn't respond to multiple requests for comment beyond an initial statement sent to all news media.
Michael C. Phillips, PREP's president and CEO, said in the statement: "Shadow Lake Towne Center is a great project that will allow our experienced real estate team to focus on creating additional value, while enhancing the retail experience."
When Shadow Lake opened in 2007, Sarpy County residents greeted it enthusiastically.
"It was the place to shop," said Suzi Bonnett, who opened Chocolaterie Stam in Shadow Lake in 2009. "You didn't have to go up to Omaha anymore. This mall had everything you needed."
The outdoor mall was previously managed by Phoenix-based RED Development, which also owns Regency Court, Village Pointe and One Pacific Place.
Today, Shadow Lake is grappling with vacancies as the mall contends with a challenging retail market and the changing habits of consumers. In 2017, the 735,000-square-foot shopping center had a vacancy rate of about 19 percent, according to a retail market summary from The Lerner Company, a local brokerage firm. At that rate, that's 137,000 square feet of vacant space.
Major tenants who've shuttered their doors in the past year include Gordmans and OfficeMax. Remaining are JCPenney, Dick's Sporting Goods, Bed Bath & Beyond, PetSmart and Best Buy, among others.
Bonnett's corner of Shadow Lake, a main drag lined with smaller stores and shops, has been hit particularly hard, she said. American Eagle, Children's Place, Motherhood Maternity and Charming Charlie all closed stores there in the past few years.
"It is not where I expected to be nine years into my business," Bonnett said.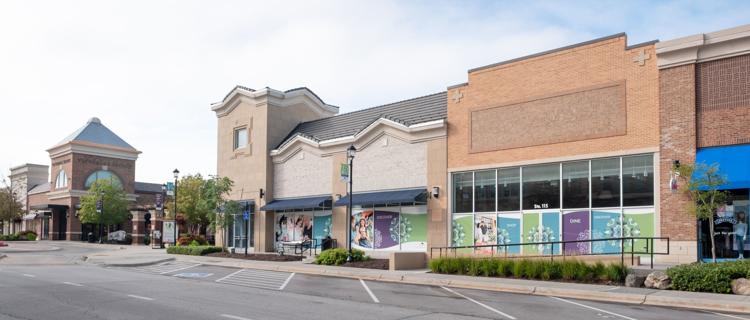 Shadow Lake's vacancy rate is much higher than that of other outdoor malls in the Omaha area. Village Pointe had a 2017 vacancy rate of 7 percent, and Aksarben Village sat at 5 percent vacant, according to Lerner's report.
The center's new owner could end up being a godsend for tenants and for area shoppers. PREP has poured millions of dollars into redeveloping three other malls in recent years. In Hanover, Massachusetts, the real estate company is giving Hanover Mall — now rebranded Hanover Crossing — a makeover, transforming the enclosed mall into an open shopping center. In Ohio, PREP took over the struggling Kenwood Towne Place, renamed it Kenwood Collection and gave it a face-lift. PREP did similar work at The Shoppes at Parma, also in Ohio.
Bonnett said she's excited about the new ownership.
"I hope they can bring in some new businesses," she said, "the sooner the better."
Jay R. Lerner, president of The Lerner Company, said today's consumers want convenience and value. And Shadow Lake still has the potential to offer that, he said. The location is good, it's easy to park close to stores and Sarpy County "is growing like crazy."
"This is an open shopping center, and I'm confident that vacancy rate will go down considerably," he said. "The new owners will be aggressive in the kind of deals that they'll make to attract tenants. ... It's just a matter of repurposing some of the retail space."
For instance, he said, that could mean adding services, like a gym, and entertainment, like bars and restaurants, rather than major department stores.
Down Shadow Lake's main drag and across the street from Chocolaterie Stam, Tropical Smoothie Cafe is the lone tenant among empty storefronts. Owner Kaye Wentz said it's been that way for a few years.
"It makes things difficult," she said. She wants to see the new owners bring in tenants unique to the area, like high-end retail that can't be found elsewhere.
Wentz said she's considered relocating, but she's been at Shadow Lake since it opened. It's her neighborhood shopping center. She wants to see it through.
"I hope the new owners get something going here," she said, "so we can grow together."
Changing Omaha: More than 50 stories of local development projects in the works
An ongoing list of some our development stories from 2018, with the most-recent stories at the top.