The NCAA men's basketball tournament will take place without fans, a stunning development that shows the societal reach of the coronavirus.
The change to March Madness, announced Wednesday afternoon, will send a major economic ripple through Omaha, which was counting on thousands of basketball fans to visit the city for first- and second-round games next weekend.
But the growing pandemic took precedence.
NCAA President Mark Emmert said the decision came after consulting with public health officials and a special COVID-19 advisory panel the NCAA had established.
"While I understand how disappointing this is for all fans of our sports, my decision is based on the current understanding of how COVID-19 is progressing in the United States. This decision is in the best interest of public health, including that of coaches, administrators, fans and, most importantly, our student-athletes," Emmert said in a statement.
Only essential staff and some family members will be allowed to attend.
Omaha Mayor Jean Stothert said in a statement Wednesday evening that the NCAA had made "the tough decision to play without fans in the arenas."
"As we learn more about the virus and the pace at which it spreads, it may be necessary for others to take similar actions," Stothert said.
Stothert said the city looks forward to welcoming the players, coaches and families of the athletes who will play in Omaha.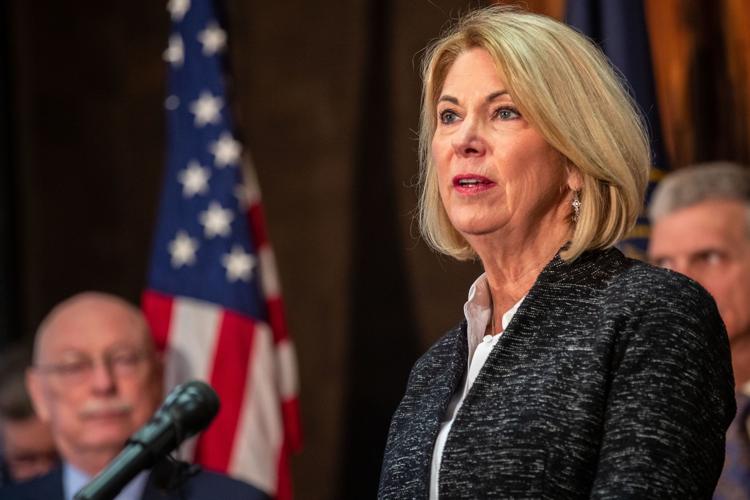 Earlier Wednesday, Omaha officials said at a press conference that the games were on track to be held in Omaha on March 20 and 22.
But they emphasized the entire situation around the coronavirus is fluid.
Roger Dixon, president of the Metropolitan Convention and Entertainment Authority, said Wednesday morning that he had been in contact with NCAA officials and that both parties were monitoring the situation with the coronavirus outbreak.
MECA manages TD Ameritrade Park and the CHI Health Center, where the tournament games are scheduled to be held.
Dixon said that if the games didn't go off as planned in Omaha, it would have a "huge" economic impact. Hospitality is the third-largest industry in the state, and the city would lose visitors to its hotels and restaurants, Dixon said.
Stothert and other city and Douglas County officials spoke Wednesday at a press conference to discuss plans related to the spread of coronavirus.
"Omaha is still open for business," Stothert said.
Photos: Nebraska serves as quarantine site for coronavirus