Pastor Carl Ratcliff doesn't usually deliver his Sunday sermon flanked by two refrigerators and two stoves.
"We're not having an appliance sale," he joked at the start of Sunday's church service.
But everyday life is a little off-kilter in Valley after the Union Dike levee along the Platte River broke nearly two weeks ago, releasing floodwaters that forced even the local National Weather Service office to evacuate from this city of roughly 2,000 in western Douglas County.
The 101-year-old United Faith Community Church, with its stately white columns, took on 8 inches of sewage in its basement. It bubbled up through toilets that had been plugged with sandbags and soaked carpet that had been installed only months earlier in a newly remodeled room used for Bible study and Narcotics Anonymous meetings.
Ratcliff and a few members had the foresight to move the stoves and refrigerators from the downstairs kitchen, parking them in front of the altar upstairs.
The first Sunday after the flood, with the basement still stinking and roads outside submerged, Ratcliff preached from a couch, streaming it to church members via Facebook Live. Last Sunday, after the basement had been scrubbed and sanitized by volunteers, he knew it was time to return.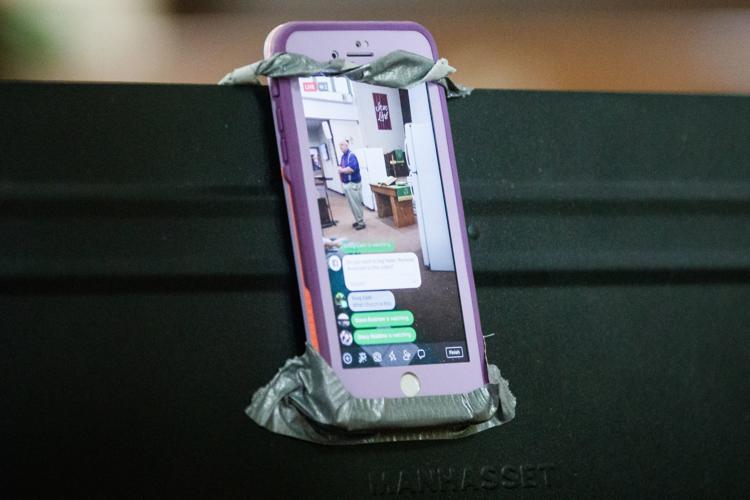 "I'm still here, we're still here, we've got refrigerators this morning up in front," he told a congregant.
He knew people needed some time to reflect, to pray, to mourn their losses and celebrate what they could.
At least seven families at the 160-member, multidenominational church (the product of a merger of three Baptist, Presbyterian and Methodist churches in town) lost nearly everything.
During the height of the flooding, Union Pacific Railroad sent out high-rail vehicles to evacuate residents of Valley and nearby Waterloo. Ratcliff and a few other church members splashed through the roads on a tractor, shooting video so evacuees could see how their homes had fared.
Douglas County West Community Schools closed for a week due to impassable roads and families being displaced — buses did a trial run last weekend to test flood-ravaged roads before schools reopened Monday. Federal Emergency Management Agency workers are going door to door to help residents apply for disaster assistance.
Dumpsters are scarce, so residents are tossing muddy couches and water heaters on a growing pile of trash in the parking lot of the city park. Houses in King Lake, a community outside Valley near the Elkhorn River, are badly damaged.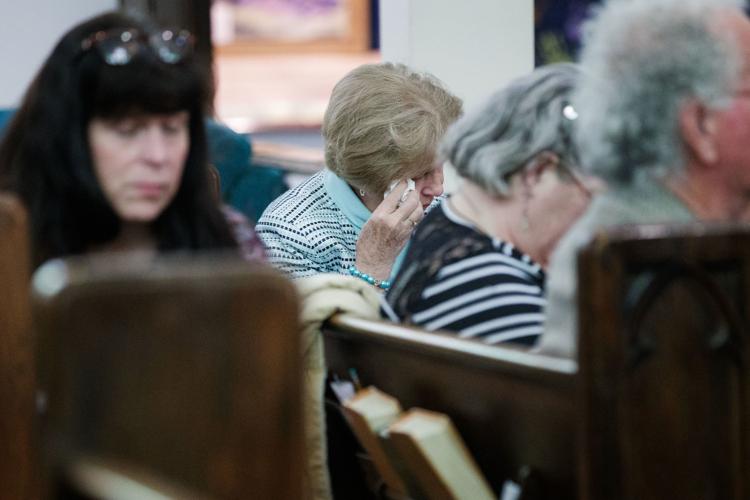 "Lord, we have been through a lot this past week," Ratcliff prayed.
But when Ratcliff passed the microphone around so members could share their thoughts, there was little complaining.
I can't believe the help we've received, one man marveled. A woman praised the volunteers who swept and mopped the church basement. Mary McDermott, wearing a neon green #ValleyStrong T-shirt, waved a clipboard and asked people to sign up for shifts handing out supplies or feeding weary residents.
"A lot of people don't want to ask for help," McDermott said. Check on your neighbors. Ask if they need help. Ask again. "Be stubborn," she said. "And love on them while you're there."
Ratcliff gave a shout-out to Mike Bebout, a 29-year-old church member who restores player pianos and moved them to higher ground early so he'd be free to help his neighbors.
A diesel barrel tipped over in one congregant's flooded basement. Volunteers strapped on respirator masks and zipped up protective suits to clean up the oily mess.
"People gave what they could and people did what they could," Ratcliff said. "Their gifts and abilities shone like the stars in the sky."
The church's efforts have extended beyond the ministerial.
On the Tuesday after the flooding started, March 19, Ratcliff helped organize a pancake feed at The Campus, the community center United Faith built in 2014 a half-mile from the church, on South Mayne Street.
As hundreds showed up, it clicked for him and a number of other residents-turned-volunteers: People needed supplies, people needed hot meals, people going through incredibly stressful situations needed a place to sit and talk and be heard.
So St. Mark's Lutheran Church and St. John the Evangelist Catholic Church are splitting dinner duties this week. Another church called The Gathering Place is helping with the King Lake cleanup.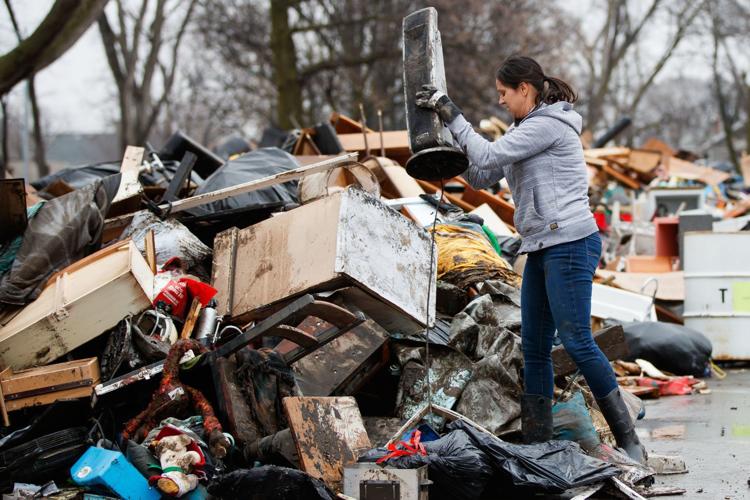 Nurses from Methodist Health System are administering tetanus shots. Three helpers with laptops help match volunteers with the people who need water bailed from a basement or moldy drywall ripped out. (Check the Valley Flood Relief Facebook page for more details and the latest updates.)
The Campus has turned into Valley's flood relief center — locals took charge because residents felt like they weren't getting much on-the-ground assistance from larger aid organizations, said Valley City Councilwoman Cindy Grove.
Volunteers from Valley, Fremont and Omaha have streamed in to serve gallons of chili, fold donated clothes and drop off bleach, sump pumps, rubber boots, kitchen utensils and cans of soup. Therapists and counselors are available to talk. An estimated 1,000 people passed through each day last week.
"All the ugliness in the world, (people) just have to come here to see the beauty," said Sandy Wlaschin, an Omaha Public Schools teacher who grew up in Valley and was volunteering Sunday.
The center is open from 4 to 7 p.m. this week as more volunteers head back to work.
Since the initial evacuation phase is now pivoting to cleanup, needs are changing. The Campus has plenty of food, water and clothes and is sending excess water to Glenwood, Iowa, which is under water restrictions.
Dumpsters, fans, towels, sump pumps, cleaning supplies and dehumidifiers are in high demand. 3M and other local businesses have donated food and supplies, too.
"There's some things we just can't keep here," said Grove, who estimated that they passed out 300 to 400 box fans in a week. Grove is helping run operations at The Campus and is also the president of the Valley Days Foundation, which is accepting and distributing monetary donations.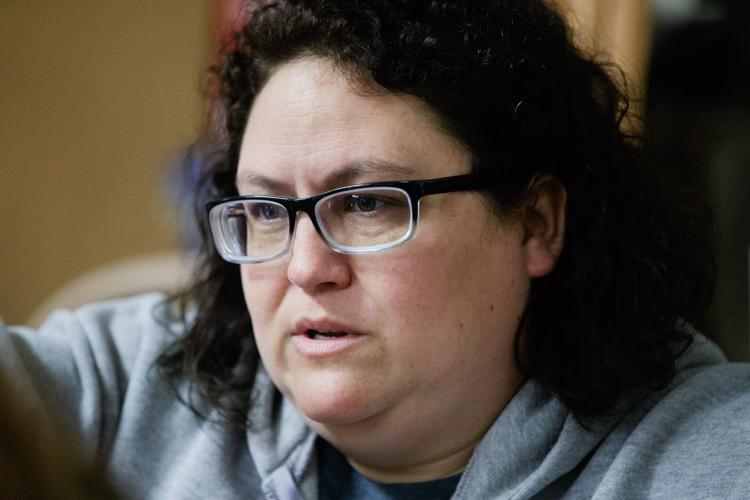 "You get a lot of people that are confused: 'I don't even know where to begin,' " said Haley Cortez, another one of the volunteer leaders at The Campus. "And then when they come in here (and just see) the sheer magnitude of the fact that all of this has been donated to our community."
Amber Jackson, a mother of three, was displaced by flooding and is staying at her brother's house, where 13 relatives are crowded in. She filled a cart at The Campus with diapers, laundry detergent and clothes.
Her toddler, 2-year-old Calli Dennett, ignored the piles of coats and shoes and reached for the box with Cabbage Patch dolls.
"All of hers are gone," said Molly Willman, Jackson's sister. "She had quite the collection of babies."
Sign up for World-Herald news alerts
Be the first to know when news happens. Get the latest breaking headlines sent straight to your inbox.
Cortez and Grove didn't know each other before the flood. Now they feel like they've gone through battle together.
"It's unfortunate, and a blessing at the same time, that a tragedy, something so bad, can bring out so much good," said Cortez.
At United Faith, even the musical selections nodded to what Valley and surrounding communities have been through .
Music minister Lee Foreman announced, to groans, that the choir was going to sing "River in Judea." The service closed with "There Shall Be Showers of Blessings."
"Really, Lee?" someone yelled from the pews, sparking laughter. Valley hadn't entirely lost its sense of humor.
Photos: Nebraska flooding viewed from above