Residents removing mud- and water-soaked debris from houses and businesses are running into the next flood-related challenges: long lines at local landfills and a high demand for dumpsters.
Residents of Douglas and Sarpy Counties already have hauled more than 800 tons of flood-damaged debris to their landfills since floodwaters hit Nebraska and Iowa earlier this month. Since March 20, more than 1,000 vehicles have passed through Fremont's Waste Transfer Station, and up until Saturday, Fremont extended weekend hours and waived tipping fees to accommodate the crowds.
"Yes, the lines have been long, but we've done everything possible to try and alleviate some of that," said Lottie Mitchell, a spokeswoman for the City of Fremont.
Sign up for World-Herald news alerts
Be the first to know when news happens. Get the latest breaking headlines sent straight to your inbox.
Cass County is considering whether it needs to set up its own county dump site. Most garbage trucks there drop off loads at Sarpy County or Lincoln landfills.
"There is an issue with getting the dumpsters," said Cass County emergency management director Sandy Weyers. "There's not enough to go around. Once they drop them, they're full within minutes."
It's not just a logistical concern, either: While residents may be anxious to get ruined appliances out of their house, there are still environmental standards and rules surrounding storm disposal, including the burying of dead livestock.
Appliances like refrigerators, washers, dryers and water heaters are banned from Nebraska landfills and towns may be leery about allowing sewage-soaked trash to linger curbside. Many landfills don't allow for the disposal of paint or other hazardous chemicals, and there are special procedures for disposing of materials that contain asbestos, like insulation. (More info on flood cleanup can be found at the Nebraska Department of Environmental Quality website.)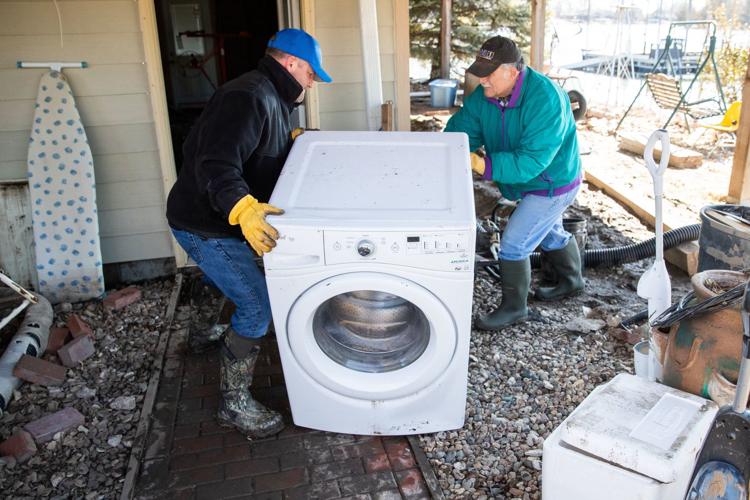 Under the Sink, an Omaha household hazardous waste facility open to Douglas and Sarpy County residents, has extended its Tuesday and Saturdays hours throughout April.
"If we don't do something and can't get dumpsters, we're going to start finding this stuff on county roads," Weyers said. "Unfortunately, a lot of this stuff is coming out of basements backed up with sewer and you don't want that stuff sitting on your curb for kids to jump on, play in, whatever. We're giving people gloves and shovels ... so they're protected."
Valley was allowing residents to dump flood trash in the parking lot at the city park, but that stopped last Wednesday.
"It looks like the Douglas County landfill," said Valley Mayor Carroll Smith. "We're going to leave some dumpsters on the streets but we've got to get that park cleaned up. Summer's coming, the kids want to get out there."
Aid organizations said they're trying to figure out how to get disposal costs covered for homeowners who are mentally and financially stressed.
Depending on the size and the company, a weeklong dumpster rental can cost upward of $150. If people choose to drop off garbage themselves, they'll likely have to pay per vehicle or per ton, depending on how much they're hauling.
Sarpy County has been coordinating with sanitary improvement districts to place dumpsters in hard-hit areas like Hanson's Lakes, Hawaiian Village and Linoma Beach. At some point, they'll have to figure out payment reimbursement for those, whether it comes from flood relief funds or the SIDs themselves.
In Valley, a Crossfit group donated funds for 20 dumpsters, but that money was scheduled to run out last Friday, leaving local volunteers scrambling to raise more. One man has volunteered to haul and scrap flood-damaged appliances, donating the money back to Valley flood relief efforts.
"A lot of people here live paycheck to paycheck," said Valley volunteer Haley Cortez. "We're just trying to help ease that burden."
Dave Holling, the manager of U Fill It, a Valley waste removal company, said it takes time for drivers to pick containers up, dump them at the Pheasant Point landfill in Bennington and drop them back off. Some of the local roads are in bad shape, too.
"We're hauling them just as quick as we can," Holling said. "It's pretty overwhelming. It's a mess."
Sue Maier's phones have been ringing off the hook the past few weeks. Maier and her husband, Peter, own Bin There, Dump That, an Omaha-based dumpster-rental business. They have customers filling up supersized dumpsters within hours with soggy carpets, furniture and drywall.
"We have a lot of people affected in those areas right by the rivers, Papillion and Bellevue and Waterloo in particular," she said. "I had to start a wait-list because the demand was so high."
They started the franchise business seven months ago with one truck and 24 dumpsters. Now they have two trucks and 48 dumpsters.
"We've had our team working pretty much seven days a week and we're going to continue to do so for many weeks to come," Maier said. "When I'm on the phone with people, I try to tell them we're very sorry for what you're going through. We're trying to ease the process and whatever we can do to ease the discomfort."
World-Herald staff writer Bob Glissmann contributed to this report.
Floods devastate Nebraska, Iowa in March 2019