Kimi Takechi was a longtime businesswoman who weathered ups and downs of the downtown retail market.
She helped raise five children, one of whom served four terms on the City Council and eight years as Douglas County Register of Deeds.
On Oct. 19, just short of her 102nd birthday, Kimi Takechi's run as an Omaha entrepreneurial and cultural trailblazer ended. She had a heart condition and died peacefully at a hospice home, her family said.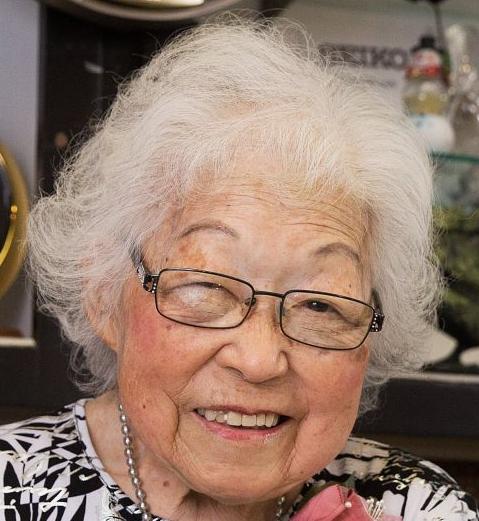 The co-founder of Takechi's Jewelers worked beyond her 100th birthday, however, and is remembered also as a key link between Omaha and its Japanese sister city of Shizuoka, and as a founder of the local chapter of Ikebana, the art of Japanese flower arrangement.
Spencer Crews, executive director emeritus adviser at Lauritzen Gardens, recalled Kimi Takechi within the last six months walking happily into an event celebrating Ikebana and the Japanese garden that's developing at Omaha's botanical center.
"She was such an ambassador," Crews said. "What an inspiration many took from her long, happy life."
Larry Uebner, a longtime supporter of Omaha's Sister Cities, said Kimi Takechi and her husband, the late Kazuo Takechi, were at the forefront of that organization, setting a pace for the six cities that followed.
A "Celebration of Life" ceremony is scheduled Nov. 16 at 10:30 a.m. at Heafey Hoffmann Dworak Cutler west chapel. A visitation begins at 9 a.m.
Born and raised in Pocatello, Idaho, the eldest daughter of Japanese immigrant parents grew up in a hardworking farm family and later pushed through a period of racial tension as the U.S. fought Japan in World War II, said Kimi's daughter, Jeri Endo of Omaha.
Though Kimi won a scholarship to Drake University in Iowa, she turned it down to help her family during the 1930s Depression (her father was killed in an accident when she was 13).
Sign up for World-Herald news alerts
Be the first to know when news happens. Get the latest breaking headlines sent straight to your inbox.
Kimi met future husband, Kazuo Takechi, in 1931 after he and his father arrived from Japan as missionaries.
The couple married in 1936, and the following year he accepted a job as a salesman for Omaha Oriental Trading Co. The Takechis returned for a while to Pocatello before moving for good back to Omaha in 1943. In 1947, they opened a store specializing in watch repair.
Endo said her mom was always proud of her husband (Kazuo died in 2001) and their business, which moved to various downtown spots before settling at 17th and Harney Streets across from the Douglas County Courthouse.
"Most of the businesses moved out to the suburbs in the 1970s," Endo recalled. "Downtown became kind of a ghost town, but they hung in there. It was home to them."
The store had evolved to sell more jewelry, and Kimi added greeting cards and Japanese tea sets, music boxes and other gifts. The Takechi children spent weekends helping and setting up display windows at the store.
Endo remembers as a little girl spending a lot of time at the shop. "I was shy, and I'd get behind my mom and under her long coat and we'd walk through the streets with her looking like she had four legs."
Besides Endo, Kimi Takechi is survived by son Steve Takechi of Omaha and daughter Jane Kawasaki of Highlands Ranch, Colorado. Daughter Julie and son Richard, the former councilman, have died.
Endo said her mom, who on Oct. 29 would have turned 102, slowed down only recently and referred to herself as the "Mrs. T of downtown." (It was a play on the legendary Rose Blumkin of Nebraska Furniture Mart. Kimi knew "Mrs. B," who worked until she was 103 and lived to 104.)
Meeting people and visiting with loyal customers kept Kimi going back to the store she ran with son Steve, Endo said.
Notable Nebraska, Iowa deaths of 2019