The latest study on revitalizing the historic heart of north Omaha has a catchy name — Forever North — and is taking unusual steps to involve north Omahans in the process.
That's because city planners and several people in the community think North 24th Street and surrounding neighborhoods could finally come back in a big way. They want to know what people from the area would like to see happen there, especially with housing and transportation. And then they want to develop strategies to make those things become reality.
A neighborhood planner for the city is keeping open-door office hours three afternoons a week in North 24th Street cultural centers, talking with people about the study and gathering their views. Manuel Cook works at The Union for Contemporary Art on Wednesday and Thursday afternoons, and at the Great Plains Black History Museum on Saturdays.
Urban planners are leading twice-weekly "place assessment workshops," in which the public is invited to make detailed observations about a variety of locales within the area, and to say what they would like to see happen there.
A survey is being circulated online and in the neighborhoods that asks people to express what types of residential buildings would be good fits for the neighborhood, what should be done with vacant lots and how people could be attracted to the area.
The city and people from the neighborhood hosted a block party on North 24th Saturday night to gather people to talk about their neighborhoods with each other, planners and leaders on a stakeholders committee.
People from north Omaha's Malcolm X Memorial Foundation center started going door-to-door Tuesday to seek opinions.
And two community design workshops are scheduled during the coming Native Omaha Days. Consultants and the Metropolitan Area Planning Agency will work with people to "define the direction for housing along North 24th Street." The workshops are scheduled for 8 a.m. to 8 p.m. July 30 and 31, at The Union for Contemporary Art, 2423 N. 24th St.
"I can see the City of Omaha is going out and really engaging the community, and now the community has a responsibility" to give their opinions and insights, said LaVonya Goodwin, a businesswoman and nonprofit leader who's on a community stakeholder committee of Forever North. "We're trying to use every method we can to connect to the people who this will affect the most."
Cook said Forever North isn't starting over but seeks to build on previous efforts such as the North Omaha Village Revitalization Plan, which was adopted by the City Planning Department in 2011.
Among other things, that plan identified the potential for North 24th Street to become a new arts and entertainment district.
Forever North is looking at an area that stretches from Cuming Street to Ames Avenue, between 20th Street and the North Freeway, with 24th Street as the center of it all. The study is focused on housing and "multi-modal transportation," such as bikes and buses in addition to cars.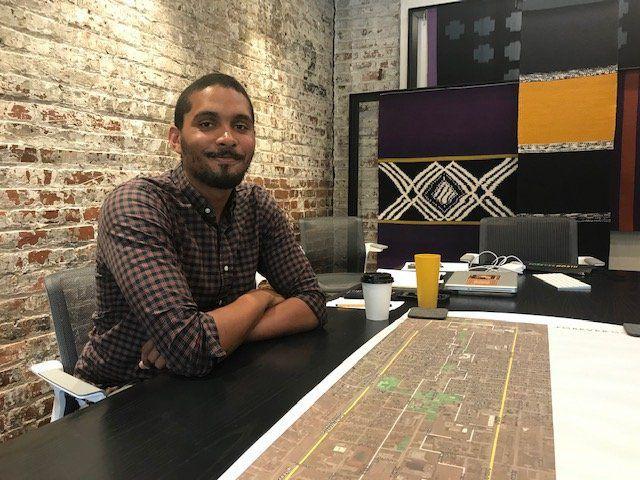 Positive developments have happened along North 24th Street recently, such as the $2.4 million Fair Deal Village Marketplace, The Union for Contemporary Art and the under-construction Heart Ministry Center, in addition to apartments and town houses built a few years ago. New businesses have opened, including restaurants, a coffee shop and a little place that serves shaved ice, The Cooler Sno-Balls.
"There's tangible proof of positive change and investment," Goodwin said.
There's also an expectation of momentum from the new Highlander development on North 30th Street, and plans to redevelop the Spencer Homes public housing apartments and surrounding neighborhoods.
Goodwin sees new energy, with entrepreneurs and artists coming in and people already there.
She and her husband, Dan Goodwin, own Goodwin's Spencer Street Barbershop and head up the Global Leadership Group, a nonprofit seeking to restore North 24th Street to vibrancy. She's also a leader in an effort to form a North 24th Street business improvement district.
"There's not just an energy, but tangible work that's happened," Goodwin said. "People are collaborating on multiple levels. … It's happening. I'm excited."
The optimism was palpable at Saturday night's block party. Damion Sayers hosted a cookout on the newly paved parking lot of his business, Transitions Barber and Beauty, 3318 N. 24th St. A native of north Omaha, Sayers has had his business on North 24th St. for 12 years.
"It has been nothing but positive," he said.
Sayers, a second-cousin to Gale and Roger Sayers, loves the history and sense of community in the area. He and a couple other barbers in the area have started a literacy effort, "Building Brains in the Barbershop."
Despite the fact that many plans and prospective redevelopments have come to naught in north Omaha, Sayers feels good about the Forever North Study.
"It's been great, and honestly, I can see it being positive for the future," he said.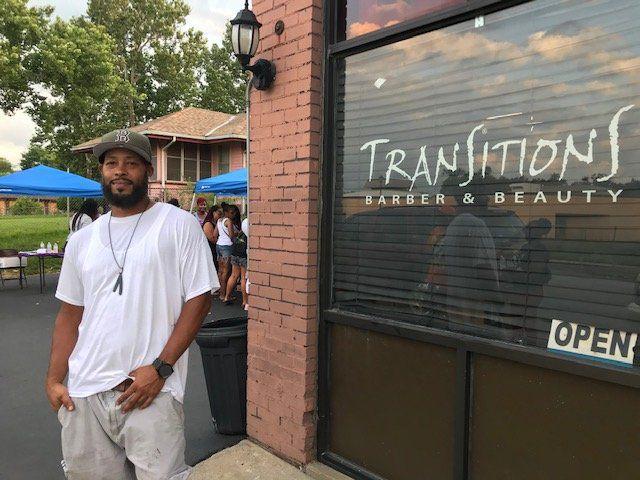 The study is being paid for with a $100,000 mini-grant of state funds through the Metropolitan Area Planning Agency's Heartland 2050 effort, plus $25,000 from the City of Omaha.
City planners applied for the grant thinking it could give a boost to a part of the city that seems like it might finally be primed to take off again, and to make sure that the people currently living there benefit from the redevelopment.
"The feeling is that it's only going to take one substantial project to get things going," Cook said. "This area has the potential where it can shift and grow and really be the best part of Omaha."
He's heard a lot of concerns from the neighborhood about the potential for gentrification. People worry that people in the area could be displaced by increasing housing prices and rising property taxes.
Those concerns are being heard and need to be addressed, he said, possibly through variety of housing types and policies.
"You want to protect the integrity and culture of the area," Cook said.
Jeff Spiehs, community relations manager for MAPA, said planners have been hearing that people want a variety of housing types, including affordable rental housing, senior housing, and single-family, owner-occupied homes.
"The people have been saying we've been studied enough," Spiehs said. "We want this to be a project that's action-oriented."
Sign up for The World-Herald's afternoon updates
Receive a summary of the day's popular and trending stories from Omaha.com.
Changing Omaha: More than 50 stories of local development projects in the works
An ongoing list of some our development stories from 2018-20, with the most-recent stories at the top.