Sal Issaka had to have seen a childhood version of himself when he rounded the corner at 30th and Burt Streets on that hot June afternoon.
Before he came to Nebraska to play Husker football, Issaka had grown up in Ghana, where he spent his free time playing pickup soccer in a dirt road for hours on end, wearing Ace elastic bandages wrapped around his feet for shoes so that he wouldn't wear out his actual shoes. He practiced long enough and played hard enough that he made the Ghana youth national team before his parents immigrated to the United States.
On this day in Omaha, Issaka was on the job. He was a youth and gang intervention specialist for the Omaha Housing Authority. He had started a free summer soccer program at OHA a decade earlier, in the mid-1990s, but it wasn't taking off like he had hoped it would. Issaka and his brother Osuman Issaka, a senior project consultant at Union Pacific Railroad, were trying to expand the program.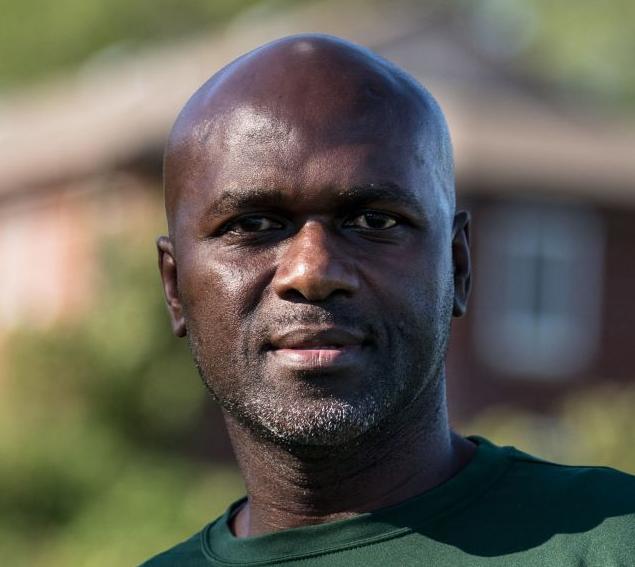 On the pickup seat beside him, Sal had a stack of flyers to hand out to African refugee families who lived in old, boxy brick apartments across Burt Street from the Omaha Public Schools administrative building.
Issaka needed kids who loved to play the beautiful game as much as he did and were willing to put in the work to be really good at it. He needed role models to help build a culture so the other kids could build themselves a route out of poverty. He found one in the OPS parking lot.
A middle-schooler named Noor Hamadi was dribbling a soccer ball across the baking asphalt outside the Burt Street apartments. He bounced the ball off a fence. He raced after it. He juggled the ball with his feet, and when it got away, he scrambled after it again.
"Sal came along with flyers in his hands for a tryout for soccer," Hamadi said. "I was the first kid he saw, kicking around by myself."
Issaka recruited Noor to go door to door in the Burt Street apartments to hand out flyers for an event, a combination soccer signup and cookout for OHA families. Issaka distributed hundreds more in OHA's public housing apartment complexes. Nearly 600 people came for the hamburgers, hot dogs and bounce houses. More than 300 signed up to play soccer.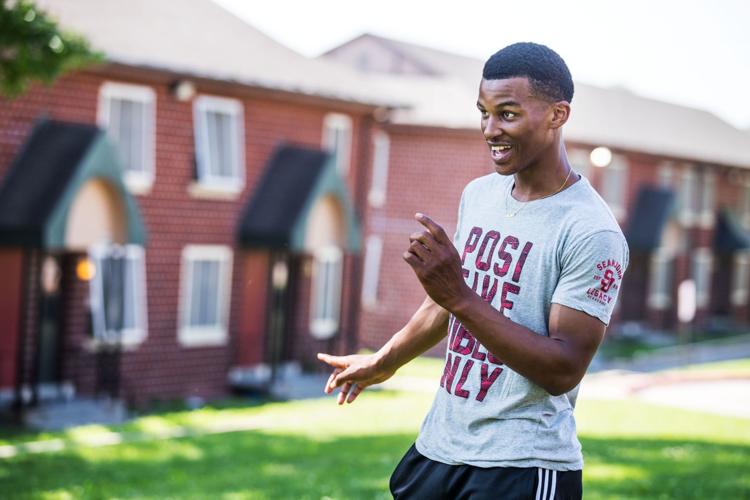 The OHA Soccer Academy finally took off. A dozen years later, it is flying high. Seven boys were invited to Major League Soccer youth development academy teams this year. Four made rosters (three at Sporting KC, and one at Real Salt Lake). Two OHA 14-year-olds — Salat Mukoma from Southside Terrace and Zamere Issaka, Sal's son — are attending Sporting KC Academy in Kansas City.
Several former OHA players have gone on to play soccer in college or junior college. That includes Hamadi, who won a soccer scholarship to the University of Nebraska at Omaha and had a stellar career there, and Ali Ibrahim.
Kids in the OHA soccer program are all over the rosters of Omaha high school boys teams, especially Omaha South. They include Abdi Adan, who led South High School to the 2019 state championship as a junior, made everybody's All-State team and recently received a scholarship offer to play at UNO.
Players and teams from OHA are very competitive with local select soccer clubs with paid coaches, where it can cost up to $2,000 a year for kids to play. Select clubs even recruit OHA players to boost their teams.
That's all well and good to Coach Sal and Coach O, as the kids call them. But this is more important: 34 current or former OHA soccer players are enrolled in colleges, universities or postsecondary certificate programs. Another 35 former players have graduated from college. They include Hamadi, who earned a bachelor's degree in international studies from UNO this spring.
Most of those collegians aren't on their schools' soccer rosters. But they're in school. They're on their way in life. And in the end, that's the point.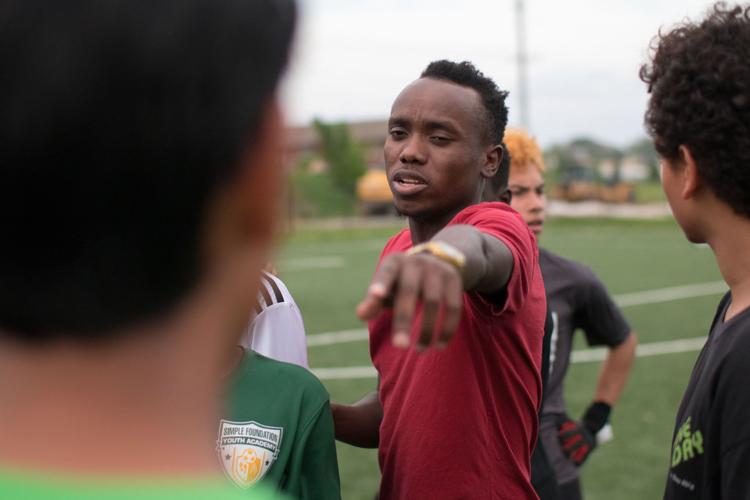 Coach Sal and Coach O teach soccer. But they preach education.
"We don't care about soccer stars," Sal Issaka said during a break in a recent practice on the new artificial turf field at Miguel Keith Hernandez Park, where OHA kids play in the shadow of Southside Terrace, Omaha's oldest and largest public housing development.
"If kids aren't going to college, then we're failing. … I feel like the best way to break the cycle of intergenerational poverty is to get the kids on somebody's campus."
Osuman started a foundation, the Simple Foundation, in 2014 that has attracted the backing of several Omaha philanthropists. The foundation has expanded offerings to include food pantries for families, tutoring, mentoring and summer and after-school programs, in addition to health and wellness programs tailored to girls.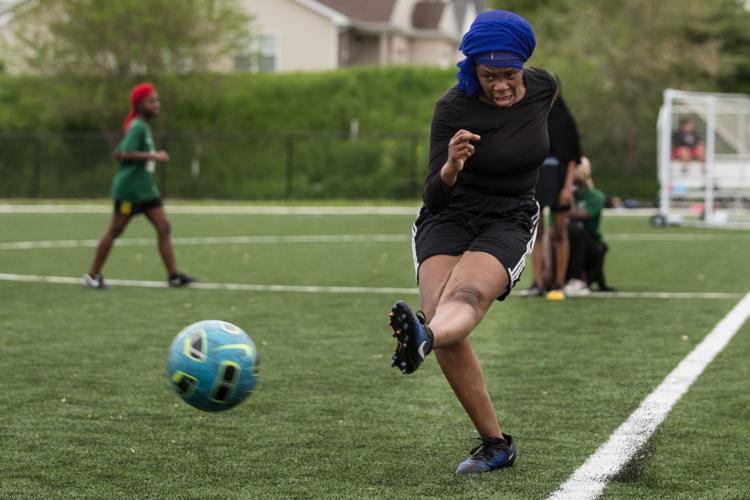 A growing number of girls — about 30 this summer — are among the 250-plus kids playing OHA soccer, as the Issaka brothers have built trust with their religiously conservative families.
Though the majority of the soccer players are from African families, a number of Latino and African American kids belong, too.
It's all free to the children and families.
"It's a real success story for our city," said Bob Warming, the head men's soccer coach at UNO, whose history with the OHA program goes back to his days as Creighton University's head coach.
"You've got men who make a commitment to try to help kids have an outlet for their energy when school is done each day, and give them real opportunities to learn the value of hard work," Warming said. "Sal's giving people an opportunity to do something that just wasn't there before. Some kids have taken great advantage of that."
The kids don't know the half of the story behind it.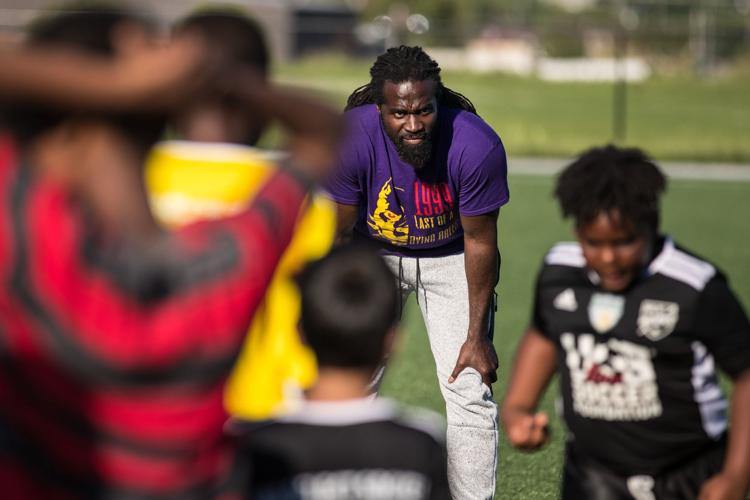 What's happening in South Omaha has its roots in Africa. Sal and Osuman grew up in soccer-loving Lagos Town (now called Accra New Town) on the outskirts of Accra, the capital of the West African nation of Ghana.
"Small, small town," Osuman said. "Rural. Community-driven. Kind of a mid-Nebraska kind of thing."
Like Nebraska, sort of, except with banana and mango trees. And the Atlantic Ocean was within a couple hours' walk. It was called Lagos Town because a lot of people originally had come from Nigeria. Many shared the Issakas' Hausa tribal heritage. The community was obsessed with soccer — especially the Ghana Black Stars, the national team.
"We ate, slept and breathed soccer," Osuman said. "Our dream growing up was playing in the Olympics."
The kids in their neighborhood barricaded off the dirt road in front of the Issakas' house. They used rocks for goals. When they didn't have a ball, they made one out of anything that rolled. Rags wound into a sphere. Coconuts.
"Even papayas," Osuman said.
They played pickup games for hours in the street. When a game wasn't going, they would juggle. Or race each other down the street.
"You'd just walk out the door and play all day," Sal said.
On weekends, Sal and a bunch of his buddies got up at 6 a.m. and walked to the beach, where they played small-sided games (like three-on-three) for hours, then hoofed it back home. 
Sign up for World-Herald news alerts
Be the first to know when news happens. Get the latest breaking headlines sent straight to your inbox.
"About from here to Oak View Mall," Sal said from his office at OHA headquarters in downtown Omaha.
"Because the Ghana Black Stars trained at the beach," Sal said. "And it's harder to play in the sand, with your feet burning."
Sal made the town team, which drew crowds in the thousands. He had played his way into a pair of cleats, but they were used and he had to give them back after games. At age 14, he made the youth national team. That's the first time he had new soccer cleats of his own.
Soon after that, the Issaka family immigrated to the United States. The parents wanted the American education system for their children. They moved in the 1980s to Chicago, where their father went to work at Eastman Kodak.
Sal and Osuman found no opportunity for soccer on the South Side of Chicago, where the family lived. Both ended up playing football. Oddly enough for Sal, it was American football that brought this soccer guy to Nebraska, and eventually to Omaha. He walked on to the University of Nebraska football team as a cornerback in 1990. He rose to third on the spring depth chart on Tom Osborne's loaded team in 1992, but was hampered by injuries.
Sal transferred to UNO and played football for the Mavericks for two years. He graduated in 1994 with a degree in criminal justice. He has since added a master's in urban planning.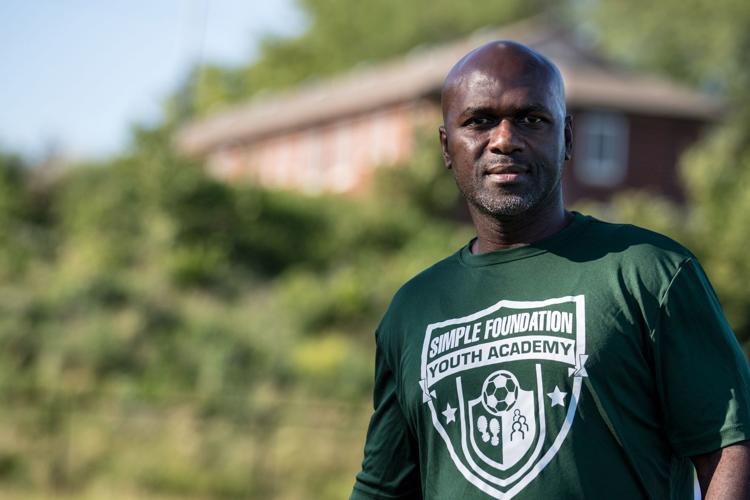 Now 47, he went to work for OHA right after college. Then-OHA Executive Director Bob Armstrong spotted him doing an internship for the Omaha Police Department gang unit, which was then based in an OHA building in north Omaha. Armstrong recruited Sal to be the youth intervention coordinator.
The Housing Authority had its Heavy Hitters football team. But Sal thought it needed more sports in the spring and summer.
"We needed to start some positive recreational programs for kids," he said.
That was the humble beginning of the soccer academy. Back then, Sal was playing defense, just trying to keep kids too busy and too tired to get in trouble.
At the time, Osuman Issaka, now 43, was attending Trinity University in Deerfield, Illinois. When his bid to make an NFL team didn't work out, he went back to school, earning a master's in management information systems from Bellevue University.
Sal ran an OHA baseball program, too, with financial help from Pacesetter Corp. President Harley Schrager. When Osuman moved back to Omaha, he started helping Sal with soccer and baseball. They helped out longtime Heavy Hitters coach Gannie Clark with football.
At some point, they started running a track program, too. Osuman said 85 kids from OHA track have qualified for national youth meets.
The brothers eventually narrowed their focus to soccer. It's what they know best. And if you're just practicing and playing among yourselves, it's relatively cheap.
But it didn't stay small for long. In the early 2000s, then-Creighton coach Bob Warming did a soccer camp for the OHA kids. When many of the kids showed up without good soccer shoes, Warming's daughter Audrey started what became Audrey's Shoes for Kids. One of the first kids in line for cleats: Noor Hamadi.
"Then when I came back to coach UNO last year, who was on my team?" Warming said. "Noor."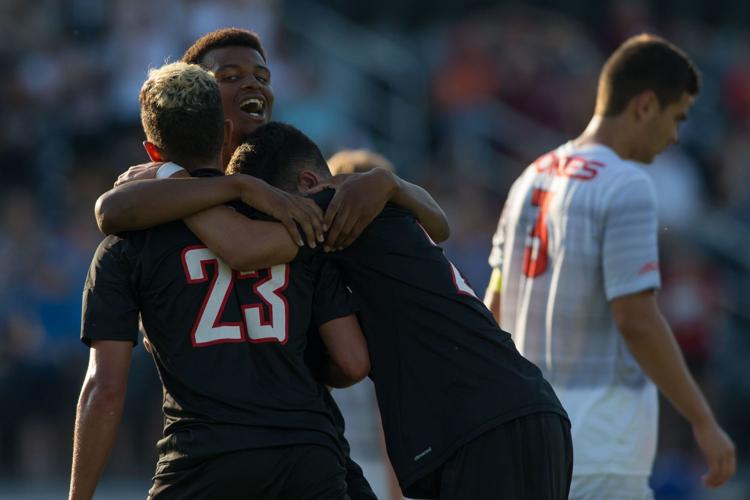 After the Creighton camp, donors bought 1,000 soccer balls and gave them to kids at Spencer Homes and Southside, Sal said.
"It didn't take off. … Then two weeks later, I came back. Kids were kicking balls off the wall at Southside. I said, 'Oh, maybe we've got something.' "
That's when he decided to have the cookout at Miguel Keith Park, at 30th and Y Streets.
"When those 600 people came, it was the scariest thing I ever saw," Sal said. "I had no idea what we were going to do with all those kids."
Sal and Osuman found friends to help coach. They organized OHA teams to play each other as an internal recreational league.
Soon, the OHA teams were competing with the best of them, and often winning. Coaches from clubs began asking to borrow OHA players to play secondarily for their teams. Sal would let them, because it meant more games, more practice.
The Housing Authority pitched in some. But back then Sal and Osuman spent a lot of their own money on fees and equipment, giving kids rides and other costs. OHA vans helped get kids to practices and games.
Noor Hamadi remembers those days well. His first taste of organized soccer came on the scruffy field at Miguel Keith Park. His first instruction was at the feet of men who, like him, were from Africa. It was intense, but he loved it.
"He's demanding," Hamadi said. "He tells you. When you are doing bad, he tells you. He doesn't filter anything. He tells you straight up."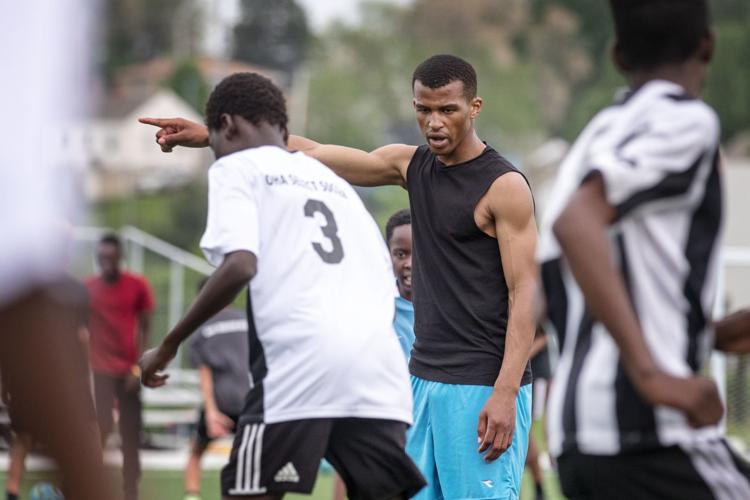 Hamadi is one of many, but his story exemplifies the challenges and opportunities the Issakas offer.
In those early days, Hamadi was the youngest player on a really good team. He played defense and came off the bench, but he wanted to start at striker, the top offensive position reserved for the fastest players with the best skills.
"He was like, 'No, you're not good enough. Go train.' "
That lit a fire under Hamadi.
"I remembered he found me training by myself, so I went back to training by myself, running, juggling, dribbling, doing situps and pushups," he said.
Sal and Osuman teach the kids the skills. They drill them in practices, and then they push them to practice on their own. At a practice on a hot June night, you could watch the magic unfold on the new artificial turf soccer field at Miguel Keith Park. In the middle, little kids went through footwork drills under a coach's watchful eye. They were learning the 42 skills all OHA players have to know.
At the other end, an older group of kids practiced complicated passing and dribbling pattern drills. If they did it wrong, Sal stopped them and deftly demonstrated how to do it right. If they took their time or lost the ball, look out.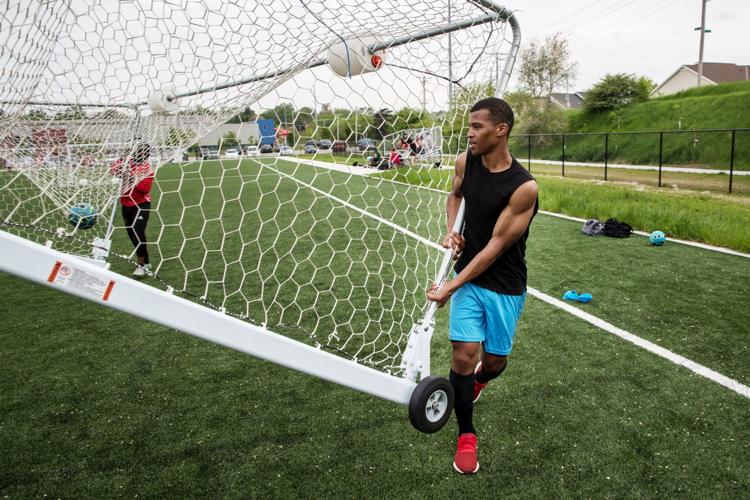 "NOOOOO," Sal roared at one point. "Too slow! Keep your heads up! And you gotta possess! Possess!"
At the other end, high school-age boys engaged each other in a scrimmage, using goals made by two orange cones spread a few feet apart. The point was keeping possession of the ball through teamwork, precise footwork, crisp passing, good decisions and quick movement. They had to complete at least three passes before they could take the ball through the goal.
They zipped passes and flashed the kind of fancy footwork that elicits oohs and aahs in soccer stadiums. In a way, it was like the Issaka brothers and their buddies on that dirt road back in Lagos Town.
The kids in the scrimmage hailed from Togo, South Sudan, Kenya, Somalia, Myanmar, Mexico, South Omaha and north Omaha. Nobody was goofing. Nobody was arguing. Just hard work, and the joy of playing a sport they love.
Nobody was standing still. Nobody was without cleats, thanks to the donors of Simple Foundation, which pays for nearly all the program's costs.
"Everybody's like family in OHA soccer," said Mumin Aden, Omaha Central's co-captain last year. He's played at OHA since age 4. "It's a safe environment for the little kids, and a comfortable place for us. 'O' and Sal make it a safe place."
Hamadi says kids want to come to practice and take it seriously because they're "fun, demanding and very beneficial. To be on the OHA soccer team is a privilege, and they make sure we know that. It's a privilege."
Sal and Osuman stress discipline, and not just in soccer. As liaisons between the Omaha Public Schools and OHA families, they keep in touch with teachers and the kids' families — and they keep on the kids.
The families appreciate it. Sitting in the living room of their Southside Terrace apartment one evening this spring, Mahadi Sheikh and Amina Mohamed talked about how much the OHA soccer program has meant to their family.
The couple were between work shifts. Sheikh, who works in maintenance for OHA, had just come home from work. Mohamed had yet to go to work at her evening job sorting recyclables.
They are the parents of Abdi Adan, from South High. Their oldest son played with Hamadi for OHA back in the day. Their daughter Binto and two younger sons play as well.
The family fled civil war and hunger in Somalia. The parents lived for 12 years in Kenyan refugee camps. That's where Abdi was born.
"Life is good here," Sheikh said. "My kids are happy. Every day, they play soccer. They have practice, they have games. If they weren't doing that, they might be getting into trouble, getting into drugs."
Adan, sitting on the floor with a nephew crawling over his legs, said the atmosphere that Sal and Osuman create with soccer gives kids like him a safe environment and a positive path.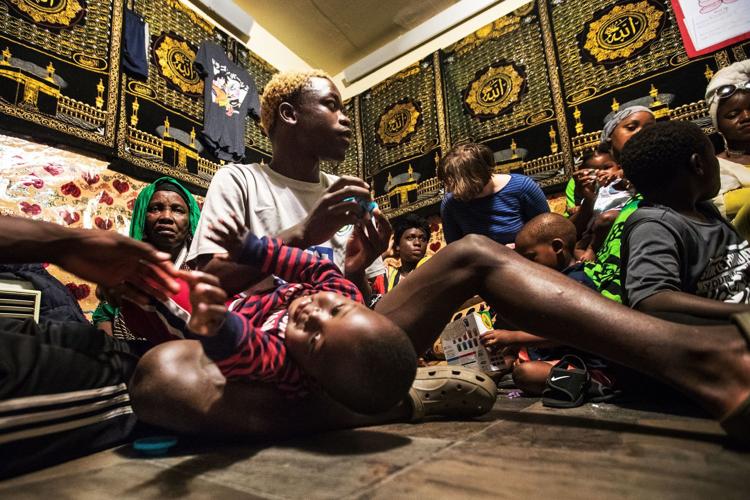 "There's a lot of bad influences around here," Adan said. "The program is really good. It turns a lot of kids' lives around, even if they're not good at soccer. They care about all the kids, and they don't want them going down the wrong path."
When players make the honor roll, they get a shoutout in the end-of-practice huddle, and a little reward. When they mess up, they get pulled aside for a talk, and might get called out at midfield.
Hamadi had both experiences. In middle school at Lewis and Clark, he got in enough fights that he got suspended from school.
"Sal called us out, right there in the practice, he was like, this is how he starts it — 'Some of you are getting suspended from your schools. NOOR.' … Everybody around was laughing, I was hanging my head."
That was the end of the fights.
Hamadi worked his way up to striker on his OHA team. Like several of his teammates, he played for other clubs, too. He won a spot on an increasingly talented South High School team, and helped bring the school its first state soccer championship in 2013. He kept working.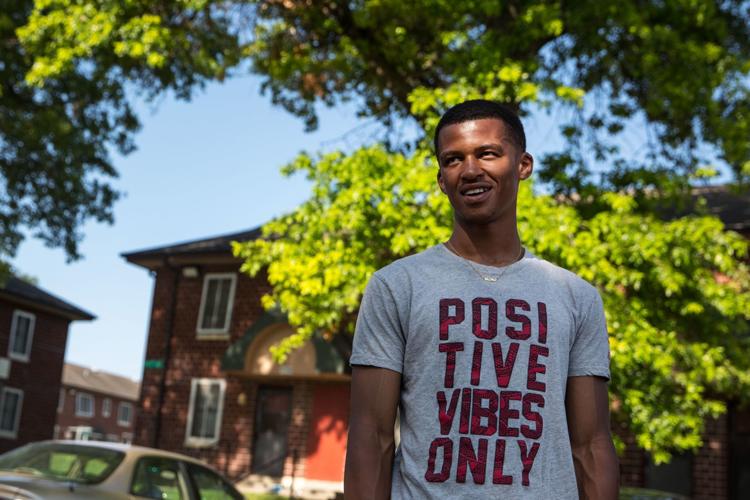 Sal worked on UNO coach Jason Mims to take a serious look at Hamadi for a soccer scholarship. Again, Hamadi made it. He took the skills, the work ethic, the belief in himself, the joy in the game, and applied it at UNO.
In a brilliant moment for the Mavs, Hamadi scored the tying goal with three minutes left in regulation. He drilled the ball into the back of the net, just like he used to pound the ball into a garage door during late-night pickup games at Southside Terrace. Then he did a celebratory flip on the field, just like he used to flip off the jungle gym at Southside.
This spring, when Hamadi got his degree, Sal and Osuman had him come to OHA soccer practice in his cap and gown. The kids applauded and posed for pictures with Hamadi.
Coach Sal told the kids this is what you can do if you work at it.
"He's a really good guy," Hamadi said. "He looks at others with hope. He and 'O' make us feel like we're very capable, like we're up there with anybody else. Even more — we're capable of even more. He pushes us. That's the crazy thing. He pushes us, each and every one of us."
A roundup of inspirational stories from Midlanders with heart
There's the woman with MS who runs despite her diagnosis. The 7-year-old born without his left hand who plays baseball just like the other kids his age. The refugee who turned to Zumba to help her recover from cancer treatments. Check out their inspiring stories and others below.