A steady rain fell as a ceremony in France last week helped unite Omaha Beach and Omaha, Nebraska.
The crummy weather felt appropriate. Early on D-Day in 1944, heavy clouds and rough seas had made things difficult for the amphibious Allied invasion across the English Channel onto this beach, soon known as "Bloody Omaha."
But, last Wednesday, a 64-member delegation of the Omaha Sister Cities Association and the Omaha chapter of Alliance Française — officially led by Mayor Jean Stothert — stood above the famed Normandy beach. The visitors met with local township mayors and other French citizens, about two dozen of them holding flags and standing at attention in rows that formed a victory "V."
Speeches praised the courage of those who had fought here 75 years ago. The American and French national anthems were sung. A longstanding monument stated: "Allied forces landing on this shore, which they called Omaha Beach, liberated Europe — June 6, 1944."
Yes, it was the Allies who called it that. The area long had been known as "La Plage de Sable d'Or," or "The Beach of the Golden Sand." But the code name stuck.
Philippe Laillier, the mayor of St. Laurent-sur-Mer, said at the ceremony last week that when he tells people where he is from, they politely raise a puzzled eyebrow. "When I add Omaha Beach," he said, "they know where I live."
The liberation of Europe from German Nazi control didn't literally happen in one day — no, not on "The Longest Day," the name of a famous movie about D-Day — but that was surely the day that turned the tide.
Omaha long has felt pride that a military code-named beach 5,000 miles away has carried the city's name into history. Now a Sister Cities relationship is being formed that hopes to unite the distant areas in exchanges of travel, culture, education and business.
Soldiers in units known as "bands of brothers" helped win World War II, but in 2019 an Omaha-Omaha Beach sisterhood was being officiated over by two women — Mayor Stothert and Mayor Anne Boissel, president of a 59-township consortium known as the Isigny-Omaha Intercom.
The two civic leaders descended to the beach and stood near the acclaimed 2004 abstract art installation, "The Brave," designed by a woman. Weighing more than 10 tons in all, the seven pieces of steel rise from the beach, signifying freedom, fraternity and hope.
The artist, Anilore Banon, has said of her creation's intent: "In this world where the individual is sacred, we must remember that men and women have put aside their individuality to save others."
After the beach ceremony Wednesday and an indoor luncheon, all gathered in the warmth of City Hall in nearby Isigny-sur-Mer (Isigny on the Sea). In a crowded, Romanesque-style room with Corinthian columns, cornices and chandeliers hanging from a 20-foot ceiling, Stothert and Boissel signed a formal "friendship agreement" that is expected to lead to official Sister City status in a year or so.
George Behringer, a member of the Omaha Sister Cities board of directors, described last week's ceremonial step as an engagement to marry.
The source of the military's naming of Omaha Beach and Utah Beach has long been a subject of conjecture. A British tour guide on one of two buses carrying the Omaha delegation dismissively said there's a story relating the beach names to where a couple of carpenters came from, but that it's most likely the code names were chosen at random.
Some beg to differ. The story of the carpenters may not be conclusive, but it's pretty persuasive.
World-Herald writer Henry Cordes reported in 2008 that the late Gayle Eyler, a retired chief housing inspector for the City of Omaha, had returned from the war and, like most WWII veterans, talked very little about his experiences.
But in reply to a grandson for a school assignment, Eyler late in life wrote a longhand account of working as a carpenter for U.S. Gen. Omar Bradley. Eyler and a carpenter from Utah knocked out interior walls of a building in London and renovated it as headquarters for D-Day invasion planners.
As a way of thanking the carpenters, he said, Bradley chose the names Omaha and Utah.
Eyler, who died in 2003, wasn't known to bluster or fabricate, and archival searches by Cordes showed that the rest of his story was accurate — where he said he worked, for whom and so on. Army records showed that the names indeed originated in Bradley's office.
Military historians called the carpenter story plausible. But apparently Bradley was never asked, at least on the record, how he came up with the code names for Omaha and Utah.
Whatever the source, Omaha Beach is a name linked forever with a middle-sized city in the middle of America, and now the linkage is becoming official.
"It's a natural, forged in history," said Andrew Schilling, a former career State Department officer now working in international development with the Greater Omaha Chamber of Commerce. He is also vice president of the Omaha Sister Cities Association and has worked on the project for the past year with others, such as Bernard Duhaime and Esther Brabec of the French cultural group Alliance Française.
The supreme allied commander in Europe was Gen. Dwight Eisenhower, who created the Sister Cities movement as president, 12 years after D-Day. He saw it as citizen-to-citizen diplomacy, a way to create international bonds and avoid wars.
The night before the rainy ceremony on the beach, the Omaha delegation had attended a multiple-course gala dinner with French mayors and other officials. It included speeches, laughter and live music.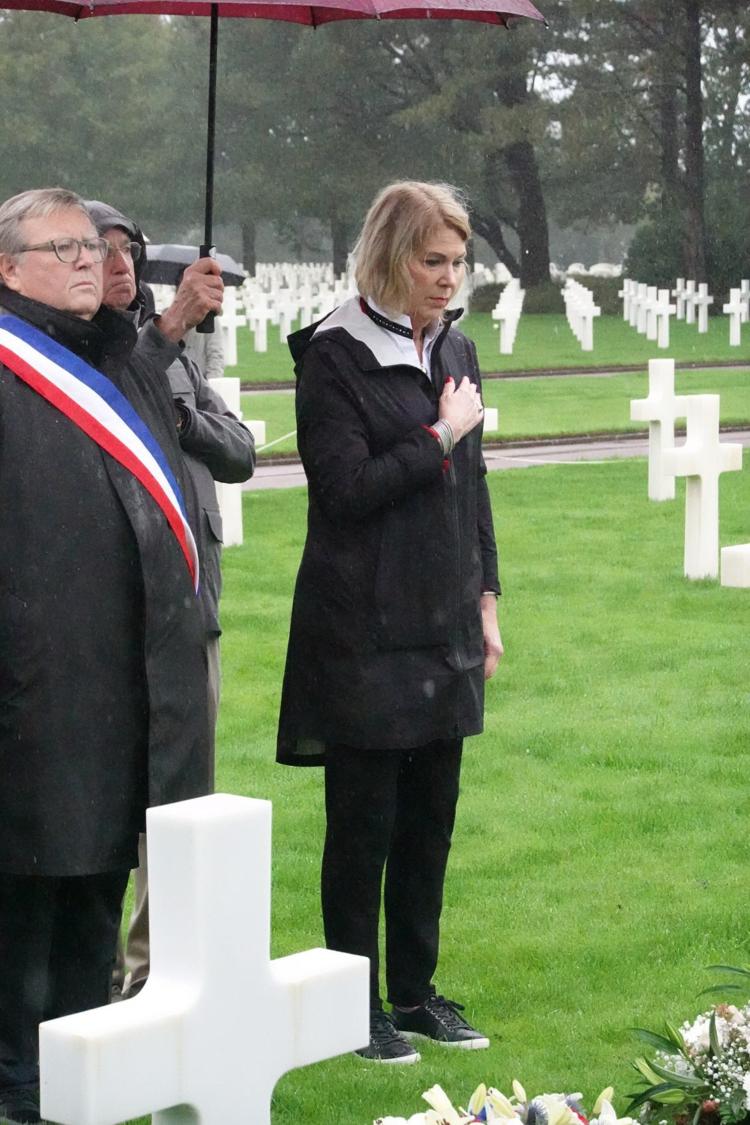 The next morning, Omahans visited the American cemetery at Colleville-sur-Mer, just above another part of Omaha Beach, with its nearly 10,000 white stone grave markers. The mayor and other officials laid a wreath at the graves of Ludwig and Julius Pieper of Creston, Nebraska, twins who died at 19 when their Navy landing ship hit a mine near the beaches two weeks after D-Day.
Mayor Stothert and her husband, by the way, paid their own way on the weeklong trip. She said she stayed in touch daily with her staff and with the police and fire chiefs while City Council President Chris Jerram served as acting mayor.
The city paid for the trip of her chief of staff, Marty Bilek, but he paid for his wife's. Otherwise, no taxpayer money was spent.
Visitors to Europe typically are awed by monuments, palaces and cathedrals hundreds of years old. But for Omahans and others, few experiences can match the breathtaking dignity and the stirring of the soul more than walking the sacred burial grounds and the sands of Omaha Beach.
Honoring our heroes: A gallery of Nebraska veterans
Honoring our heroes: Nebraska veterans and their service.