Through a large gate, past a gatehouse and up a winding road, Joe Ricketts' multimillion-dollar religious retreat center near the Platte River is finished and awaits its first guests Thursday.
"I'm really quite pleased," Ricketts said of his finished product, which sits on more than 900 acres near Nebraska Highway 31 and Fishery Road south of Gretna.
The completed Cloisters on the Platte, Ricketts' passion project 20 years in the making, is luxurious. Guests will park in an underground parking garage designed to look like a cliff face. They'll take shuttles up the hill to the main retreat campus, featuring lakes, forest and sprawling, well-manicured lawns.
A chapel modeled after St. Margaret Mary Catholic Church in Omaha and a massive main building sit beside a small lake. Visible in the distance are seven guest lodges, each designed by a different architect. And across the lake, scattered throughout a 2,500-foot trail that winds through the trees and up and down hills, are life-size sculptures marking the 14 Stations of the Cross.
Aesthetically, the campus is akin to a country club mixed with a lake resort, though its purpose is purely spiritual, said Ricketts, the billionaire founder of TD Ameritrade and father of Nebraska Gov. Pete Ricketts.
The silent, weekend retreats — to be held here 47 weekends a year — are geared toward Catholics but open to anyone of any faith. They're free of charge, though retreat attendees are encouraged to make a donation.
Ricketts won't say how much the endeavor cost him, but building permits filed with Sarpy County show that it cost at least $20 million. The property cost Ricketts an additional $13.6 million to purchase in 2014.
Ricketts commissioned 10 sculptors from across the country for the project and called his Stations of the Cross the most "dramatic and dynamic" in the world. They'll be open to the public Mondays through Thursdays beginning July 23. Entrance involves a suggested donation of $10.
Indeed, they've already drawn international interest — Ricketts said he's heard from people all over the world, including Singapore, Hong Kong and the United Kingdom, who want to travel to Nebraska to see the Stations of the Cross.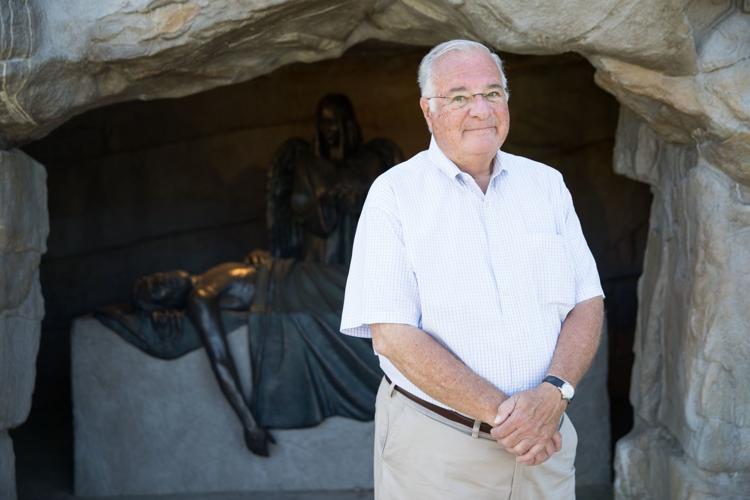 More than 7,000 people have indicated interest in attending a retreat, he said, but there's only room for 4,000 people per year. That means a fairly lengthy waiting list.
Ricketts has called The Cloisters on the Platte a "gift to the community" but one that requires buy-in from community members to maintain. His financing plan for the center's operations involve product sales — at the moment, bread.
Ricketts said Wednesday that he's bringing more products to area stores in the coming weeks. He has 10 to 15 grocery store products in the works. And he declined to say how much the bread has made so far.
The sculptors who made the Stations of the Cross also aim to sell their products. They formed a company to sell copies of the sculptures they created for the retreat center.
Ricketts said the project was "really a lot of fun" to build. He plans to attend his first retreat in October.
"I tell my wife it's my selfish weekend," he said. "It's a weekend where I can just think about the things that are important to me."