Walk into Baxter Arena, and the first thing you notice is how open it feels.
"At other facilities, you might be able to walk around the concourse entirely, but there will be things in your way," said Project Manager Steve Gustwiller of Kiewit. "Here, all the concessions are in the back, all the restrooms are on the back wall."
The open effect is particularly helpful at the concession stands.
"You can be standing in line, and just turn around, and you're still part of the game," Gustwiller said.
The open concourse was made possible in part because of the arena's "split bowl" seating arrangement, in which an upper bowl overhangs a lower bowl. "You're right on top of the action," General Manager Mike Cera said. "It's a really neat design."
Speaking of action, there will be plenty of it, with UNO hockey, basketball and volleyball on the schedule. The arena was designed with enough flexibility to accommodate those sports, plus concerts, commencements and other special events.
When sports seasons overlap — such as during hockey and basketball season — the arena will undergo a transformation.
"It can be a relatively quick change from hockey to basketball or volleyball," said Omaha architect Bruce Carpenter, senior vice president of HDR and project principal for the arena.
For example, in a hockey-to-basketball switchover, an insulated cover will be placed over the ice, followed by a temporary basketball court. Glass from the dasher boards will be removed, the boards will be covered with black drape, and team bench areas will be reconfigured to make room for additional spectator seating. The insulated cover also will be put in place for trade shows, concerts and other events.
After hockey season, the competition ice will be melted off to reduce operating expenses.
A regular melt-off won't be an option for what could be the most used and most visible part of the arena, the community ice sheet. Easily seen from Center Street, the community ice will be in operation seven days week from 6 a.m. to 10 p.m.
Carpenter said the community ice was specifically situated in the front of the facility to make activity in it more visible.
"We also wanted that activity facing Aksarben Village so that the facility always has a sense of being active," he said. Large windows bring in natural light during the day. At night the space will be lit, making it easy to see activity from the outside.
Dasher boards and glass
Do you stand right in front of the glass and dasher boards during UNO hockey games? Reconsider that habit at Baxter Arena.
When hit, the glass moves about a foot.
That's great for preventing player concussions, but not so good for you if you're up against the glass when the action comes your way.
The boards are the kind found in NHL rinks, with the latest safety features, including shock absorbers and a top rail with rubberized padding. The "glass" — really an acrylic — also has shock absorbers.
A standard dasher board system with less shock absorption is used with the community ice, as collisions during youth hockey play are generally less forceful than during Maverick games.
Back of the house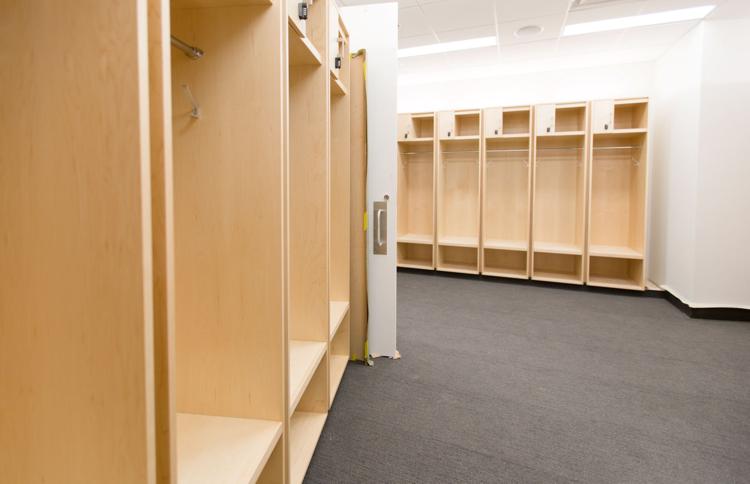 Nonpublic areas in Baxter Arena constitute "the back of the house."
Those spaces include locker rooms for the volleyball and basketball teams, community ice users and the hockey team.
Because hockey lockers have what the arena architects describe as "a unique smell," the ventilation system in the hockey locker room pulls air through equipment storage benches up through the regular lockers and out of the building.
Other back-of-the-house features include training and whirlpool facilities, ice compressors, basketball and volleyball floor storage, additional mechanical systems, a sauna, the Zamboni garage, the Zamboni dump (where excess ice is melted) and a lounge where student athletes can watch game recordings.
Making the ice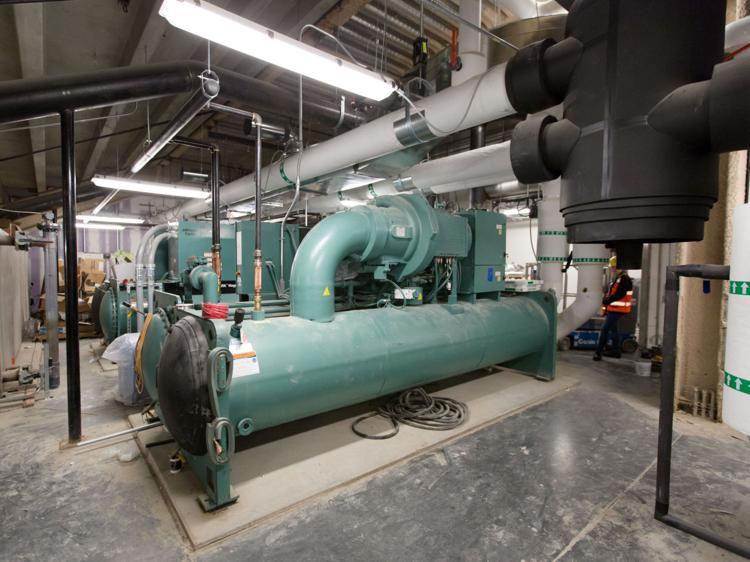 A central ice plant serves the competition ice and the community ice. Temperature and overall character of each ice sheet can be controlled separately.
Figure skaters, for example, tend to want their ice a bit thicker and warmer than hockey players, who often prefer a colder, faster ice sheet.
The club
The club area at Baxter Arena has room for 750, with a bar and nearby restrooms.
Club seating is situated down low, in the center of the south side of the arena.
A double-sided concession area serves the club on one side and general seating on the other.
Club seats are similar to general seats but covered in a different leather. At a minimum 21 inches wide, club seats are wider than general seats by at least an inch.
The food
» Concession areas: Food will be available at five concession stands around the public concourse and from portable kiosks. A sampling of the offerings: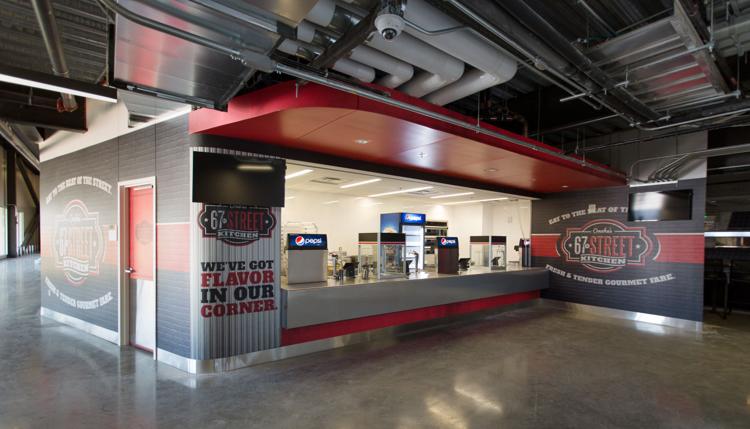 » 67th Street Kitchen: the Pork-a-Palooza, consisting of seasoned fries topped with shredded pork, cheddar cheese and chipotle sour cream.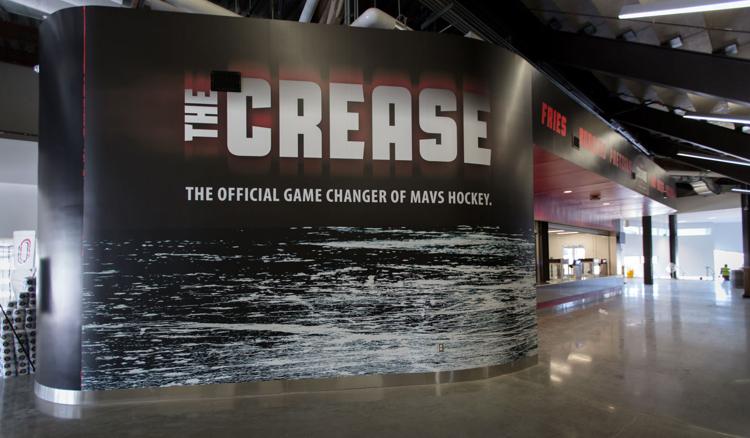 » Nineteen 08 and The Crease: all-beef hot dogs, footlong corndogs, country-fried chicken sandwiches, cheeseburger basket, chicken tender and fry basket.
» Bulls & Brews kiosk: basket with two beef brisket or pulled pork sliders topped with cole slaw and house barbecue sauce, served with seasoned kettle chips.
» Gatcho Nacho kiosk: the Nacho Grande, made using tortilla chips plus taco beef, queso, sour cream, pico de gallo and jalapenos.
The Club Lounge Grill will offer more upscale items for club seating. Menus in private suites will include meat-and-cheese platters, wraps, desserts and more.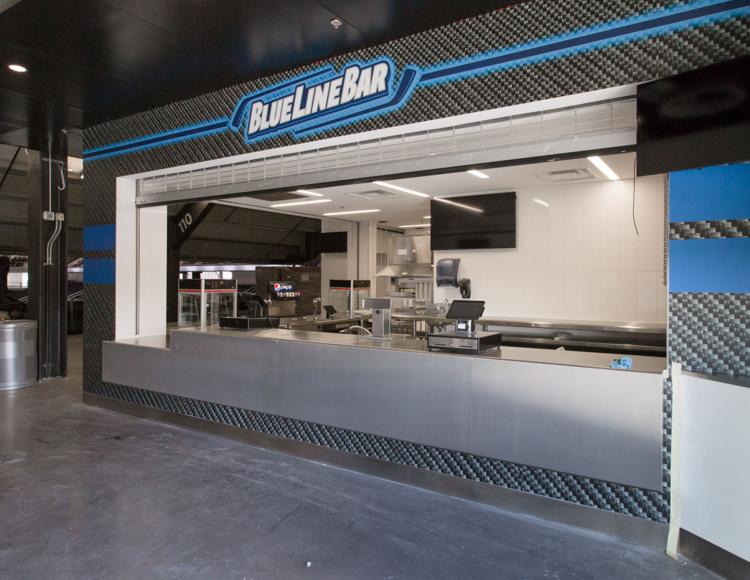 Arena size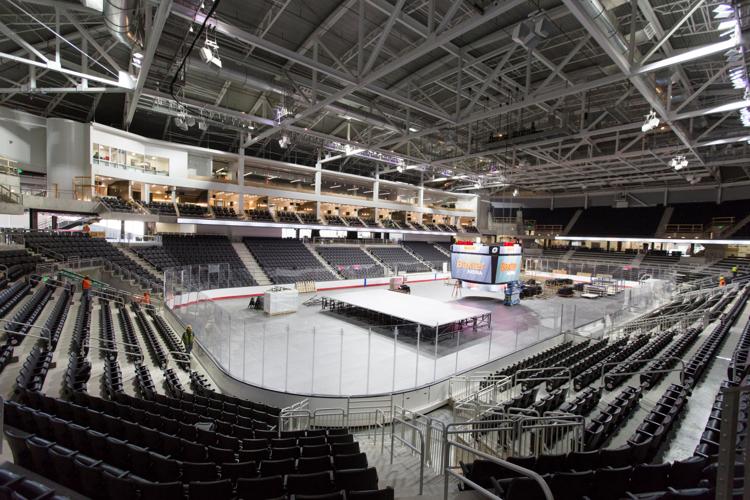 » Overall square footage: 205,000
Square footage of exhibition spaces
» Concourse level: 20,000
Arena changeover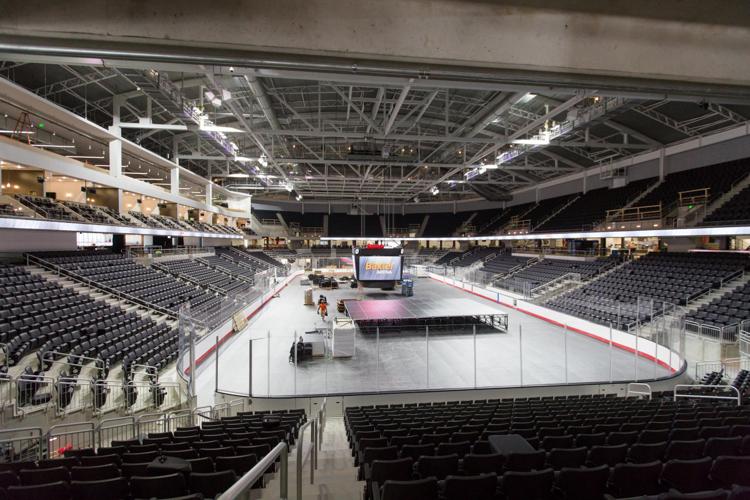 » Insulated cover placed over the ice. The cover, which serves as the floor base, allows the arena to be used for basketball or volleyball, as well as for trade shows, concerts and other events. The floor is not noticeably higher when the insulated cover is placed atop the ice.
» For sporting events, a temporary court is set in place over the cover.
» Glass from dasher boards removed and boards covered with black drape.
» Hockey team bench area reconfigured to provide 50 additional spectator seats in each bench area.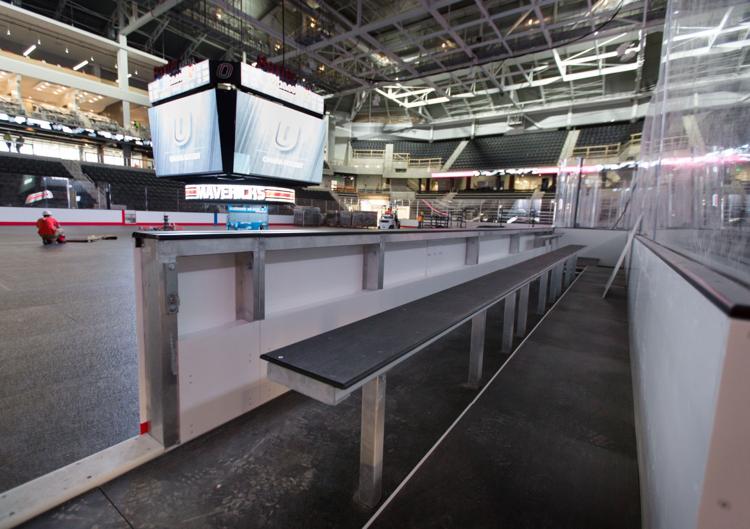 Community ice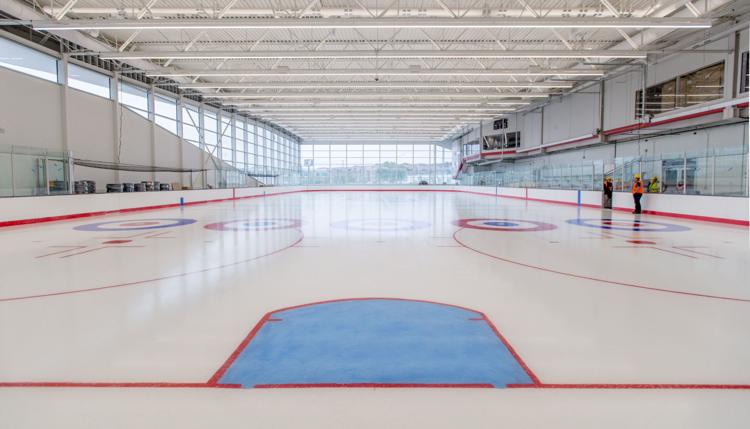 » Available throughout the year
» Hours: 6 a.m. to 10 p.m. every day
» Users will have access to specific community ice locker rooms
» Party rooms available just off the ice
» Insulated cover can be placed over ice for non-skating events
Student section
» Capacity: About 750, all bench seats
» Location: east end of arena
» About 600 can be retracted when the arena is reconfigured for stage shows or other events
Seating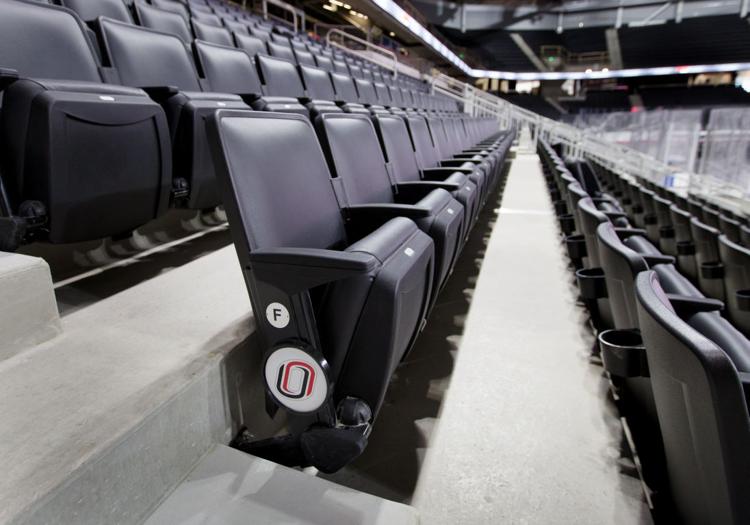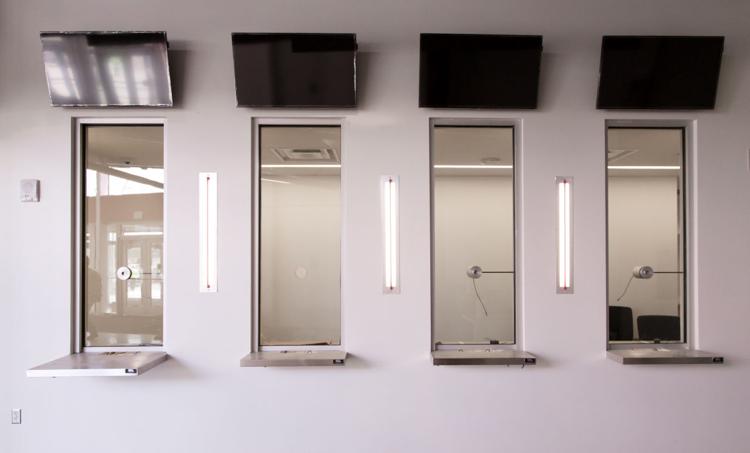 » Seats in the non-student areas of the arena are padded, as are seats for companions of those using wheelchairs in the community ice area.
» Minimum seat widths: general, 20 inches; club, 21 inches; suite, 22 inches
» All seats in the community ice area are non-retractable bench seats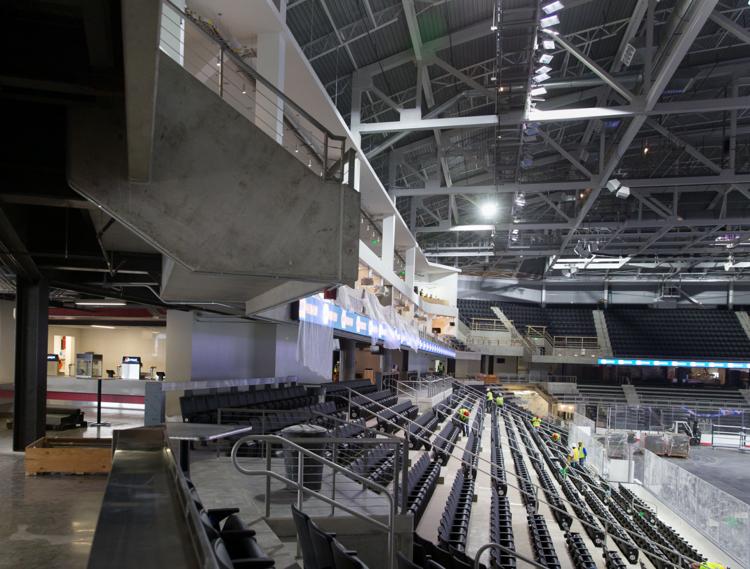 Premium club suites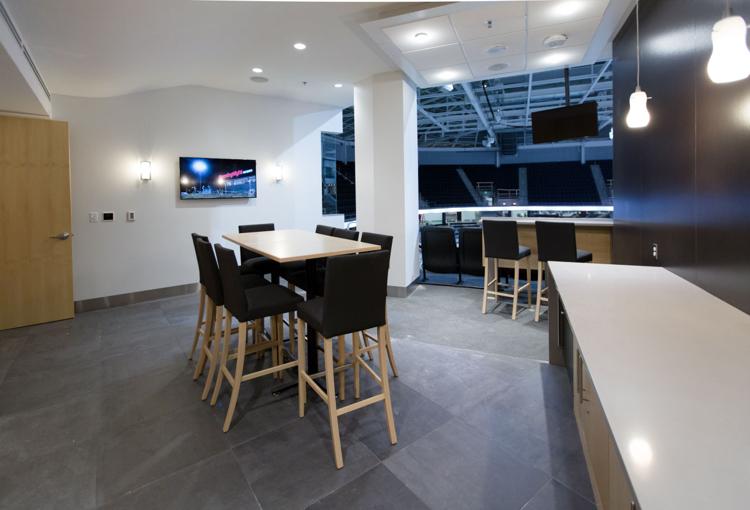 » Services provided: private restrooms, access to club area, in-suite service, designated suite attendant, expanded dining menu, in-suite bar
» Interior entrance to suites from a private concourse level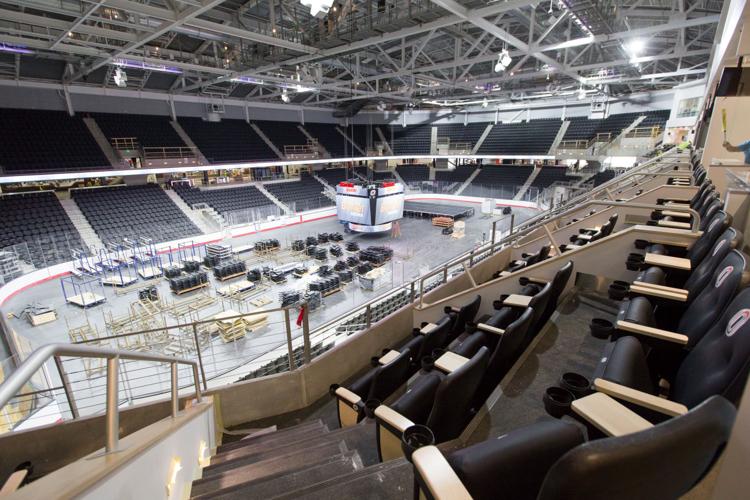 Also in the arena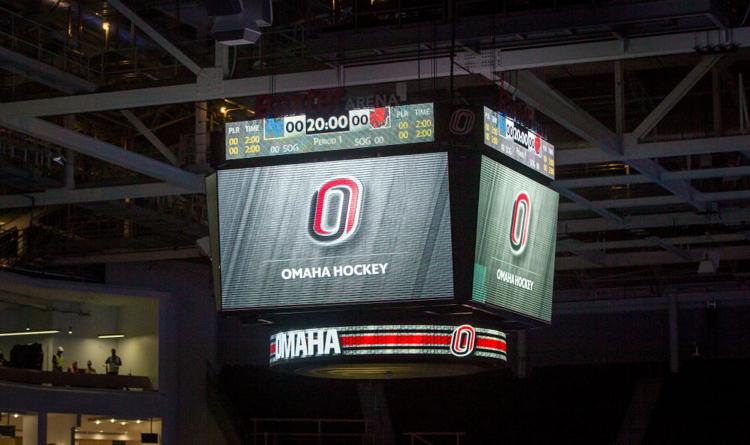 » Hockey and administrative offices
» 12 locker rooms, ranging from 250 to 600 square feet. The locker rooms are near the community ice and on the event level, main concourse and press level
» Student player lounge with video screens and space for study
» Training and whirlpool facilities and sauna
» Basketball and volleyball floor storage
» Zamboni dump, for ice shavings from the ice resurfacing machine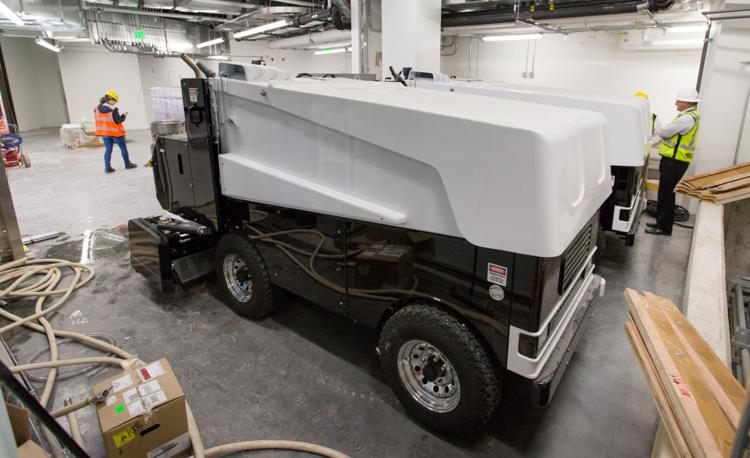 » Zamboni garage, next to the dump
» A 13-by-10-foot roll-up door dubbed the "elephant door" that leads from the loading area into the arena. The door will be used to move large objects in or out of the arena, including animals if a circus is booked there.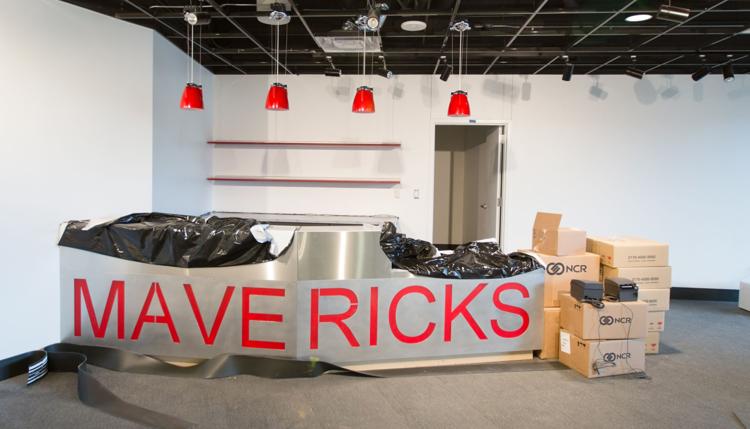 Acoustic tiles
» Used to control distortion by absorbing sound
» Various sizes in the upper bowl and in the roof
» More than 100 tiles are in place
Parking
» Lots reserved for VIPs, suite holders and club seat holders: 3
» Spaces in each lot: 684, 48, 266, 475, 144, 57, 201
» Other parking options: street parking on 68th Street, upper levels of the two Aksarben Village garages
Restrooms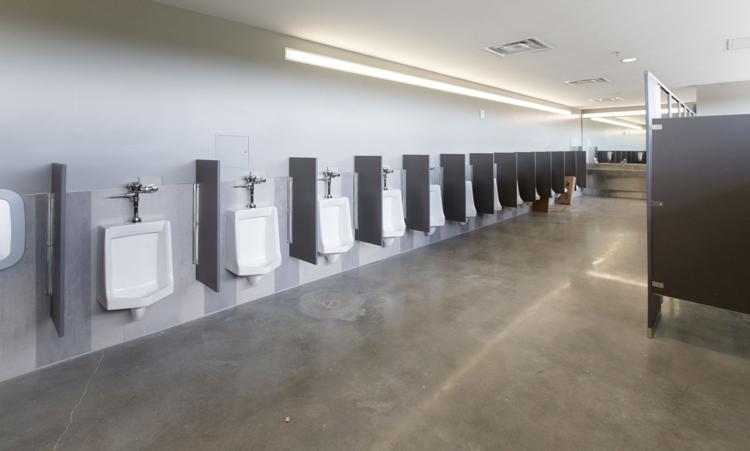 » Location: One each men's and women's in north, south, east and west corners of the concourse
» Size: Each women's room is 1,300 square feet with 20 to 25 stalls; men's rooms are 1,100 square feet with 15 to 20 urinals and five stalls
Meeting/conference rooms
» Two meeting/conference rooms: Club Room, 3,000 square feet; and Press Room, 3,500 square feet
Club Lounge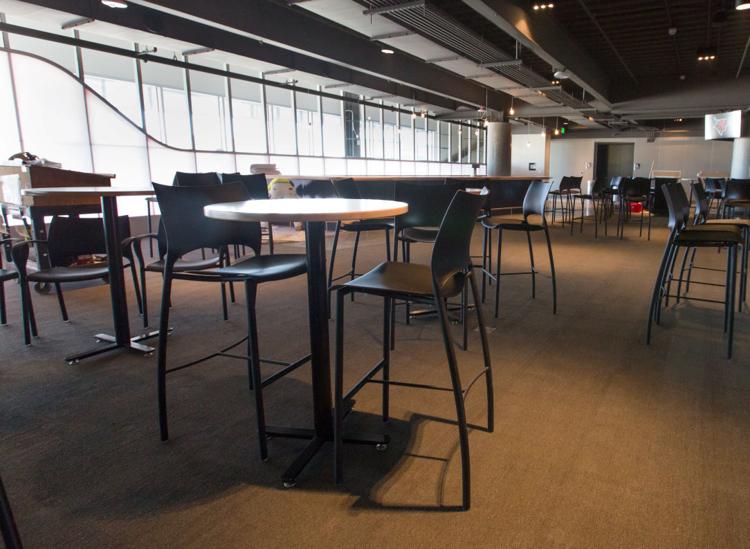 » Users are club seat owners
» Amenities: Bar and nearby restrooms, plus concession area offering more upscale fare
» Available for private event rental
Press Room
» For media use during hockey events
» Overlooks main arena bowl
» Available for private event rental
Party rooms
» Two party rooms, each 250 square feet with a capacity of 10 to 15
» Both rooms offer view of community ice
Wireless internet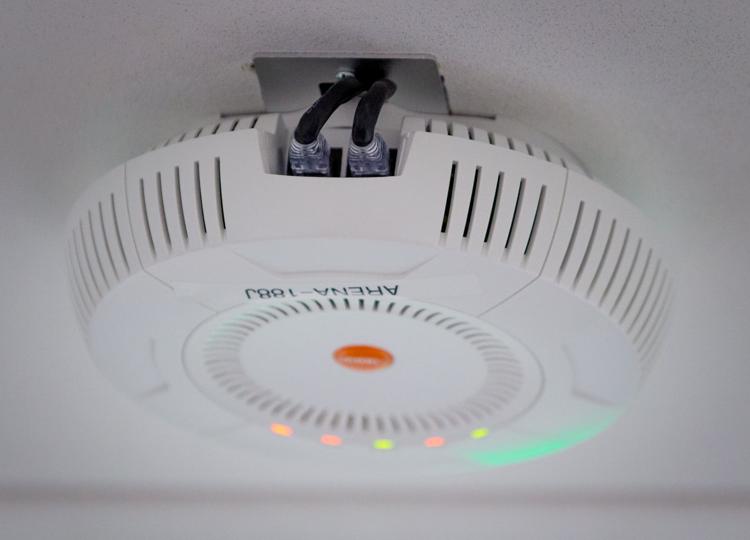 » Available throughout the building, provided through the UNO Information Technology Department

Source: University of Nebraska at Omaha