A partially filled bottle of Tanqueray gin floated on the surface of the waist-deep water in Tom Strigenz's basement. Cloudy water lapped at the seat cushions of a leather couch.
A musty odor covered the smell of a small electrical fire that sparked over the weekend.
"I'm happy because it went down three inches today," the Sarpy County public defender said earlier this week, surveying the 4 feet of water still in the basement of his Hawaiian Village residence.
People who populate the towns and small lake communities along the Platte River west and south of Omaha were taking stock of their homes and futures this week. Some of the properties are second homes or summer getaways, but just as many are full-time residences, from small mobile homes to comfortable villas.
Some people were making temporary housing plans and filing claims with their insurance companies. Others were still unable to access their residences as of Thursday, making long-term planning impossible.
By noon last Friday, the Sarpy County Sheriff's Office had issued an evacuation notice for all communities that touched the Platte or Missouri Rivers, including Beacon View, Sands Trailer Court, Thomas Riverside Acres, Villa Springs, Betty Lake, Chris Lake, Hanson Lakes and La Platte.
Access to some areas remained blocked Thursday because they were either underwater or cut off by water: Vencil's Island, Lake Olivo, Schmid Park, Sands Trailer Court and Riha Lakes.
Officials said Thomas Riverside Acres will open once repairs on Ruff Road are completed.
It isn't yet clear exactly how many people along the river have been affected by the flooding. When Sarpy County issued the blanket evacuation notice to river communities last Friday, officials said the area included 2,600 people.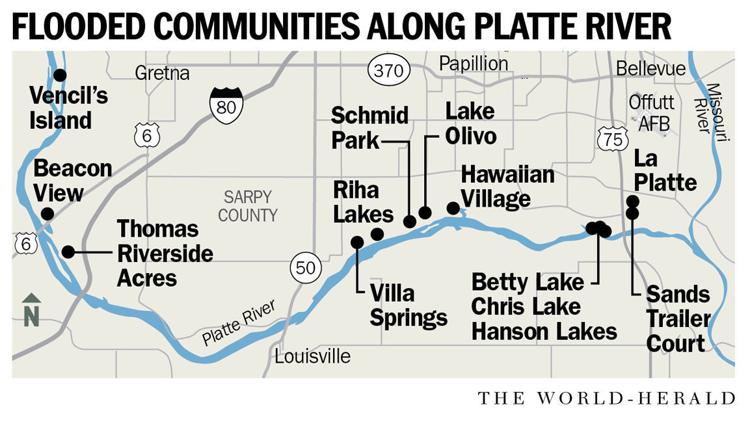 Jackie Morehead, chief deputy Sarpy County assessor, provided a preliminary count of 1,700 parcels of land along the river that were not simply empty lots, but some of the properties on those parcels probably avoided flood damage.
"It's mostly guesswork" at this stage, Morehead said.
Strigenz said his home, where he lives with his wife, Mandy, is the fourth- or fifth-lowest in Hawaiian Village, about 5 miles south of Papillion. About 5:30 a.m. Saturday, he saw that water had come around a dike and into the community. Later that morning, he went down to check the basement.
"That's exactly when the water started to come up the drain," he said.
They were able to move some stuff upstairs, but many items — Christmas decorations and creations from when their children were young — were claimed by the floodwaters. At its height, the water reached above a fireplace mantel.
The basement itself, remodeled over the summer, will need a another face-lift.
The Strigenzes planned to sign a 3-month lease on an apartment while their home is uninhabitable. In the meantime, they were staying in a Papillion hotel along with many of their neighbors. They've found some humor amid the chaos.
"We're calling it Hawaiian Village north right now," Strigenz said of the hotel.
Elsewhere in the county, residents of the Paradise Lakes community east of Offutt Air Force Base had yet to be allowed back to their homes as of Wednesday.
Carlos Moreno lived in one of the rental homes with his cousin, his cousin's wife and three roommates. He had left with friends Friday night to go to a birthday party, several hours after law enforcement knocked on doors in the area, alerting residents of the evacuation.
When Moreno returned about 2 a.m., the road had been closed. He considered walking through the floodwater, but it was too cold.
"That's when we realized it was going to be bad," said Moreno, 24.
Waiting to take a hot shower Wednesday at Calvary Christian Church, an American Red Cross site, Moreno said he didn't know the condition of his home until he saw a video on social media posted by the Bellevue Police Department.
There, on screen, was his house, water nearly touching the roof. His Ford Focus, for which he has only liability insurance, was submerged.
Sign up for World-Herald news alerts
Be the first to know when news happens. Get the latest breaking headlines sent straight to your inbox.
"We lost everything," he said.
The Bellevue Police Department has been using boats and drones to monitor the Paradise Lakes area every day since the flooding began, checking on businesses and homes and ensuring that no victims were missed.
When the floodwaters were at their high point over the weekend, officers could steer their boats over the roofs of some of the Paradise Lakes homes. Fresh off a boat patrol of the area Wednesday morning, Sgt. Larry Lampman said much of the community is devastated.
"It's a mess," he said. "Most of the stuff is not salvageable."
Back at Hawaiian Village, across the street from the Strigenz home, Jeff and Teresa Drelicharz, along with a small crew of friends and family, were busy gutting their basement this week.
The Drelicharz home sits a few feet higher than the Strigenz's, so their basement took on less than 2 feet of water, which had receded over the weekend .
As soon as the water had ebbed away from the home, they got to work tearing out drywall and insulation, ripping up carpet and setting up fans and a dehumidifier.
Amazingly, two fish tanks holding African and South American cichlids survived, even after the water temperature dipped to the low 40s when the home didn't have power. Jeff Drelicharz brought in generators to power the tanks, fans and furnace.
He bought the land for their Hawaiian Village home on the same day that historic flooding began in 1993, so he altered the construction plans to make the home sit a little higher, thinking that he would best any future flooding.
But Drelicharz can only shrug.
"We knew what we got into when we moved here," he said.