Everywhere Omaha Police Officer Rosa Valencia-O'Donnell went with her father, it seemed like everyone knew him. People greeted Omaha Fire Capt. Louis Valencia with a handshake, often with a hug, always with a smile.
That was especially the case in South Omaha, where Valencia was an active volunteer in Police Athletics for Community Engagement (P.A.C.E.) and the Latino Peace Officers Association, and a familiar fixture at the GI Forum restaurant.
"He was so friendly, so welcoming," Valencia-O'Donnell said. "Everybody thought that my dad was their best friend."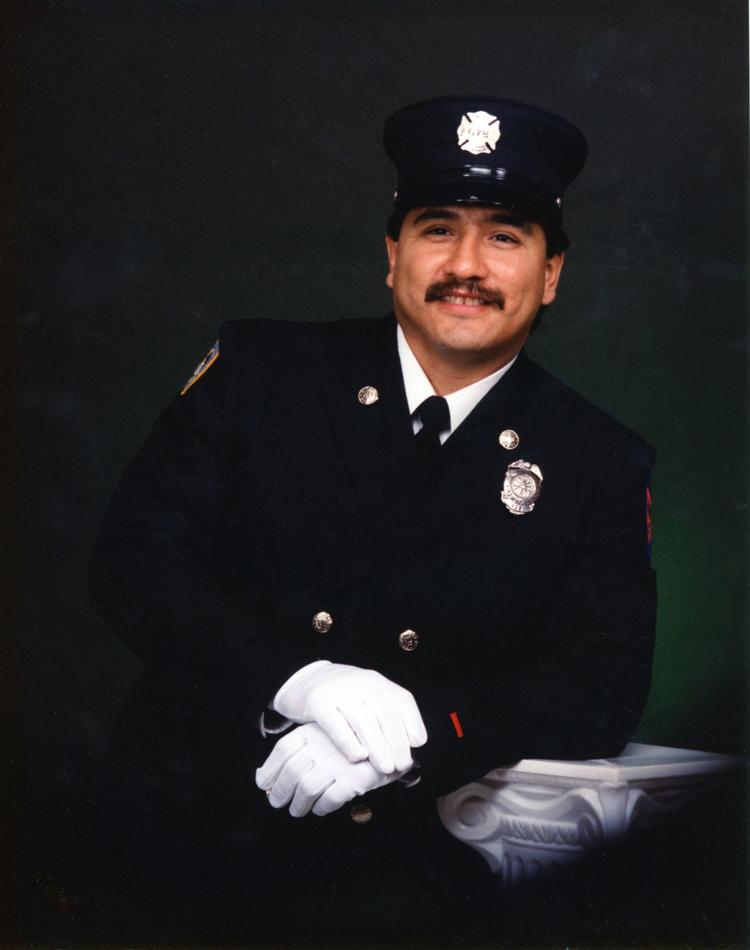 Louis Valencia died Saturday at age 59 of lymphoma. Funeral services will be 9 a.m. Saturday at Our Lady of Guadalupe Catholic Church, 23rd and O Streets. Visitation is set for 5 to 7 p.m. Friday at Heafey-Hoffmann Dworak-Cutler West Center Chapel, 7805 West Center Road, where stories of Valencia's legendary friendliness are likely to be told.
"Legends never die," Omaha Police Detective Johnny Palermo Jr. said.
Louis Valencia was the son of U.S. Army veteran Leandro Valencia and wife Esperanza. His grandfather came from Chihuahua, Mexico. Valencia graduated from Omaha South High School in 1978, where he played ball with future NU and NFL star Dave Rimington, who called him "a great friend and teammate" in a funeral home page tribute.
Valencia landed his dream job in 1987, becoming a firefighter in the Omaha Fire Department. He was working at NAPA Auto Parts at the time and had applied three times for the Fire Department. He was discouraged after the first two, but his mother urged him to keep trying. She told him: "This is what you always wanted to do," Valencia-O'Donnell said. On the third try, Valencia was in.
He was promoted to captain in 2002. He retired in 2009 as a captain in the fire prevention division.
"He had so much pride in being a fireman," his daughter said.
Valencia showed that pride by being involved in the Omaha firefighters union.
"He mentored a lot of the candidates, helped them with how to go through their interviews, what they should be doing," Valencia-O'Donnell said.
Sign up for The World-Herald's afternoon updates
Receive a summary of the day's popular and trending stories from Omaha.com.
He loved his family, she said, and his grandchildren "stole his heart." In addition to Valencia-O'Donnell, he is survived by his wife, Kathleen; his son, Anthony; his mother; his brother, Leandro Valencia Jr.; and his sisters, Lisa Valencia and Laura Valencia-Flores.
Louis Valencia coached his son's youth football team. He inspired his daughter to public service. He drove a grandson, James, all over the Midwest to play youth club sports.
Valencia belonged to lots of organizations, but was most involved in four: the firefighters union, the GI Forum veterans club, P.A.C.E. and the Latino Peace Officers Association. He served as treasurer of the GI Forum organization for a time, and was briefly on its honor guard. He was part of making an expansion of the club and its restaurant happen.
For P.A.C.E. and the Latino officers group, which offer free youth sports to thousands of children, Valencia coached some and helped behind the scenes a lot as a volunteer, said Palermo, who volunteers with the group. It seemed like whenever Palermo saw Valencia, he was wearing a P.A.C.E. ball cap, a Latino Peace Officers Association shirt or both, and usually a smile.
"He always said, 'It's all about the kids,' " Palermo said. "He was a big sports guy, played a lot of sports, believed in what sports could do for kids. He would talk to the kids and tell them sports is where it's at, they'll keep you out of trouble."
Valencia had a lot of nicknames. His mother called him Louis. His siblings and friends called him Lou or Louie. His grandchildren called him Papa Lou. His nieces and nephews called him King Louie, after a character in "The Jungle Book."
Palermo always introduced him as "El Jefe of South Omaha." That literally translates to "the boss," but Palermo called him that because he had so many connections, so many friends, and could help make good things happen.
"He was a true South Omaha legend," Palermo said.
Notable Nebraska, Iowa deaths of 2019