A whole lot of folks who like to get their Halloween on early and often were in the Old Market on Sunday for the annual fall festival.
There were ghosts and Ghostbusters, pirates, witches, skeletons and lots and lots of doggies. A costumed dog contest hosted by Omaha Dog Bar and Farnam Pet Hospital appeared to be the highlight of the event for many.
"I'm loving the dog costumes," said Charity Naujokatis, owner of the City Limits gift shop at 1114 Howard St. "This is so fun. I'm excited about this event."
Her daughter, 10-year-old Honor Naujokatis, sat on a stool in front of the store giving out tennis balls for dogs. Her favorite dog sightings included a pair of corgis, a bulldog in a hot dog costume and a dog in a cape. The dog that won the costume contest was dressed as the dog from the 2009 animated film "Up."
Josh and Devon Young of Omaha brought their dogs to the contest. Woody wore a skeleton costume, and Ursula was a triceratops.
"The dog costume contest was a lot of fun," Devon said. "There were so many good costumes."
Jessica Todd said all the people and dogs wandering the streets provided good socialization work for her new furry friend. She adopted Pepper, an Australian shepherd mix, in February. They came dressed as Little Red Riding Hood and the Big Bad Wolf.
"This is my first time here, and it's been an amazing event," Todd said. "Seeing all the dogs has been a lot of fun. I love the Old Market, and it's good for (Pepper)."
There were also treats and carnival games sponsored by local businesses. Kids could say hello to Omaha police and firefighters while getting a look inside a cruiser and climbing aboard a fire engine.
Metropolitan Community College staff members gave away books for adults and children. April Francisco Klusaw dressed as a pirate to hand out books. Kids could collect candy and one book at each of four locations.
"In the (book) bus this year, we're reading kid-friendly Halloween stories," she said. "They're not too scary, though."
Browsing the books near the bus were Mike Barrett, dressed as a zookeeper, and Catherine Rivier, who was holding their 1-year-old daughter, Willa. Rivier was dressed as a jungle plant, and Willa was clinging tight to her in a monkey costume.
"This is so great. It's fantastic," Rivier said. "We live down here. When (Willa) gets bigger, she can pick out books, and we'll make this an annual tradition."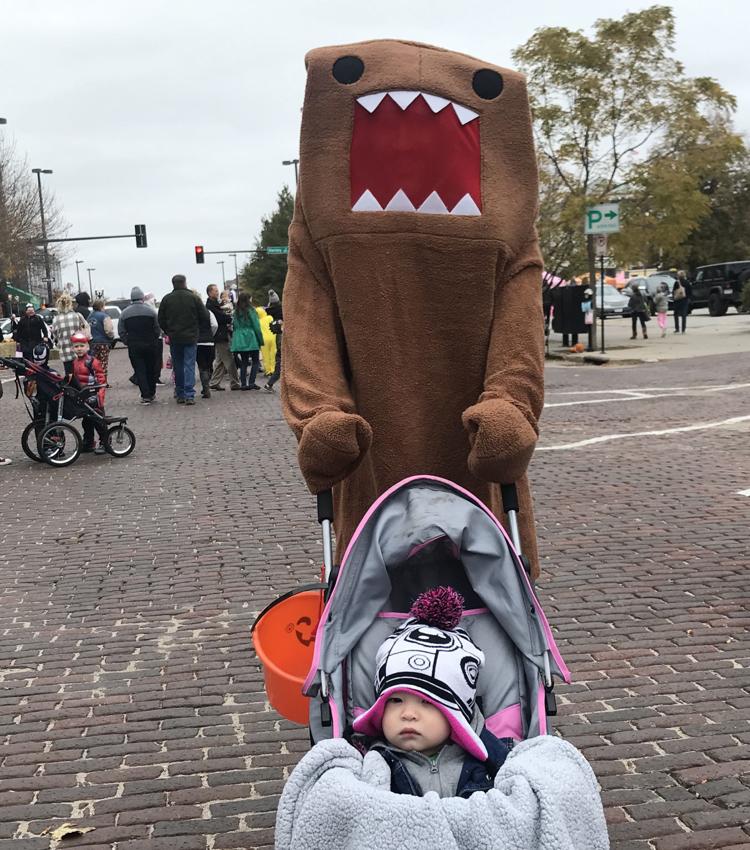 Pushing a stroller nearby was Jordan Coughlin of Omaha with his 1½-year-old son, Kai, along for the ride. Coughlin was dressed as Domo, the official mascot of Japan's public broadcasting system.
Domo is a brown, furry monster with a large, saw-toothed mouth that is locked wide open. But, Coughlin said, Domo is very friendly.
"The kids think I'm a (mean) monster, but really Domo is welcoming," he said. "This a pretty good turnout. Everybody's having fun."
---
Photos: Halloween history in Omaha