If dogs could talk, a 10-pound bundle of happy lovin' from Des Moines would have a crazy story to tell about a wild ride to Omaha.
Clad in a little red T-shirt, Jasper, a Chihuahua-Yorkshire mix, was stolen Thursday evening in Des Moines — along with the car he was waiting in — while his owner ran inside a store to make a purchase.
The next day, he was found wandering the streets of central Omaha.
A few hours before he was found, Des Moines resident Tatiana Legg had a clue that he could be in Omaha. Her iPhone was also in her car when it was stolen, and on Friday morning Legg activated a tracking system and learned that the phone was in Omaha. She quickly called Omaha police and the Nebraska Humane Society.
Sign up for The World-Herald's afternoon updates
Receive a summary of the day's popular and trending stories from Omaha.com.
Legg said she was a mess Friday. Without a car, she couldn't get to work, and she feared the worst for Jasper.
"I had no idea where my baby was, if he was OK, if they had hurt him, or thrown him out on the highway ... there were all sorts of horrible things I tried not to imagine," she said.
Good news came quickly, however. About midday Friday, someone had contacted the Humane Society about a curious little dog near 40th and Dodge Streets: a hairy little guy wearing a red T-shirt, collar and tags.
"He had his little shirt on, he had his little tag, so that clinched it for us," said Pam Wiese of the Humane Society. "Sounded like somebody we were looking for."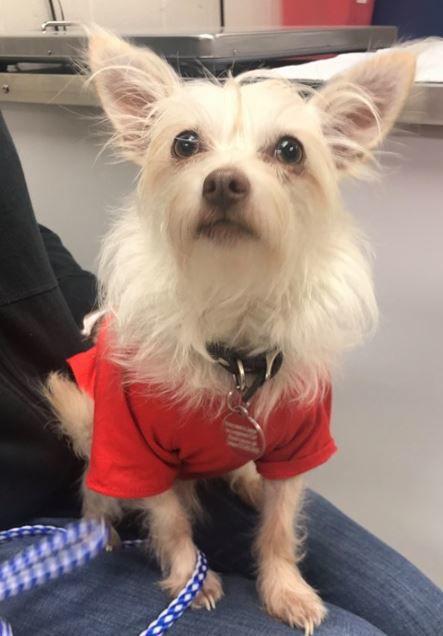 Legg had put the T-shirt on Jasper on Thursday evening to keep him warm on what was a cold, rainy night.
"I was so happy. I couldn't believe my luck that it worked out to get him back so quickly," she said.
Legg got more good news Monday. Her car was recovered Saturday night in Bellevue.
Bellevue Police Lt. Derek Bees said a Bellevue police officer became suspicious after encountering the car stopped in the road near Fort Crook Road and Robbie Avenue just before midnight Saturday. A police dog checked out the car, a 2000 Nissan Altima, and detected the odor of drugs. Inside, police found methamphetamine and took the driver into custody. Even though the car had been reported stolen Thursday in Des Moines, no record of it being stolen popped up in Bellevue, Bees said.
On Monday, Bellevue police staff doing follow-up learned that the nearly 20-year-old car had been reported stolen in Des Moines last week.
Legg said she's learned her lesson.
"I used to joke all the time that I could leave my car running and no one would ever steal it. The front end is literally held together with tape and wire," Legg said. "Obviously, I was wrong."
There's a bit of hard luck in this good news story.
Legg said she had to pay about $120 to get her car out of the impound lot, another $35 to the Humane Society for Jasper. She still hasn't found her phone, which is worth about $800. Then there's lost wages from Friday and Monday, and some personal possessions missing from her car.
Still, the bottom line is she's got 3-year-old Jasper back.
"Nothing was as important as getting Jasper," she said. "He's the happiest, most loving dog ever. We say he's a magic dog because he's so smart and sweet."