Not even the 106 degree heat index that settled on Omaha Thursday and left Jazz on the Green attendees vying for spots under the shade along the edge of Turner Park.
Alex Nelson, a bartender working the Black Oak Grill tent, described the weather as "incredibly humid, hot and will get you sweating after a few minutes."
Nelson said she enjoys working Jazz on the Green events.
"It's fun, everyone's in a good mood, a good atmosphere," Nelson said. "It's usually good weather, so that helps, too."
Thursday's hot, humid weather was in line with the stretch of dangerous heat that has been blanketing Omaha this week.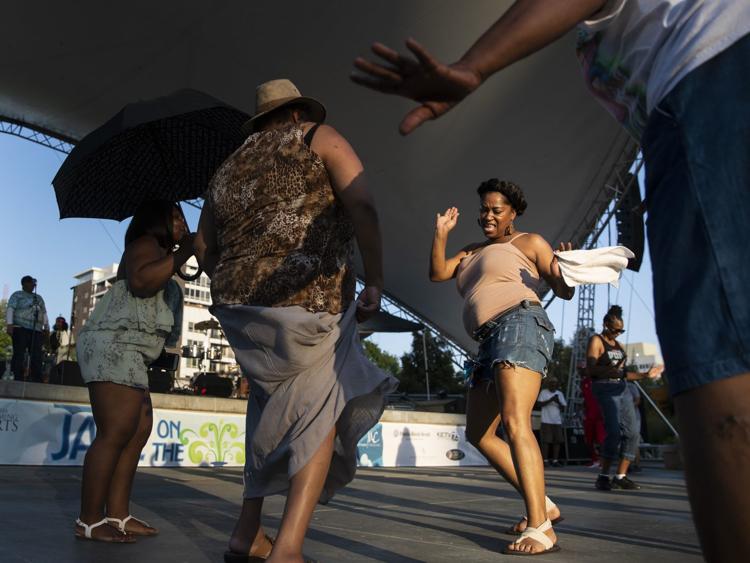 An excessive heat warning, which means that heat stress or heat stroke can occur quickly, is in effect until 7 p.m. Saturday, according to the National Weather Service.
Karen and Jeff Brayfield staked out a spot in the shade more than an hour before the concert. The couple wasn't bothered by the weather.
"It's a Nebraska summer, what more could you ask for?" Karen Brayfield said. "We've had a true Nebraska winter, a true Nebraska spring and now we're on to a true Nebraska summer."
Laura Kendall, Omaha Performing Arts vice president of programming, said that while fewer people came early to set up compared with last week's concert, she thinks the turnout is comparable.
"People know the drill, they get here, stake out their spot and get ready to have a great time," Kendall said.
Thursday's performance featured the Pinettes Brass Band.
The heat continues Friday and Saturday, but Sunday should be noticeably cooler, with a drop in humidity and highs in the low 80s.
Jazz on the Green will continue every Thursday in Midtown Crossing's Turner Park until Aug. 15. Next week's performance features Paa Kow and his Afro-Fusion Orchestra.