That old-fashioned Christmas spirit is readily apparent to anyone who steps inside Joslyn Castle.
The halls of one of Omaha's most famous historical homes, built in 1903, are decked out in a turn-of-the-century style that would make Sarah and George Joslyn smile. Over the weekend, the home at 3902 Davenport St. provided the added attraction of playing host to a Historic Home Tour and Boutique.
"The (Joslyn Castle) Guild members get out boxes and boxes and boxes of (Christmas) decorations and get to work right after Halloween," Kelli Bello, the spokeswoman for the guild, said Sunday. "The castle becomes like a portal into the holiday season, and you see it on people's faces as they cross the threshold."
A team of volunteer interior designers, Kristi Burnett, Ric Klaas, and Susan T. McMannama, gave their time and talents to make the 35-room home sparkle. They were aided, substantially, by guild volunteers.
Susan Garlock of Waterloo, Nebraska, and her sister-in-law, Kim Garlock of Chicago, echoed that sentiment. They visited the Joslyn Castle on the first stop of the tour that also went to the St. Cecilia Cathedral and Cultural Center at 701 N. 40th St., the St. Barnabas Parish House and Rectory at 140 N. 39th St.; the Alderman Home at 1041 N. 34th St. and the Henninger Home at 3411 Hawthorne Ave.
"(Joslyn Castle) is really is beautiful," Susan Garlock said. "It's only my second time in the house, and it's stunning."
Public tours of Joslyn Castle are available Mondays at 10:30 a.m. and 12:30 p.m.; Thursdays at 2 p.m.; and the first and third Sunday of each month at 1 p.m., 2 p.m. and 3 p.m. The cost is $10, and $8 for seniors and military members.
Guild volunteer Francie Prier whizzed about the castle Sunday answering questions from guests about decor and historical furnishings. She loves to find historically accurate items that replicate those in photographs of Sarah Joslyn's own interior decorations.
In the corner of an old photograph, Prier noticed that a Japanese gong had hung next to the fireplace in the main dining room. She got a matching gong from Japan, and it was put up Thursday.
"Sometimes the pieces we use may not have been exactly what Sarah had, but we make sure they're historically accurate for the time," Prier said. "Ric Klaas said it well, 'Sarah may not have owned a certain piece, but I'm sure her friends thought she should.' "
Twenty-four vendors set up shop in the castle Friday through Sunday. They sold a wide variety of items, many made by skilled artisans, and business was brisk.
Carole DeBuse, owner of Jewelry by Design, brought in a large part of her inventory from her Hot Shops studio. DeBuse has taught silversmithing at Metropolitan Community College, the University of Nebraska at Omaha, the College of St. Mary and South High School.
"I love the castle; my daughter got married here," she said. "I'm all for keeping this place going. Whatever I can do, I will."
Many of the vendors said the opportunity to showcase their products to new customers was helpful.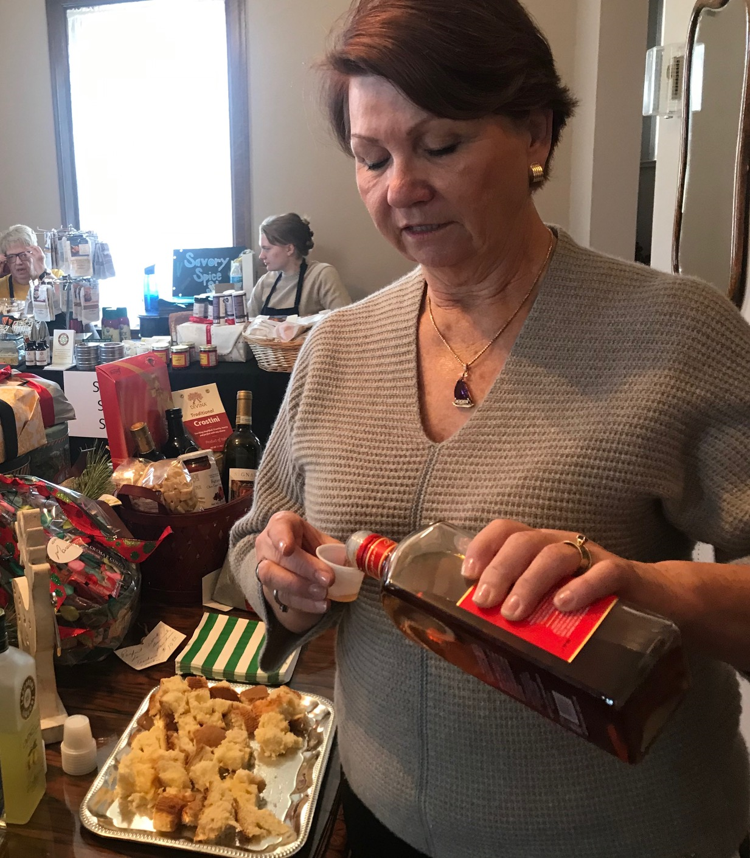 Ethel Merriman of Maresco's Italian Market in Rockbrook Village said her shop is just in its third year. The market offers a variety of Italian food and wine, including holiday baskets available for delivery.
"We've introduced ourselves to a lot of people who didn't know what we did," Merriman said. "It's a beautiful venue, and we're pleased to be part of it."