COUNCIL BLUFFS — Gas stations, buy-here-pay-here car lots, fast-food joints and auto parts stores line the drab thoroughfare that connects downtown Council Bluffs with Omaha.
But a five-year, $36 million redevelopment plan, the first phase of which kicks off in March, is set to totally redefine West Broadway/U.S. Highway 6, the city's "front doorway," as its mayor calls it.
"Overall, it will have a psychic effect," Mayor Matt Walsh said. "People will have renewed pride in the community."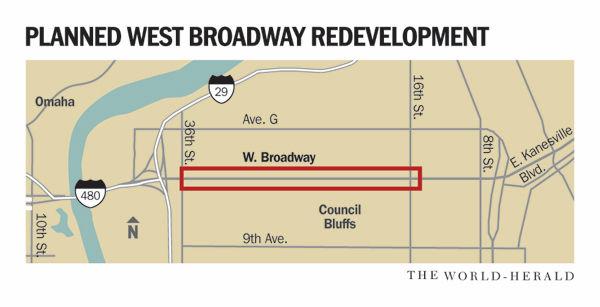 Officials hope the transformation of nearly 2 miles will change the character of the West Broadway corridor, prompting economic development and a greater sense of livability.
When the work's done, a more aesthetically pleasing West Broadway will link burgeoning development along the Missouri River with the historic and refurbished buildings in the city's downtown.
Colored pavers, many an earth-tone reddish brown, will relieve the monochromatic gray of the street and sidewalks, making the route appear more friendly.
Artistic, short light poles and similarly styled streetlights will illuminate the area.
Decorative pillars, nearly 14 feet tall, will be placed at each key intersection. They'll be similar to the four large pillars motorists pass as they enter Council Bluffs from Omaha.
Connections to side streets will share some of the same aesthetics, harmonizing the area.
"The idea is that when you are on the West Broadway corridor, there will be specific pieces of streetscape that will all match and be tied to each other, so the corridor will be recognizable," said Matt Cox, the city engineer.
Additionally, changes underground should lessen the pavement cracking that occurs during winters. West Broadway lacks proper storm sewers, so water pools and freezes on the road, leading to a freeze-thaw cracking. New sewers will reduce the drainage problem.
"We're kind of at a point where something has to be done," Cox said. "So this is kind of that once-in-a-lifetime opportunity to completely reconstruct the corridor, do it in a way that we believe improves the look and feel of the street, (and) attracts more people."
By this fall, the three blocks closest to Omaha will be completed and people will have a good sense of what's to follow.
During construction, there will be lane closures, but there will always be one lane open in each direction during the day, Walsh said. All businesses along the corridor should be continuously accessible, but getting to them could be more difficult.
"It will have, obviously, some detrimental effect during construction," Walsh said. "It will be a little cumbersome with some of those lanes closed."
This work builds on improvements made in recent years along West Broadway. The city has bought and knocked down a number of crumbling and less reputable establishments and replaced them with grassy plots it wants to sell. Gone are those dilapidated businesses and abandoned buildings, as well as spots such as the Razzle Dazzle strip club.
With those gone, there are plenty of lots available for development, officials said.
"We think it will positively affect the image of Council Bluffs and benefit the merchants that do business along the West Broadway corridor," Walsh said. "It will be transformative for the community."
The redevelopment also will be integrated into a new interchange planned for Interstates 29 and 480, which is part of a separate, major state project to reconstruct the Interstate system in Council Bluffs.
Money for the West Broadway project is coming from public and private sources, including $10 million from the Iowa West Foundation. There will be no tax increases to pay for the project, Walsh said.
The city and the Iowa Transportation Department have worked out a swap that gives the city state money for construction but commits Council Bluffs to more maintenance costs.
The Transportation Department had previously been responsible for the care and maintenance of West Broadway because it also is a federal highway — U.S. 6. In 2015, the city and state negotiated a deal: The city would take over maintenance, and the state would make the city a one-time $16 million payment, which will go toward the West Broadway bill.
The city also is taking over Iowa Highway 192 — 16th Street north of Broadway — from the state, which garnered the city $4 million that it can apply to West Broadway, Walsh said.
"We're excited to get it started and get it completed," Walsh said.