The work marks some solid progress for an ORBT project that has been years in the making. But it also means Dodge Street drivers will experience lane closures and traffic disruption for the coming weeks.
Along the north side of Dodge Street, station construction is underway at 33rd Street near Mutual of Omaha and Midtown Crossing; 42nd Street; 49th Street; 62nd Street by the University of Nebraska at Omaha; 72nd Street by Crossroads Mall; 84th Street; and just west of 90th Street.
Sign up for World-Herald news alerts
Be the first to know when news happens. Get the latest breaking headlines sent straight to your inbox.
At Westroads, construction is ongoing at the existing Metro transit station to make adjustments for the ORBT line. That will be ORBT's westernmost station and a turnaround point for buses looping between Westroads Mall and downtown.
"ORBT's really starting to take shape in a variety of ways," said Jason Rose, Metro's outreach coordinator.
As station construction proceeds, contractor Dimensional Innovations continues to build the canopies for each station at its Overland Park, Kansas, location. Also last week, a team from Metro visited the New Flyer of America bus manufacturing plant in Anniston, Alabama, to inspect the first ORBT bus, Rose said.
ORBT will feature 60-foot-long, accordion-centered orange buses running along Dodge and Douglas Streets.
Riders can catch an ORBT bus at about 10-minute intervals at one of the 25 different stations — one at Westroads, 12 eastbound and 12 westbound.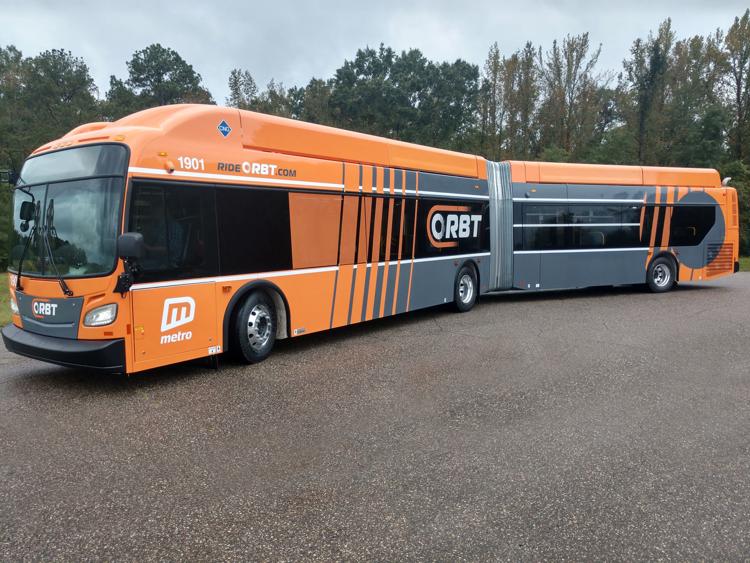 A full ride between Westroads and downtown is expected to take 26 to 28 minutes. The buses will make fewer stops than any regular bus, with technology to hold a green light longer and a dedicated ORBT lane along the line east of 30th Street.
The stations will have Wi-Fi and ticket kiosks. Buses will have Wi-Fi, too, and on-board bike racks.
Riders will get off and on via a raised platform, like at a train station.
Soon, Rose said, construction crews will be able to start pouring the concrete platforms and replacing the torn-up roadway. Once that's done, he said, Metro can reduce some of its lane closures.
Metro still expects to be able to put its first station canopy into place by the end of the year, Rose said.
Changing Omaha: More than 50 stories of local development projects in the works
An ongoing list of some our development stories from 2018, with the most-recent stories at the top.