Friends and family of Bill Campbell will certainly remember the longtime attorney for his sharp legal mind and mentorship of young lawyers, but they'll also remember a renaissance man who loved to read, hunt and cook a good meal.
William "Bill" G. Campbell IV, who co-founded in Omaha the firm that's now known nationally as Kutak Rock, died April 13 at a care center in Ely, Minnesota. He was 84.
Campbell spent more than four decades practicing law, mentoring many fledgling attorneys along the way. One of them, Frank Taylor, also became Campbell's son-in-law.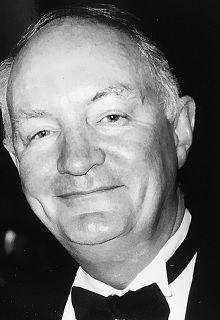 "I think Bill was one of the finest trial lawyers in the country," Taylor said. "He had a knack for taking over difficult cases and making them simple so a jury or (judge) could understand them."
Taylor, 65, now a senior partner at a law firm in Minneapolis, recalls being a first-year attorney at Kutak Rock and Campbell when the firm was preparing for a pretrial conference for a condemnation case.
Campbell had asked Taylor to craft an outline for the meeting and make other preparations, but said he would take the lead. Instead, the morning of the conference, Campbell showed up in duck-hunting attire. He was headed out to hunt, and Taylor would learn through trial by fire.
"He believed you learned by doing," Taylor said.
Under Campbell's leadership, that case resulted in the largest jury verdict in Nebraska at the time.
Campbell grew up in western Nebraska. He was born on Oct. 16, 1934, in Scottsbluff and spent his childhood in Gering. He attended the University of Nebraska-Lincoln on a basketball scholarship and graduated in 1956 with a bachelor's degree in business administration.
One of his daughters, Elizabeth Campbell, said Nebraska remained important to her father even after he no longer lived in the state. She recalls the family watching Nebraska-Oklahoma football games on Thanksgiving weekends. He was fond of famed Nebraska author Willa Cather, she said.
Sign up for World-Herald news alerts
Be the first to know when news happens. Get the latest breaking headlines sent straight to your inbox.
Elizabeth Campbell, 57, said her father was invested in his career and had a strong work ethic, a quality he instilled in his children. "That was sort of expected of us growing up," she said. She has worked for more than 30 years as a reporter at the Fort Worth Star-Telegram.
Campbell graduated from the George Washington University School of Law in 1959 and then served as a captain in the Air Force Judge Advocate General's Corps. After being honorably discharged, he joined Bob Kutak as an administrative assistant to U.S. Sen. Roman Hruska.
Campbell then moved to Omaha, and, along with Kutak and Harold Rock, created the firm that became Kutak Rock and Campbell. He retired from Kutak Rock in 1992, joined a firm in Washington, D.C., and, several years later, moved to Ely, Minnesota, where he opened his own law office.
When he wasn't practicing law, Campbell enjoyed reading books and newspapers, hunting ducks and pheasants and cooking, family and friends said. Taylor called his father-in-law a "marvelous chef."
A celebration of life is planned from 2 to 4 p.m. May 11 in Minneapolis. Those interested are asked to call 682-990-3826 for details. In memory of Campbell and his love for the outdoors, the family welcomes donations to Ducks Unlimited.
Campbell is survived by his wife, Deb; daughter Anne Campbell-Taylor and son-in-law Frank Taylor of Minneapolis; daughter Elizabeth Campbell of Fort Worth, Texas; daughter Amy Campbell-Brady of Washington, D.C.; sister Marcelle Wiggins of Sacramento, California; and many grandchildren.
Notable Nebraska, Iowa deaths of 2019